Fans Can't Get Enough Of Paul Rudd And Seth Rogen In Lays' Super Bowl 2022 Commercial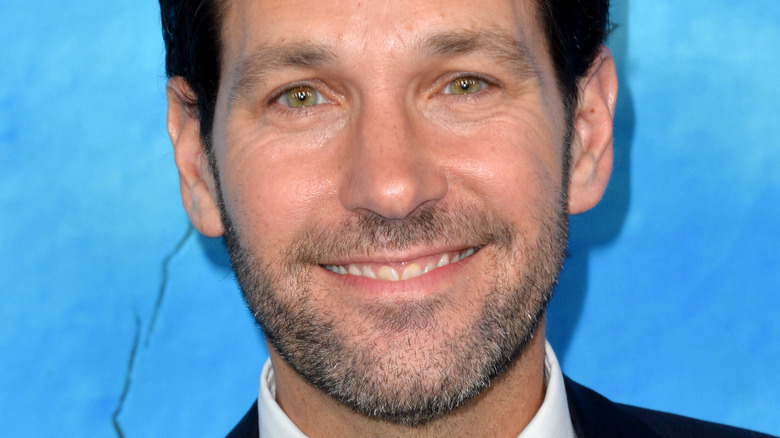 Featureflash Photo Agency/Shutterstock
It's February, and you know what that means. With Super Bowl LVI right around the corner, NFL fans are gearing up for a heated game between the Los Angeles Rams and the Cincinnati Bengals. Of course, it can't be a Super Bowl without the spectacle of live entertainment! This year, we've got country music songstress Mickey Guyton performing the national anthem, while R&B queen Jhené Aiko will sing "America the Beautiful," per AP.
And of course, hip-hop heads can rejoice with the stacked throwback lineup for the Super Bowl halftime show — featuring Eminem, Snoop Dogg, Dr. Dre, Mary J. Blige, and Kendrick Lamar, per NFL. Just imagine SoFi Stadium when Dre and Snoop come together for "The Next Episode." Obviously, though, it's not a Super Bowl without the commercials.
Over the years, we have witnessed some of the most iconic commercials during the Super Bowl. Who can forget the hilarious Snickers commercial with the late, great Betty White from 2010? The commercial not only birthed the slogan, "You're not you when you're hungry," but it also completely turned the tide for the Snickers business model, according to Better Marketing. Who could forget the "Keep Your Hands Off My Doritos" ad from that year, either? With so many classics in tow, Super Bowl LVI is expected to be no different. In fact, Lay's just blessed us with a commercial featuring Paul Rudd and Seth Rogen ahead of the big game!
Paul Rudd and Seth Rogen reminisce in the new Lay's ad
Mid-2000's comedy fans rejoice! The dynamic duo of Paul Rudd and Seth Rogen has reunited to walk down memory lane with Lay's new Super Bowl ad. The commercial sees the two actors chowing down on some chips ahead of Rogen's wedding, reflecting on their "Golden Memories" of yesteryear. Past memories include a road trip, a turbulent plane ride where Rudd admits he's "never seen" any of Rogen's movies, and getting involved in a turf war.
Fans immediately flocked to social media to comment on the two's pairing. "Paul Rudd looks exactly the same and Seth Rogen looks like the movie where he plays his great-grandfather," journalist Seth Mandel humorously wrote. "I'll bet this will be one of the commercials during the Superbowl," said one Instagram user. Another noted that Rogen's "marriage was hilarious."
If you recall, Rogen and Rudd first starred together in 2004's "Anchorman: The Legend of Ron Burgundy." The two also acted alongside one another in the iconic 2005 film, "The 40-Year-Old-Virgin" — which also featured Romany Malco and "The Office" star Steve Carell. However, the duo's last on-screen appearance arrived 15 years ago, in the form of 2007's "Knocked Up." Time flies when you're making "Golden Memories"!