Bachelor Dates That Almost Ruined The Whole Season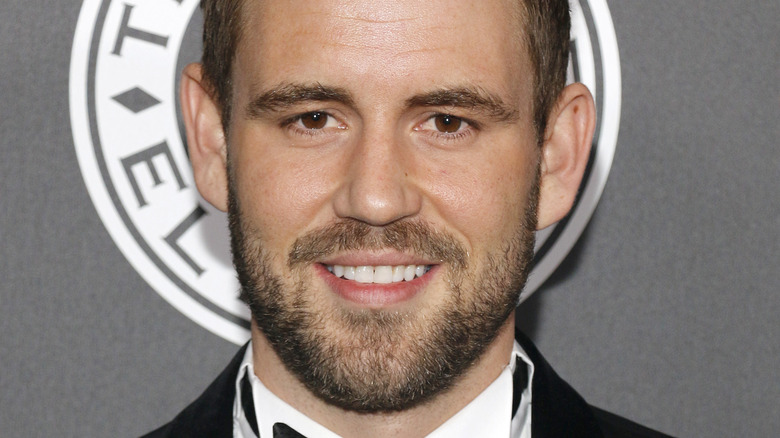 Tinseltown/Shutterstock
"The Bachelor" premiered in 2002, and the reality show has spent the last two decades delivering its own brand of vicarious romance to viewers. Over the years, some date setups have become staples of the series.
The seasons are dotted with intimate candlelit dinners followed by private concerts from little-known artists, champagne picnics served in hot air balloons, hot tubs erected as if by magic in meticulously-scouted outdoor locales, and, if someone on the date had the poor judgment to disclose a fear of heights to the show's producers, terrifying bungee jumping adventures (or zipline rides or skydiving excursions or any other recreational form of torture for an acrophobic). Usually, contestants have a great time on these days (some of the more traumatized acrophobics aside), but not every "Bachelor" date is a hit. In fact, a number of them have been terribly, tragically bad. Here's a look back at some of "The Bachelor" dates that were so awful, they almost ruined the entire season.
The time the women had to make breast casts
It's no secret that "The Bachelor" has a history of leaning into outdated gender roles and representations. Over the years, there have been plenty of dates and moments that have objectified the show's female contestants, but none stand out as much as one date during Jason Mesnick's season, on which the women were asked to make molds of their breasts. As if that activity alone wasn't enough to pull viewers totally out of the episode, the morality of the situation was complicated by the fact that the whole thing was for charity to raise breast cancer awareness. Oof.
"Ahhh ... The Keep-A-Breast group date," Mesnick wrote about the date in a blog for People when the episode aired in 2009. "I was shocked by how passionate all the girls were about giving back. Thankfully not all of them have been touched by breast cancer directly, but as women they were all connected. And I saw sides of them I hadn't gotten to see quite yet (figuratively and literally!)." 
When a contestant shamelessly made out with Bachelor during a group photo shoot
ABC
You know a date is bad when even the Bachelor himself isn't comfortable. In 2011, Brad Womack dubbed a late-season group photoshoot date the "most brutal" of the season after Michelle Money physically pushed him to the ground and started making out with him in front of fellow group date participants Chantal O'Brien and Ashley Hebert — and Sports Illustrated cameras (the date was a photoshoot for the magazine's iconic swimsuit issue).
"Today's group date is not going well," Womack said after the PDA, according to Us Weekly. "Michelle got a little aggressive and I played into that. Kissing Michelle went a little too far. I want to calm these women down but the damage is done." The stunt backfired and Womack ended up sending Money home that week. "I have an intense physical attraction to her, but that would have worn off," he explained of his reason for cutting her. "Her intensity and the way we kept butting heads, that would have become a volatile relationship very quickly. I was very confident in telling Michelle goodbye."
The bizarre bikini skiing date in San Francisco
Sometimes "The Bachelor" producers work extra hard to be creative with date ideas, which has resulted in some truly bizarre "romantic" activities over the years. Case in point: In Season 16, Ben Flajnik took a group of his contestants skiing ... in bikinis ... in San Francisco, per TooFab. The show brought in snow to cover some SF streets and then inexplicably required the women to strip down to bikinis for the date. The whole thing was awkward AF.
Of course, everything about Ben Flajnik's season as the show's lead was interesting, to say the least (including his decision to ultimately propose to his season's villain, Courtney Robertson, in the finale). "Ben is a different kind of animal," then-host Chris Harrison said of Ben's reign as Bachelor in an interview with Reality TV World at the time. "He has his own baggage and his own way of thinking, and this appeals to him."
The paintball zombie hunting date gone wrong
When Chris Soules was the Season 19 Bachelor, he planned a zombie-themed paintball date. It was exactly what you're imagining — a group of "Bachelor" contestants fighting off an army of zombies with paintball guns. The date was a little weird, but it had the potential to be a fun group activity — until one woman went berserk and decided to open fire on the other women on the date instead of the actors playing the zombies, as recapped by Bustle.
Ashley Salter's behavior on the date was so off-the-wall that many viewers wondered if she was putting on an act for screen time or was legitimately unhinged. FWIW, at least some of her fellow contestants felt like it was the latter. "People watch the show and see crazy people and think 'Is that staged? Is she an actress? What's going on? Is she really that crazy?'" Kaitlyn Bristowe said of Ashley's antics (per Us Weekly). "And I am here to tell everybody that Ashley is full-blown a crazy girl on 'The Bachelor.'"
The literally smelly date
Some "Bachelor" dates are bizarre in a manner that kind of makes sense in an it's-a-TV-show way. Skiing in bikinis in SF? Bonkers, but also obviously an excuse to show skin on the air. But other dates, like Ben Higgins' smell test date, have been weird and decidedly unsexy. For the group date, Ben took a group of women to a "love lab" to test their chemistry (get it?) and one of the tests involved a blindfolded Ben sniffing each of the women and describing their odors, per E! News.
"The Lab's scientists help determine if a couple has legitimate chemistry — which is probably why this date is happening early on in a season, because imagine the awk factor if it's the final four and they're like, 'So science says you're all doomed,'" former "Bachelor" contestant Ashley Iaconetti explained of the date in a recap for Cosmopolitan. "The lucky lady lab specimens all get smelled by Ben, and, yikes, poor Samantha apparently smells sour. 'Sweet and sour,' the scientist clarifies, but still."
The time a Bachelor's ex crashed a group date
Peter Weber was uniquely bad at being the Bachelor. He was all over the place and struggled to make clear decisions, a character trait that was epitomized by the very messy ending of his season. As recapped by Deadline, viewers learned Peter had proposed to one contestant, only to break up with her before the finale, where he asked the runner-up for a second chance (she agreed to a date, but they fizzled quickly and Peter ended up dating another contestant he had cut earlier in the season for eight months before they had a very messy split of their own, per Cosmopolitan).
Before his finale drama though, Peter hit an early road bump when his ex, Hannah Brown (whose heart he competed for on "The Bachelorette") crashed his second group date and they talked about their lingering feelings for each other and her maybe/possibly competing as a contestant on his season, per Yahoo! Entertainment. After a very long and VERY emotional conversation, Hannah and Peter ultimately decided to go their separate ways, but the incident understandably did not go over well with the women actually competing on his season. Peter later told Us Weekly that he was "just as frustrated" by Hannah's appearance on the date as his contestants were.
The too real trip to the breakup museum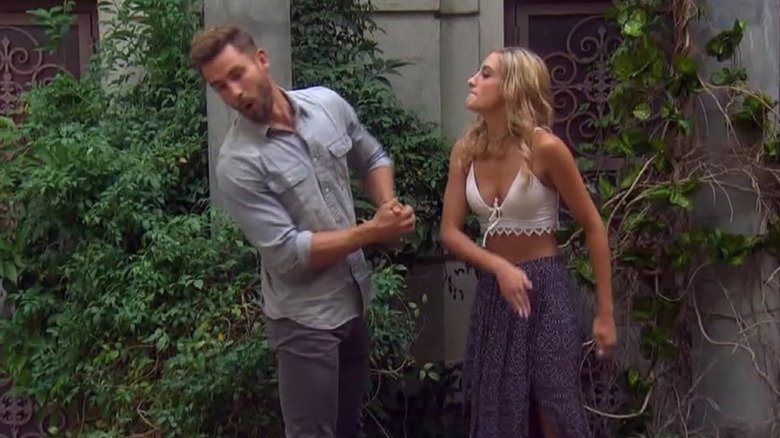 ABC
The whole point of "The Bachelor," theoretically, is to help the lead find his soulmate and future wife — but very few of the show's final couples have lived happily ever after. As of 2021, after 25 seasons of "The Bachelor" and 17 seasons of its spinoff "The Bachelorette," only 14 couples were still together, according to Women's Health. With that in mind, it was probably pretty realistic for Nick Viall to have his hopefuls practice dumping him, but it was still weird.
As ABC recapped, Nick took a group of women to the Museum of Broken Relationships in Hollywood, where they all looked at mementos of lost loves, and then each of the women had to plan and act out fake breakups with Nick — some of which included slapping him in the face. "It hurt," Nick later told E! News of the epic slap Josephine Tutman gave him (which featured prominently in the season's promos, naturally). "It was unexpected and painful."
Sean Lowe's tension with Desiree Hartsock's brother
Like so many of the worst "Bachelor" hometown dates, Sean Lowe's day with Desiree Hartsock and her fam was going pretty well — until it suddenly definitely wasn't. While Sean really got along with Desiree's parents, he and her brother completely clashed and the situation blew up.
"I'm still confused as to what led her brother to call me a playboy and a fake," Sean wrote in a blog for People. He revealed that he had no idea what made Desiree's sibling feel the need to lash out at him in such a manner, adding, "Regardless, he doesn't know me and he sure as hell can't speak to my integrity. As badly as I wanted to go off on him, I had to hold back because I didn't want to cause a huge scene and embarrass Des and her parents." While he insisted that the incident didn't make him view Desiree any differently, he confessed, "But it did make me wonder if I could be in the same family as her brother." Sean ended up cutting Desiree after the disastrous date.
When the women were forced to shovel poop on a farm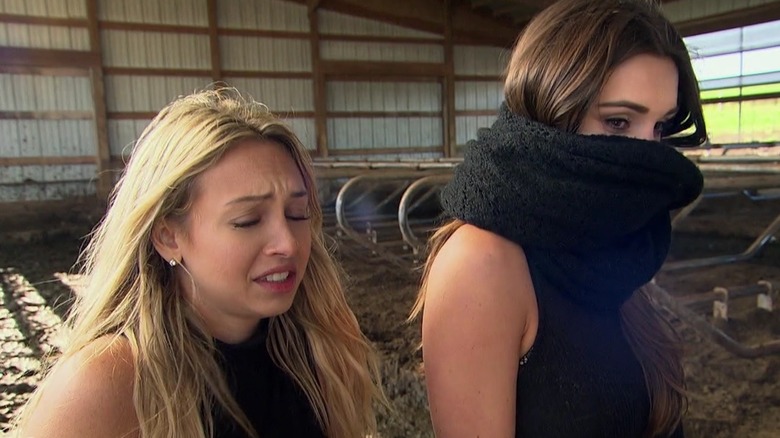 Nick Viall makes a second appearance on the list thanks to another less-than-pleasant group date from his season, during which a group of contestants was brought to a dairy farm and put to work doing typical farm chores, including milking cows and shoveling, um, fertilizer, per ET. It's no surprise that the date wasn't most of the women's favorite, but one took a stand about the activity. That person was none other than the season's villain, Corrine Olympios, who straight up declared that she doesn't "do farm chores." Per Us Weekly, she also complained about the flies and the profuse amount of "poop, poop, poop" that was attracting them.
This was certainly a memorable moment, but the real blow-up came later in the date when everyone was at the group date cocktail party and the women combined forces to confront Corrine about her maturity (/lack thereof) and questioned if she was actually ready for marriage. "Sorry not sorry," she later said to the camera, per ET. "We're fighting for a fiancé not a ... pickle." True words of "Bachelor" wisdom.
Peter Weber's ridiculously disastrous hometown date
Hometown dates are a boring but important part of "The Bachelor" journey. It's a chance for the lead and his final four contenders (who have all known each other a few short weeks at this point) to get a sense of how they would fit together in a normal, domestic setting (as opposed to during free vacations to tropical beaches and European cities, where it's much easier to get along with people you might not have a ton in common with IRL).
Usually, the dates are a little dull, TBH, but when Peter Weber traveled to Virginia Beach for Victoria Fuller's hometown date, the drama was maxed out, per The Washington Post. During the day portion of the date, one of Peter's exes (who also told her story to the press during the season) spotted him and decided to confront him with some vague but clearly unflattering intel about Victoria (including quasi-homewrecking claims). The conversation planted a seed in Peter's brain, and he and Victoria got into a bitter fight outside her family home, as recapped by Us Weekly, which ended with Peter storming off without meeting her family. They made up and Victoria ended up getting a rose, but Peter never did meet her family (which was a first for the show).