How NCIS Star Brian Dietzen Stays In Such Great Shape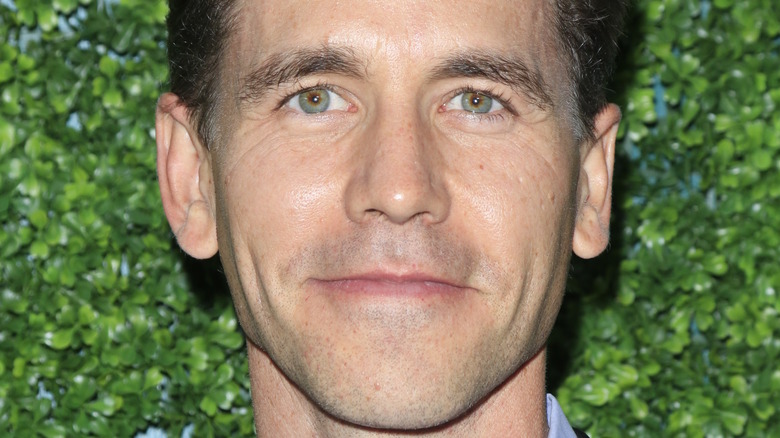 Kathy Hutchins/Shutterstock
Brian Dietzen became a household name for portraying the optimistic Dr. Jimmy Palmer — the assistant to David McCallum's Dr. Donald "Ducky" Mallard — on "NCIS." Before captivating the loyal audience with his upbeat personality and contagious smile, the star had to impress the producers, who had intended to have Dietzen on "NCIS" for one episode only. Because there was really no pressure, Dietzen showed up for his audition ready to shake things up a bit, he told Paul Semel in 2014. "Had it been for a starring role, I would've had to test for the network, and if I had done that, I probably would've made different choices," he detailed. "And I probably wouldn't have gotten the job."
That first scene Dietzen played with McCallum has stayed forever imprinted in his memory. "It was very, very fun. And I remember thinking: this was really fun for my reel. Goodbye," he said, per Showbiz Cheat Sheet. But producers also found the scene fun. So they brought Dietzen back for another episode, and then another, and then another one. After playing Jimmy Palmer for eight years, Dietzen was promoted to series regular in 2012 ahead of Season 10, according to Entertainment Weekly.
As such, the public best knows Dietzen for rocking his medical examiner powder blue scrubs and white coat. Medical uniforms aren't designed to be flattering, so we won't hold it against you if you haven't noticed that Dietzen hides a pretty fit body under it — and he works pretty hard to maintain it, too. 
Brian Dietzen follows a strict gym regimen
Brian Dietzen values his physical health and that includes engaging in a strict workout routine. Preferring to train by himself, the "NCIS" actor foregoes using personal trainers, he told CBS Watch magazine in 2016. Instead, Dietzen looks to P90X for workout inspiration and "kind of 'Frankensteins' a workout routine together," he said. His typical routine includes a combination of dead bugs, crunchy frogs, oblique crunches, side planks, chin-ups, and core twists. 
And Dietzen never forgets to wrap up his workout session with at least 10 minutes of thorough stretching at the end. Dietzen emphasizes that the exercises should always be modified to prevent injuries. "I used to do all sorts of exotic pull ups — Vs and funky dips — and while it looks cool, it really messes with your rotator cuff, so I keep my hand close together on pull-ups and chin-ups to avoid injury," he told CBS Watch.
In addition to hitting the gym, Dietzen also trains his focus with golf. He isn't the only "NCIS" star who likes to hit the golf course to decompress, an activity he often engages in with Rocky Carroll and Mark Harmon, as Carroll told CBS Watch in 2017. "He is a really good player," Carroll said. The sport has been a major asset for Dietzen during the pandemic. "Golf has been a huge source of mental release during COVID, I've decided I'm concentrating less on my score, and more on having fun," Dietzen wrote on Instagram.
Brian Dietzen has suffered a few injuries
Despite taking great care of his body, Brian Dietzen has a history of injuries. In September 2016, Dietzen told a Twitter fan he was unable to attend the "NCIS" golf charity event that year because of a recent health setback. "I won't even be able to make it this year due to my knee healing up from surgery!" he said. In his 2016 interview with CBS Watch, Dietzen shared that he learned a specific core workout from the physical therapist with whom he worked after his knee surgery. 
In May 2019, Dietzen also underwent surgery on his shoulder, he shared on Twitter. Four days after the procedure, the "NCIS" star shared a health update with a fan. "I'm healing up well, though I'm going a little stir crazy to be honest," he tweeted. But Dietzen also used his recovery time to focus on other projects and to take care of house chores. "I am going to write some of my screenplay for a feature film, clean up my home office then rest and heal up," he tweeted two weeks after his surgery. It is unclear what caused both his injuries.
Dietzen's shoulder injury limited his ability to play golf, but a year and a half after going under the knife, things were starting to look up. "The swing is coming back slowly post shoulder surgery, but it didn't stop us from having an awesome time," Dietzen captioned an Instagram post in November 2019.