The Truth About Mary J. Blige's Relationship With Dr. Dre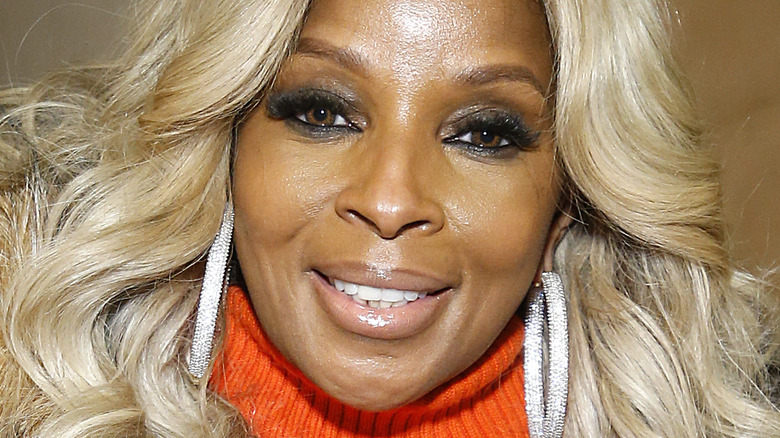 John Lamparski/Getty Images
This isn't up for discussion — Mary J. Blige is music royalty. The singing sensation, who is often referred to as "The Queen of Hip-Hop Soul," first captivated listeners in the early '90s with her debut album "What's The 411?" and has continued to reign supreme throughout her career.
As noted by Billboard, the "All That I Can Say" hitmaker has achieved 14 top 10 albums, four of which reached the top spot on the US Billboard 200 chart. Out of her impressive 31 Grammy Award nominations, Blige has taken home nine golden trophies. Internationally, Blige has also dominated the charts. In the UK, the powerhouse vocalist has nine top 10 singles and five top 10 albums, according to The Official Charts. Along with performing on some of the biggest stages around the world, Blige has also appeared on the big screen, starring in movies such as "Mudbound" and "Rock of Ages." 
During a discussion with The Hollywood Reporter in June 2021, she admitted her victory in Hollywood came as a surprise. "My success in Hollywood has been just so inspirational. It is just pushing me because it was so unexpected," Blige explained, before noting she never expected to score herself Academy Award nominations for "Mudbound." However, even though Blige found success straight off the bat, it wasn't until she worked with hit producer Dr. Dre that she realized how popular she actually was.
Dr. Dre produced one of Mary J. Blige's signature hits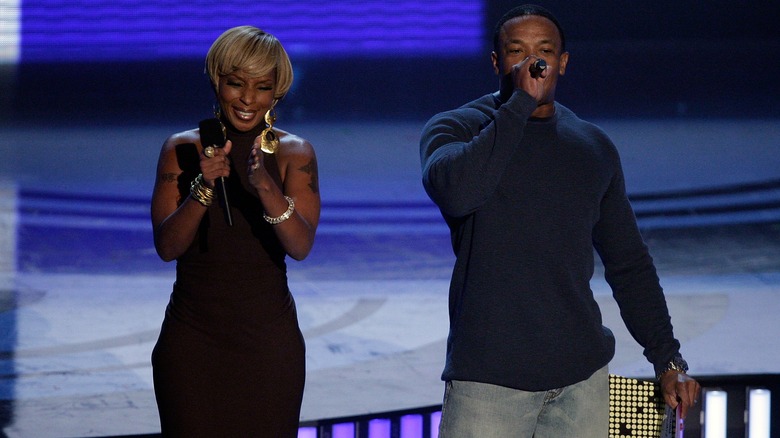 Kevin Winter/Getty Images
By the early 2000s, Mary J. Blige had already cemented her status as one of R&B's most soulful singers. However, it wasn't until she worked with superstar producer Dr. Dre that her career soared to the next level. Blige's fifth studio album, "No More Drama," saw the "Just Fine" hitmaker re-peak and morph into a household name internationally. The LP included the hits "Dance With Me," "Rainy Dayz," and the album title track. However, the real stand-out was the Dr. Dre-produced "Family Affair," which has remained one of her signature songs.
On the US Hot 100, the single became Blige's first No. 1 and remained at the top spot for six weeks. In total, "Family Affair" proved to be an ongoing smash after it spent a whopping 41 weeks on the chart. Overseas, the song had similar success, peaking at No. 1 in France, No. 2 in New Zealand, and No. 8 in the UK.
In 2021, Blige reflected on the success of the song with BackstageOL. "I don't think I realized I was successful in music until ['Family Affair']. I was on tour and the bus driver was a white boy who was listening to his country music radio station." she said, adding, "I'm sitting at the front of the bus and 'Family Affair' came on the country station. I got really nervous and said, 'Something different happened, why is my song on the country station?' 'That's when I realized that I was huge, because country is a big deal."
Mary J. Blige will share the stage with Dr. Dre at the Super Bowl halftime show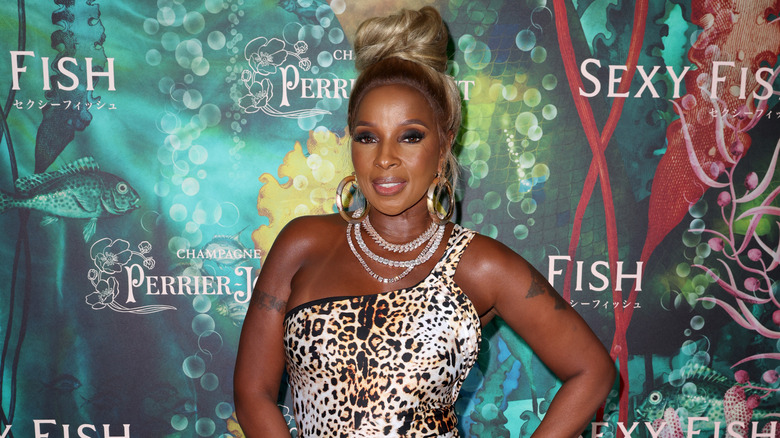 Alexander Tamargo/Getty Images
Get ready, because 2022's Super Bowl halftime show will surely be unforgettable. As previously announced by Variety, Mary J. Blige will perform alongside collaborator Dr. Dre, Snoop Dogg, Eminem, and Kendrick Lamar on February 13 at the Pepsi Super Bowl LVI Halftime Show at the SoFi Stadium in Inglewood, California. Blige herself has insisted this halftime show is not one to be missed. "Man this thing is the most epic thing in music, like in hip-hop, R&B history, this is — man L.A. is never ever gonna be the same," the "Be Without You" hitmaker told "Good Morning America," adding, "I watched the rehearsals — watching each person's performance, I had goosebumps watching it."
And, on an episode of "Watch What Happens Live," when Andy Cohen asked Blige whose energy she'll be feeding off of on the main stage that night, the singer admitted, "It will probably be Dre." When further pressed about which collaborator she's texting the most, Blige reiterated the name. 'Well right now, it's Dre," she explained, "because we're trying to stay in touch to keep the show communication going."
This isn't the first time Blige has gotten fans hyped for the upcoming performance. In January, she took to Instagram to reveal, "It's about to go down!" while sharing the trailer that included herself and her fellow halftime show performers. We can't wait!