Charlize Theron Sets Record Straight On Those Super Bowl Date Rumors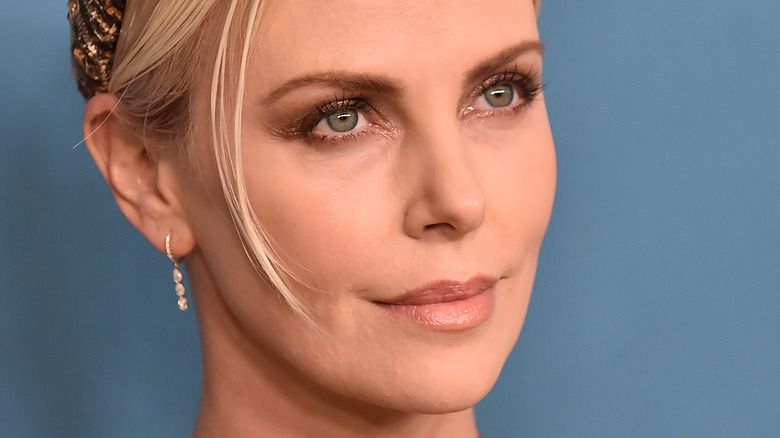 DFree/Shutterstock
Since rising beyond her femme fatale typecast in the 1990s with her Oscar-winning performance in the 2003 crime drama "Monster," Charlize Theron has attracted a horde of fans for both her killer looks and acting prowess. With this level of prominence, however, comes a slew of sometimes uncomfortable interest into her personal life. Theron grabbed countless headlines in late 2013, when she was first linked to fellow Oscar winner Sean Penn, according to Hollywood Life. Theron and Penn — who is perhaps just as well-known for his turbulent love life as he is for his acting, screenwriting, and directing skills — attempted to keep their relationship private, albeit to no avail, as their celeb status and 15-year age gap kept them under the microscope.
Before Theron and Penn broke up in June 2015, he had reportedly proposed, though Theron firmly denies they were ever engaged. "We dated. That is literally all we did," she said on "The Howard Stern Show" in June 2020. "We were definitely exclusive, but it was for barely a year. We never moved in." Getting married, Theron added, was never on her list of wishes. 
After calling it quits with Penn, Theron has remained steadily single — which, of course, means everyone is keeping an eye out for any potential romances that might spruce up. That explains why her fans lost their collective heads when Theron attended the Super Bowl with a handsome mystery man. 
Charlize Theron took a friend's husband to the game
Many of the 91.6 million U.S. viewers who tuned into the Super Bowl on February 13 took note when Charlize Theron was shown on the big screen at SoFi stadium. That's because the Oscar winner was hanging out rather comfortably next to a man clad in Los Angeles Rams attire. When social media users began to speculate, Theron opted to be proactive and cut the rumors at the root. Theron took to Instagram to post a selfie of herself and her companion (pictured above), explaining his identity in the caption. "Super Bowl with my 'mystery man.' Thanks for letting me borrow your hubby Ash," Theron wrote. 
Theron's fans were quick to jump at the chance. "You can borrow me any time," one commenter quipped. "I'm available if needed for the nxt game," joked another. On Twitter, a fan pondered about her relationship status. "How are you still single....I have decided you must have a tail or something." 
While Theron's choice to remain single for the better part of the last decade may be baffling to some, she has been clear about her priorities. "I've never wanted to get married," she said on "The Howard Stern Show," adding that she is stocked up on love. "I have two amazing little great loves of my lives right now," Theron said, referring to her children, Jackson and August, both of whom she adopted as a single mother.