Coco Austin Defends Controversial Instagram Post Debuting Braided Hairstyle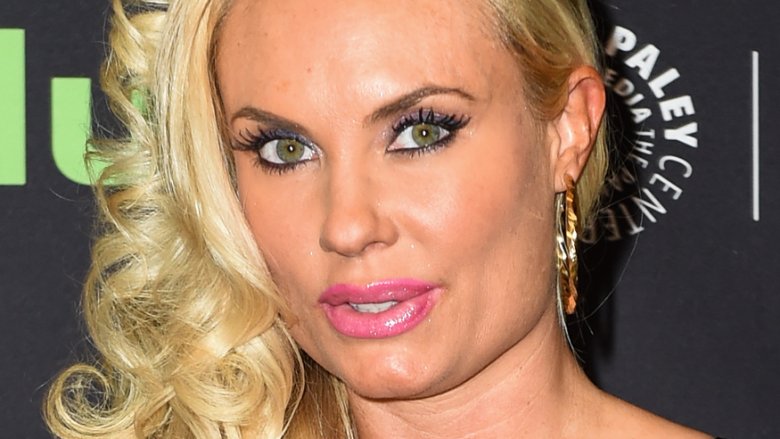 Getty Images
The former reality TV star found herself in some hot water after sharing a video of her new 'do.
On July 17, 2017, Coco Austin—a model who many know best as rapper Ice T's wife—posted a video of her latest hairstyle. "My new braids! I call um Da Coco Swoop.. I wanted a little change up for the Summer," she wrote, adding, "Oh and by the way.. I name all the braid styles I do even hair styles with no braids .. Its a cute thing I do.. I have many weird Coco-isms do."
But apparently many social media users were not pleased with Austin's choice of hairstyle or her decision to name it, as if her new look was entirely her invention. Austin is wearing cornrows—a style that's been a part of black culture for generations.
Addressing the backlash, the 38-year-old posted two videos on Instagram, defending her recent hairstyle—and she seemed anything but apologetic.
"So, recently I got social media's panties in a bunch because I did braids to my hair. This is so stupid. I can't believe I'm talking about it, and I believe this shouldn't be turned out to be a race thing," she said in the first video posted on July 23. "This is what happened: I did my braids and I called them the Coco Swoop. I name all my styles that I do to myself. These are called the Coco Swoop. The braids before were called the Bo Derek braids. And it's a Coco-ism. I've always done it."
Austin continued, "Why can't we all rename hairstyles or braids? That sounds so stupid. Why is everybody claiming something they shouldn't? I know braids have been around for thousands of years. Don't you think I know that?"
Clearly agitated, Austin added, "If I want to wear a pineapple on my head, then I should be able to wear a pineapple on my head and call it the Pineapple Cocowop. I don't know. You see where I'm going with this? Why is everybody hating?"
But Austin wasn't done defending her recent actions. In a second video, she wondered why Beyoncé was allowed to rename hairstyles and she couldn't. "Beyonce, she does this hairstyle, and now it's the 'Lemonade', but no one's gonna get mad at her, right? So, at the end of the day, this shouldn't be a race war. This should be a 'human thing.' Right? Everybody should be able to do it. It's a 'human thing,'" Austin ranted. "Give that a shot. Not a race war. It has nothing to do with race."
After thanking her loyal followers for their love and support, Austin told everyone else to "get over it."
Seems like this whole matter could have been addressed without a long social media rant. Maybe next time something like this happens Coco can try being more understanding of where her critics are coming from.