How Long Did Morgan Wallen's Country Radio Ban Really Last?
Jason Kempin/Getty Images
Keeping his distance from award shows and other high-profile events for nearly the last year, rising country singer Morgan Wallen has been trying to stay out of the spotlight while keeping his music career alive. In February 2021, TMZ published a video in which the singer could be heard using a racial slur amongst friends. Others in the entertainment and music industry were quick to step aside and cut ties with Wallen, including country singer Kelsea Ballerini, who wrote that his actions "do not represent country music" on Twitter. Following his mistake going viral, Wallen quickly found himself immersed in "cancel culture," as he was banned by top country radio stations and lost the trust of his fellow industry superstars, according to Us Weekly. 
However, there's proof that his ban from radio airwaves didn't last long. In fact, Wallen returned to the circuit in 2022, touring the country with 58 concerts planned, according to Song Kick. He has even released new music, including collaborations with rapper Lil Durk, who is Black, and country artist ERNEST. The singer acknowledged his lack of verbal awareness, and fans have since galvanized their support for him, boosting his streaming numbers despite the fact that radio stations were pulling him off playlists. With so much success under his belt in the wake of this controversy, it's hard to believe he was banned from the airwaves for even this short period of time.
Why Morgan Wallen was banned from the radio for four months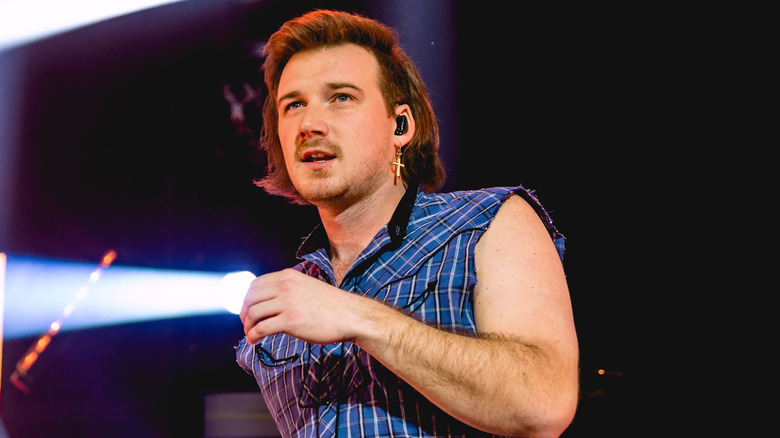 Tony Norkus/Shutterstock
On February 2, 2021, Morgan Wallen, one of country music's biggest and newest stars, was put in a tough spotlight when a video surfaced of him casually using a racial slur. Clarifying his "drunken" actions, Wallen apologized, saying, "There are no excuses to use this type of language, ever," according to the The New York Times. 
Despite the turmoil, Wallen made headlines when his "Dangerous" album became a top-seller for a fourth time and rocked iTunes' charts, a strong sign that a large contingent of his fans were still supporting him. His label and management company, Big Loud and Republic Records, apologized for Wallen's actions and chose to suspend him indefinitely despite his music still making headlines. Upon the news, Karl Fowlkes a music industry attorney, told Rolling Stone that Wallen's suspension "effectively does nothing' and added that "there's been a lot of rushed antics from the music industry in 2020 and 2021." The attorney was right about the country singer's suspension being falsely serious, as he was reinstated four months later by his record label and has been back on the radio ever since.
How people felt about Morgan Wallen's return to radio after that racial slur video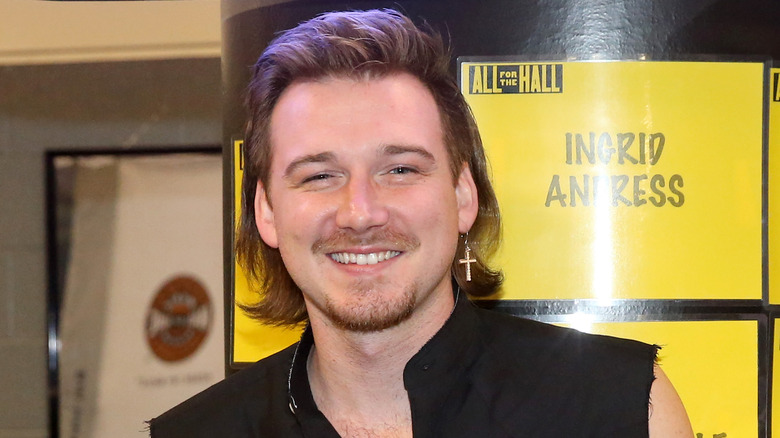 Terry Wyatt/Getty Images
Some describe Morgan Wallen's return to the country airwaves as a "soft open" after country radio stations welcomed his songs back in June 2021, about four months after his racial slur scandal and being reinstated by his record label, Big Loud, according to Digital Music News. At the time, his song "Sand in My Boots" was being played on radio stations across the country. In August, two months later, Wallen released the song "7 Summers," and it broke the record for the most first day streams ever for a country song on Apple Music. 
But some people involved in the music industry still felt slightly uncomfortable with his return, as one high-level radio executive told Variety "there was no fanfare at all when people started adding" Wallen's music back. Another radio insider added that it was a challenge to promote Wallen coming back to the airwaves after his months of being immersed in "cancel culture," saying, "Nobody said 'Guess what's coming up next, a guy you haven't heard in six months.'" Overall, most radio leaders say that airing Wallen's songs again was something people tried to "do quietly" at first, "not make a lot of noise about."