The Tragic Story Of The Stockdale Family From Wife Swap
Jacob Stockdale, who was convicted of murdering his mother and younger brother, was only a teen when he appeared on Season 4 of the popular ABC show "Wife Swap" in 2008. The show sees family matriarchs temporarily swapping lives with the wife from a different religion, cultural background, and lifestyle for two full weeks. In this case, the conservative and secluded Stockdale family was paired with the Tonkovics, a care-free liberal family from Illinois.
Parents Kathryn and Timothy Stockdale raised their four boys on a farm in rural Ohio, where they were homeschooled and played instruments in the family's "wholesome family bluegrass band," the Stockdale Band, per the Mirror. Jacob played the fiddle, James took on the upright bass, and the youngest brothers, Calvin and Charles, played the mandolin and guitar, respectively. The children were banned from watching television, playing video games, and using explicit language. The family lived on an isolated farm, which Kathryn insisted was a way to "to protect the boys from bad influences," per BuzzFeed. 
However, things took an even darker turn when, years after the family's appearance in "Wife Swap," Jacob Stockdale shot and killed his mother and brother before turning the gun on himself.
Jacob murders his mother and brother
In June 2017, Jacob Stockdale, then 25, fatally shot and killed his mother and brother at their family home in Beach City, Ohio. According to People, when police arrived at the scene, they discovered the bodies of 54-year-old Kathryn Stockdale and 21-year-old James Stockdale. Jacob was still alive but suffering from a self-inflicted gunshot wound. Family patriarch Timothy Stockdale was not home at the time of the murders. "Kathy has been my beloved wife of 32 years and a wonderful mother to our four sons," he eventually wrote in a statement. "She loved nothing more than being a mother and grandmother." Brother Calvin Stockdale also spoke out about his deceased brother, saying, per the Mirror, "James, our youngest brother, has always been a catalyst of family fun. He leaves behind many friends and a family that loved him dearly."
In September 2018, nearly a year after the brutal murders, Jacob was charged with murder. His defense attorneys insisted he be evaluated by a doctor to determine whether he was legally sane at the time of the 2017 murders. They eventually entered the insanity plea and suggested Jacob was not competent to stand trial, reported TMZ. Ultimately, however, he did stand trial.
The other wife speaks out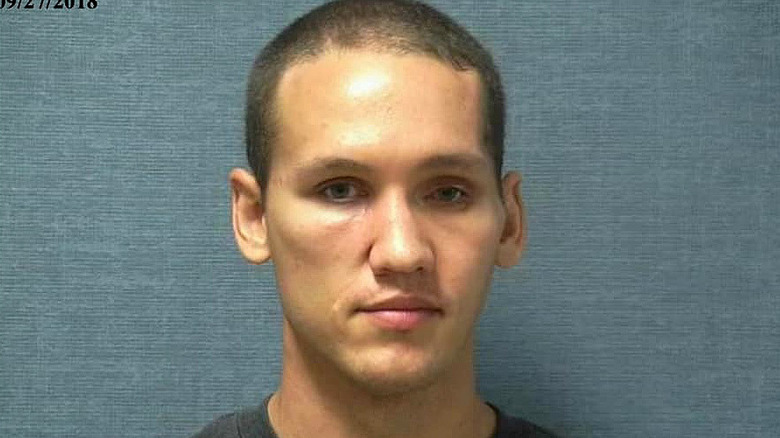 STARK COUNTY SHERIFF'S OFFICE
More than two years after Jacob Stockdale was charged with murdering his mother and brother, his trial began. Stockdale was admitted to a mental hospital for observation after pleading not guilty by reason of insanity. He then unsuccessfully attempted to escape the mental hospital twice during his stay — once by hiding in book stacks and then by trying to blend in with visitors exiting the facility, according to TMZ. Stockdale wasn't charged for the escape attempts, but ultimately pleaded guilty to the murders a week before the trial was set to begin. The judge sentenced him to 15 years for each count of murder. 
While a motive for the murder has yet to be released, Laurie Tonkovic, the wife who swamped homes with Kathryn, believes the Stockdale's strict upbringing may have contributed to Jacob's mental state. "God gives you free will — free will, they didn't have," Laurie told TMZ. They weren't allowed to make choices. I think it just caught up to him."