Gwen Stefani's Unseen Wedding Footage Has Everyone Saying The Same Thing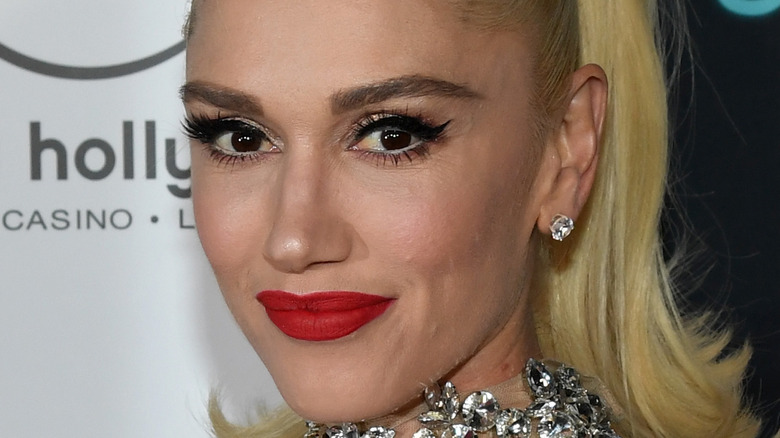 Ethan Miller/Getty Images
Ever since officially forming a romance in November 2015, Gwen Stefani and Blake Shelton have continued to become front-page news. In addition to their loving relationship, the pair have collaborated on a handful of songs and topped the charts — most recently in 2020 for "Happy Anywhere," which peaked at No. 1 on the U.S. Country Airplay chart.
After many rumors and speculation, Stefani and Shelton finally walked down the aisle and said "I do" in July 2021. As previously reported by Page Six, the "Nobody But You" hitmakers honored their big day with a small ceremony at the chapel built inside Shelton's ranch in Oklahoma. Being the fashion icon that she is, Stefani took to Instagram to show off her white wedding dress that featured a long train and a sheer veil. In a group family shot, Stefani and Shelton posed alongside Stefani's three sons – Kingston, Zuma, and Apollo — whom she shares with ex-husband Gavin Rossdale.
On Valentine's Day, Stefani shared a wholesome Instagram video that showcased the love she and Shelton have for one another. "I feel like you don't like me anymore," she said at the beginning of the clip. Shelton looked at his wife and replied, "I don't. I love you." A montage of romantic clips followed while Stefani's single "Make Me Like You" played in the background. However, the former No Doubt frontwoman wasn't done sharing content about her fairy-tale love story with the country singer.
Gwen Stefani shared unseen wedding footage featuring her youngest son
One day after Valentine's Day, Gwen Stefani decided to treat her 13.1 million Instagram followers with never-before-seen footage from her wedding day with Blake Shelton. The video clip featured Shelton's wedding song to Stefani, "We Can Reach the Stars," as well as her youngest son, Apollo. The couple appeared to be sitting down in the video and with Apollo inbetween them. Shelton can be seen wrapping his arms around Apollo and starting to continuously kiss him on the cheek. Stefani flashed a radiant smile throughout and joined in. "The stars, the moon, my whole world," she wrote, adding the red heart emoji.
In just one day, the upload racked up more than 173,000 likes and over 1,100 comments from fans who all felt the same way. "OK... I'm crying! @ God please continue to protect this beautiful love and family and protect their love and happiness," one user wrote. "Love love this reel! Very happy you found the cowboy who loves you and the boys so much," another person shared. "This video literally brought tears to my eyes!! It's absolutely beautiful Gwen and Blake!!" remarked a third user. Seeing these two happy lovebirds will never get old!