How Tall Is Megan Thee Stallion?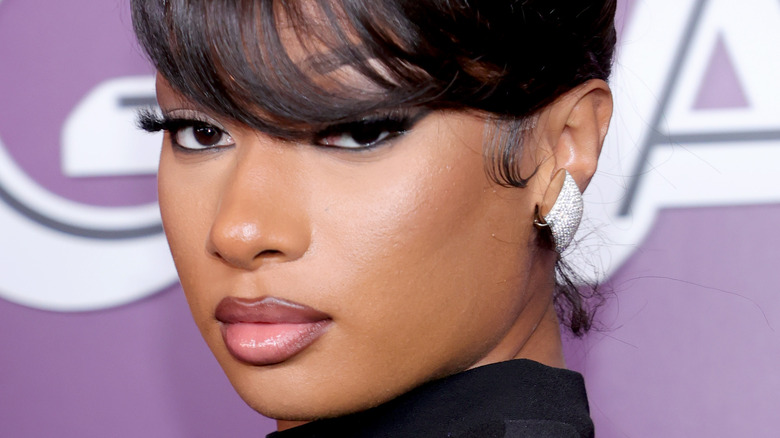 Cindy Ord/Getty Images
"Hot Girl" and "Cry Baby" rapper Megan Thee Stallion has taken the hip-hop world by storm since soaring into the spotlight after releasing her first Hot 100 single "Big Ole' Freak" in 2019, and fans around the world have fallen in love with her relatable persona and positive body image ever since. In December 2021, the 20-something rapper received even more support when she added a college degree in health administration to the list of her success and became "Megan Thee Graduate," as she proudly announced via her Twitter account.
Of course, there have been some haters, too. But Megan pays no mind, often referring to herself as a "hot girl" in her lyrics and twerking right along on social media. She told Harper's Bazaar, "If I took everything personal, then I would probably be somewhere curled up in the corner." 
Megan's confidence started early on, and it's the pride she has for her height that ultimately led to her famous stage name.
Megan Thee Stallion got her stage name for being tall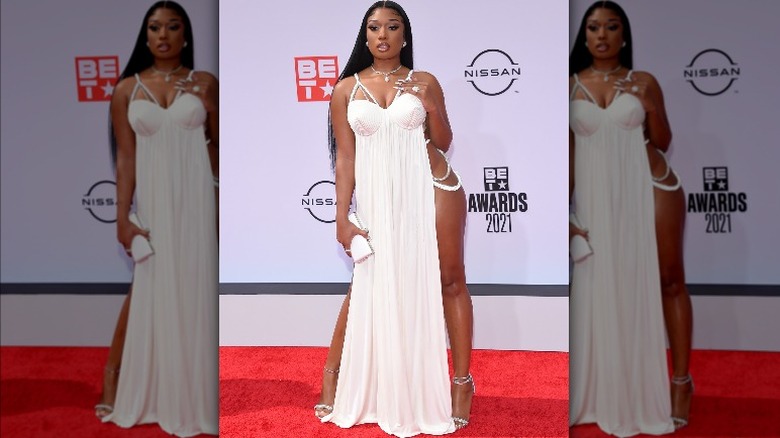 DFree/Shutterstock
Besides being a dynamite talent on stage, "Body" singer Megan Thee Stallion is also known to never back down from her self-esteem, often hyping herself up on social media and proudly loving her body that clocks in at 5 feet 10 inches tall. "I'm tall and fine. So, men are immediately intimidated by the height anyway," she proudly told The Source.
Megan's impressive height inspired the nickname "Stallion," which caught on when she was a teenager. She recalled to Houstonia, "I've always had the same body. Older guys would always be like, 'Oh, you a stallion.'" But what does it exactly mean to be a stallion? "So I finally had to ask like, is that a good thing?" she joked about the moniker. It seems Stallion decided it was a good thing, adding, "Everybody pretty much took it and ran with it, and then I put it as my main name on Twitter, and ever since then everybody's just been calling me Stallion."
The nickname pairs perfectly with her successful music career, and it even inspired a song! Megan released her first single, "Like a Stallion" in 2016, rapping, "Them other girls look good, but can they work it like a stallion?"
Megan Thee Stallion has always embraced her height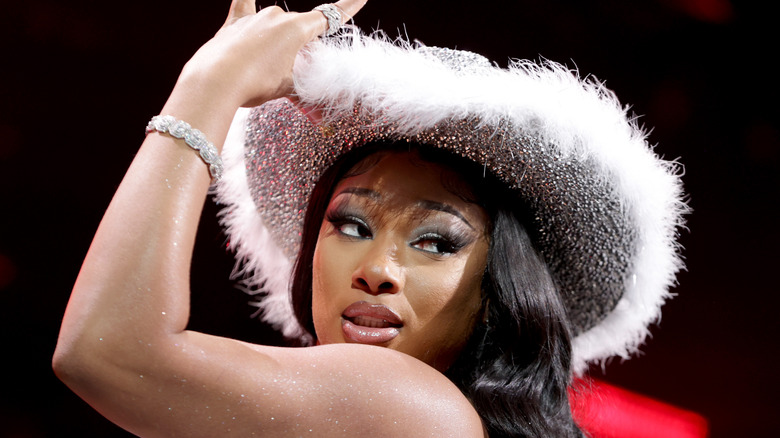 Tasos Katopodis/Getty Images
"Hot Girl Summer" rapper Megan Thee Stallion says she's always stood out for standing at 5 feet and 10 inches tall, with her height leading to some surprisingly negative comments online. But the new rap icon won't back down to a body-shaming troll, standing up for herself at every turn. Case in point: In June 2019, on Twitter by writing back to a since-deleted comment, "5'10" and taller in my heels... what abt it?" She said in another tweet, "Y'all be thinking y'all insulting me by calling me tall. B***h I been tall all my life and still get any man I want." ha!
In addition to loving her tall self, Megan is proud of what some critics might perceive as flaws. She showed off a powerful photo of the stretch marks on her upper thighs via Instagram in November 2020, which received multitudes of positive remarks. Fans described her as a "natural beauty" and appreciated her willingness to keep it real, with one fan commenting on the unedited shot, per The Independent, "Yesssss, we love the realness! Stretch marks are a part of every woman's body."
Yep, it's clear Megan is a confident woman who loves every inch of her 5 feet and 10 inches frame — as she should.