How Rosie O'Donnell And Howard Stern Ended Their Feud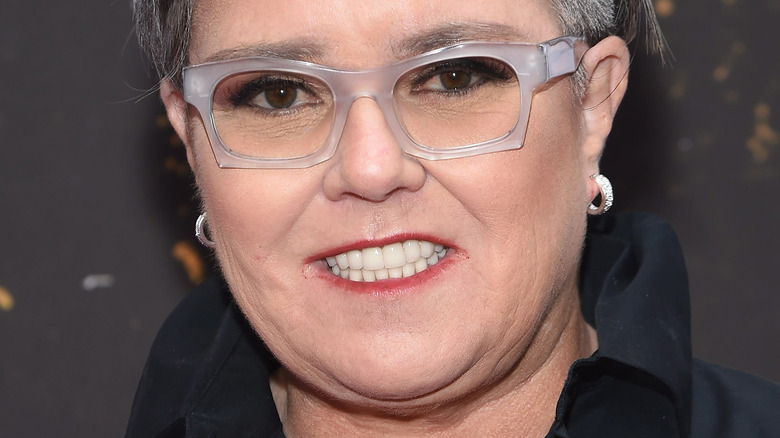 Gary Gershoff/Getty Images
While plenty of Hollywood feuds have killed a friendship, there aren't as many that ended with the feuding parties becoming friends. But one rather notorious beef ended in just such a way — and from perhaps the unlikeliest places — all because a mutual colleague brokered peace. Since Hollywood loves a happy ending, here's the story of how Howard Stern and Rosie O'Donnell not only made amends but became friends.
The beef, if you can call it that, was rather one-sided. Stern, the shock jock who courts controversy and outrage, trash-talked O'Donnell on his early radio show constantly, for no apparent reason. "He's been horrible to me. I don't know what I've ever done to him," O'Donnell told actor Marlo Thomas.
In his 2019 book, "Howard Stern Comes Again," Stern admits the same. "I was awful to her for no good reason," he wrote, adding, "I was just at a time in my life where I was angry at and jealous of anyone who was having success ... I lashed out at anyone and everyone whose career was prospering." He also wrote, "I was like the Joker, and all I wanted to do was cause chaos." He succeeded perhaps more than he expected when it came to O'Donnell — and she was never even a guest on his show at the time. But it all worked out, thanks to a mutual voice.
Mia Farrow was the voice of reason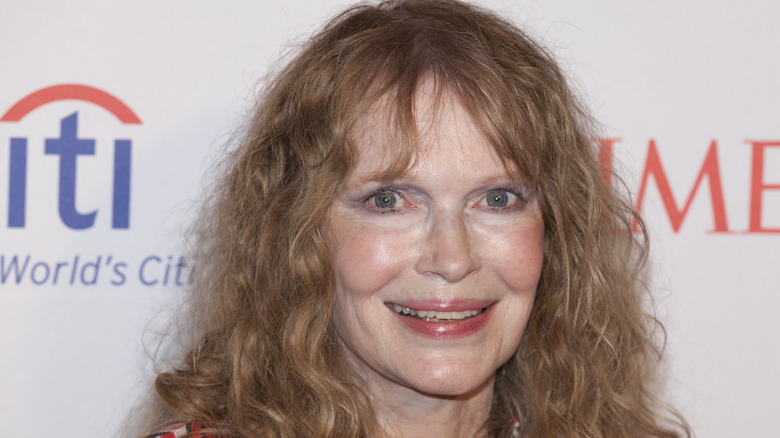 lev radin/Shutterstock
As contentious as Howard Stern's behavior toward Rosie O'Donnell was, he didn't cause as much damage as his fans did. O'Donnell faced the same problem many women with a platform have: terrifying, violent abuse from men — and Stern's fans were some of the worst. "I could have had a great conversation, but I'm playing to the audience," Stern said about his fans. "They want to hear outrageousness." As a result, his fans rummaged through O'Donnell's trash, per The Hollywood Reporter. To take it a step further, things got particularly bad when one of Stern's fans allegedly tried to kidnap O'Donnell's young son, Parker, which she revealed to actor Marlo Thomas.
But actor Mia Farrow smoothed things out, reaching out to both of them privately. Farrow told them they were the only two celebrities who rebuked Woody Allen after daughter Dylan's sexual abuse allegations against him. "She told [Stern], 'Stop being such an a**hole," O'Donnell told The Hollywood Reporter. "You and Rosie have more in common than you think ... And really, we do."
Stern contacted O'Donnell and they had a heart to heart, and O'Donnell told him her truth. "You scare me, Howard. I'm afraid of you," she told him, as she recalled to Thomas. "And men have scared me in my whole life." Stern apologized and said he'd never do it again, she revealed.
Howard Stern got Rosie O'Donnell her job on Sirius Radio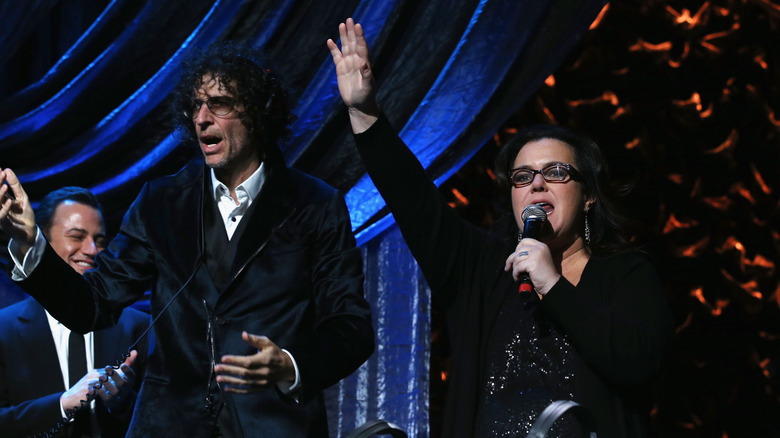 Larry Busacca/Getty Images
A few years after their healing phone call, Howard Stern invited Rosie O'Donnell to appear on his show. Speaking to actor Marlo Thomas, O'Donnell agreed to a phone interview, as she was still afraid to appear in person. The two clicked and realized Farrow was right. "I realized how much I admired [O'Donnell]," Stern told The New York Times in 2019, calling her "a fabulous comic" and "brilliant." He even told his employees not to play reruns of his show where he badmouths her. "She had gone through so much [expletive], because when I go after someone, my audience goes with me. But we've developed this nice friendship, so I said to my guys that I don't want to re-air me bashing Rosie."
Stern was even responsible for O'Donnell's show on Sirius Radio. "He called up the head person at Sirius and he said, 'She would be good at this,'" O'Donnell told Craig Ferguson in 2010. She continued extolling Stern's praises: "He is actually very kind ... he's got this huge, tender heart," she said elsewhere. "Now I think there could be peace all over the world because he and I are hanging out, and it's actually enjoyable," O'Donnell added.
Rosie seems to have that healing magic. She even became pen-pals with Michael Cohen, the lawyer, and former fixer who co-orchestrated the 2016 feud between O'Donnell and Donald Trump.