Lucille Ball Thought She Was Going To Die While Filming This I Love Lucy Scene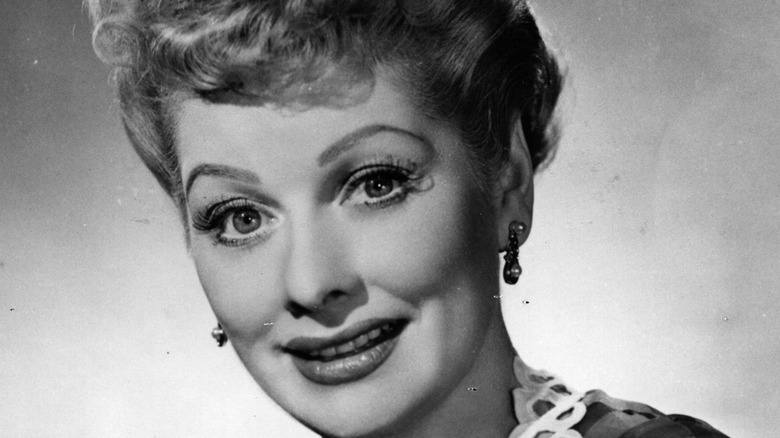 Evening Standard/Getty Images
Lucille Ball will forever be known as the queen of TV comedy. It all started in 1951, with the classic CBS sitcom, "I Love Lucy," where she co-starred with her real-life husband, Desi Arnaz, for six seasons and 180 hilarious episodes. She was a master of physical comedy, and many of the episodes relied on her slapstick stunts. She worked with everything from a candy factory conveyer belt to a plain ol' kitchen toaster.
Some of the scenes Ball was required to film looked downright dangerous. Who can forget the 1957 scene in "Lucy and Superman," during which she was forced to scale a window ledge to get between her character, Lucy Ricardo's, apartment and their neighbors' the Mertzes — all while dressed as the caped superhero?
Following her divorce from Arnaz in 1960, Ball would go on to star solo in "The Lucy Show," and "Here's Lucy," two more CBS sitcoms that relied on her knack for handling props and sticky situations. But there was one famous stunt that trumped them all.
Lucille Ball feared for her life while filming one of the most famous I Love Lucy scenes
The fifth season of "I Love Lucy" featured the Ricardos' trip to Europe with their best friends, Fred and Ethel Mertz, who were played by William Frawley and Vivian Vance. But a pit stop in Italy proved to be a dangerous one for the wacky redhead. In the iconic episode "Lucy's Italian Movie," Ball faced her messiest stunt when she filmed scenes with a real-life grape "stomper" named Teresa Tirelli. No one on the set spoke Italian, so communication with the Italian native proved to be difficult.
In 1974, Ball appeared on "The Dick Cavett Show" and revealed she'd been afraid that she would die while filming the grape-stomping scene. "[Tirelli] was told that there would be a fight," Ball revealed to Cavett. "And it was also explained to her that there were times when my legs had to come up in this huge vat of real grapes. I slipped, and when I slipped, I hit her ... accidentally. And she took offense. So, she hauled off and let me have it ... She kept me down by the throat. I had grapes up my nose, in my ears ... and, she was choking me ... I was drowning in these grapes ... This woman, she spent so much time beating the hell out of me in that vat, we had to cut half of it."
Ball managed to push the grape stomper off and called for a director for help. "To drown in a vat of grapes was not the way I planned to go," she said.
Lucille Ball was afraid to shoot another I Love Lucy scene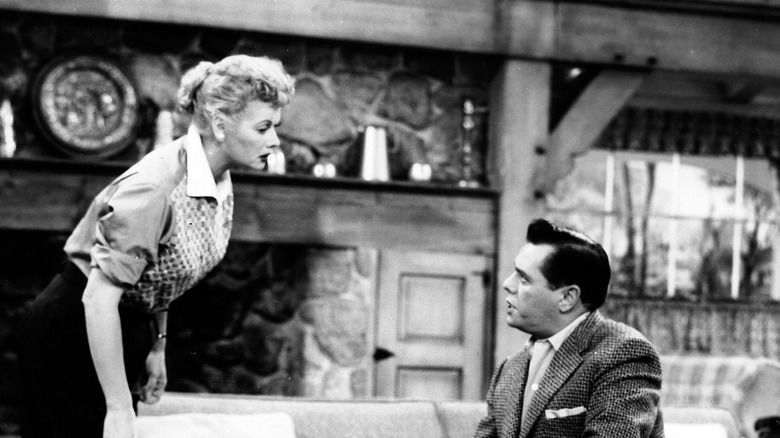 United Archives/Getty Images
A year before her grape vat mishap, Ball found herself in a sticky — or smoky — situation with guest star William Holden. In the Season 4 episode, "Hollywood at Last," Lucy Ricardo was caught fawning over the dreamy actor while dining at the Brown Derby during a trip to California. After she embarrassed herself in front of Holden, Lucy was mortified to find that her showbiz husband, Ricky, invited the Hollywood star to their hotel room. Lucy came up with the idea to disguise herself in front of Holden — cue up the fake nose and eyeglasses — but the key gag using the nose prop frightened Ball.
In the book "I Love Lucy: The Untold Story," it was revealed that Ball was nervous about a scene in which she was to wear a fake nose while holding a lit cigarette in her mouth. "According to the script, as Holden lit her cigarette, the end of Lucy's nose would go up in flames," wrote showrunner Jess Oppenheimer as per ShowBiz CheatSheet. "It took me all week to convince Lucy that her real nose wouldn't catch on fire. Our makeup man, Hal King, used a putty nose that wouldn't burn and placed a candlewick in it to ensure her safety."
Ball pulled off the stunt, but this was one Lucy scene she definitely didn't "love."