This Is Why Anjelica Huston Doesn't Have Any Children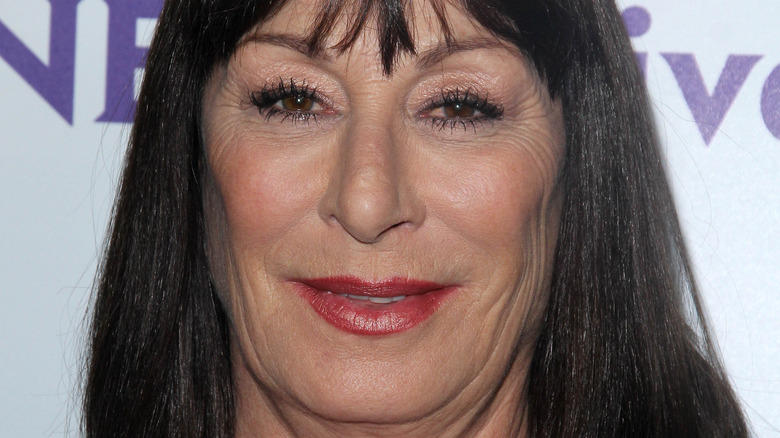 s_bukley/Shutterstock
With a career spanning more than 50 years, Anjelica Huston has undergone most milestones in her life before the public eye. Her personal life is no different. Huston was in a high-profile relationship with Jack Nicholson for much of the 1970s and 80s, a pairing whose ups and downs kept the public and the media interested for nearly 20 years. "The Royal Tenenbaums" star was only 21 when she met Nicholson, just a month after she moved from New York to Los Angeles, according to her 2014 memoir "Watch Me," per Vanity Fair. Her stepmother at the time, Celeste Shane, whom she called Cici, was invited to Nicholson's 36th birthday party in 1973 and brought Huston along, she detailed. "The front door of a modest two-story ranch-style house opened, and there was that smile," Huston recalled.
Huston and Nicholson dated off-and-on for the next 17 years. They never married and broke up several times along the way, but they always found a way back into each other's arms. That changed in 1989, when Nicholson admitted to Huston he had fathered a child with Rebecca Broussard, she told Vulture in 2019. "I was really nice about it ... but by the time I got home, I was really furious," she said.
Three years later, Huston tied the knot with sculptor Robert Graham, to whom she remained married until his death in 2008, according to the Chicago Tribune. Neither relationship produced children, something Huston at times regretted, but ultimately is happy about.
Anjelica Huston tried to have a child with Jack Nicholson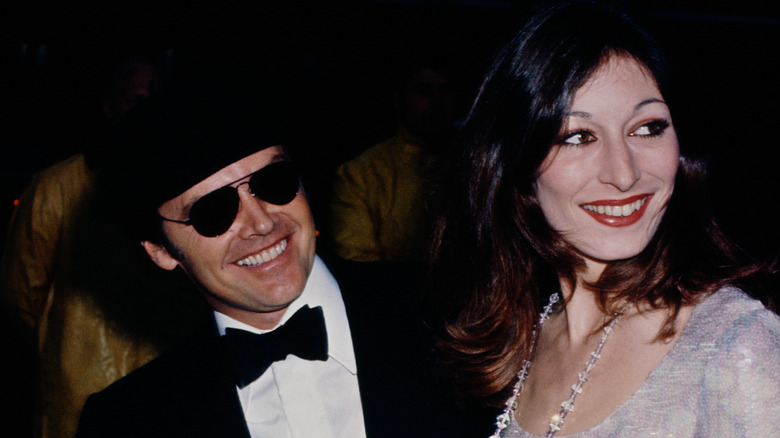 Michael Ochs Archives/Getty Images
Motherhood was never one of Anjelica Huston's top priorities, but she did feel the urge. She was with Jack Nicholson the first time it happened, and the two agreed to try, she told Vulture. "[It] didn't really work out," she said. In hindsight, Huston believes their failure to conceive was a blessing in disguise. "The truth is, I could never imagine [being a mother]. I can imagine lots of things, but I could never imagine carrying a baby," she told the magazine. But if she had gotten pregnant with Nicholson's baby, she believes the child would have turned out to be "charming, probably," she joked to The Guardian in 2014.
Huston contemplated becoming a mother again in her 40s, after she married Robert Graham, according to The Guardian. This time around, she was more serious about it and even underwent a series of IVF treatments to try to conceive. The procedure proved unsuccessful and, once again, Huston believes it was for the best. "There have been times when I wanted children and other times I've been grateful not to have them," she told WENN in 2000, via Cinema.com. 
In her view, managing a demanding career with the even more demanding responsibilities of childbearing was beyond her capabilities. "I don't know how I would deal with kissing my children as I left for work. I know there are women who are able to do that. I don't know if I could."
Anjelica Huston worried about replicating family patterns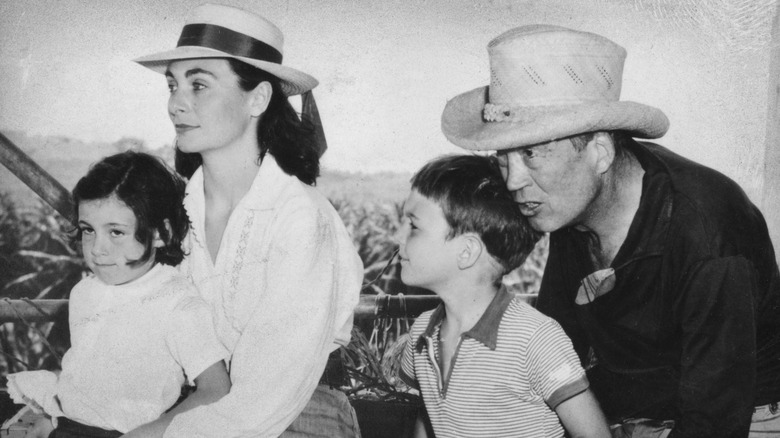 Print Collector/Getty Images
As the daughter and granddaughter of Oscar-winning director John Huston and Oscar-winning actor Walter Huston, Anjelica Huston has old Hollywood blood in her veins. While many celebs enjoy long-lasting marriages, they seem to be the exception in the industry. Unfortunately, Anjelica was part of the rule. John was married five times, with complicated extramarital affairs throughout, The New York Times noted. Anjelica's mother, model Enrica Soma, was John's fourth and longest-lasting union, but the relationship was far from your run-of-the-mill.
John was not only involved with one of Anjelica's friends, Zoe Sallis, but he had a son, Danny Huston, with her in 1962, when he was married to Soma. John announced the pregnancy to Anjelica and her brother Tony in great spirits, she told Vulture. "He said, 'Great news.' The great news was I had a little brother. I didn't think it was great news. I was shocked." Two years later, her mother would give birth to John Julius Norwich's child, Allegra Huston, according to the Independent. The love-child narrative in her life wouldn't stop with her parents, being replicated later by Jack Nicholson.
Anjelica's family baggage helped her come to terms with the fact she wouldn't experience motherhood. "When I talk about my mother and not wanting to echo that relationship, I think it would've probably been very much the same way. I would have been a stay-at-home mum, and he'd have been off, doing what he did," she told The Guardian.