The Messiest Part Of Kelsey And Camille Grammer's Divorce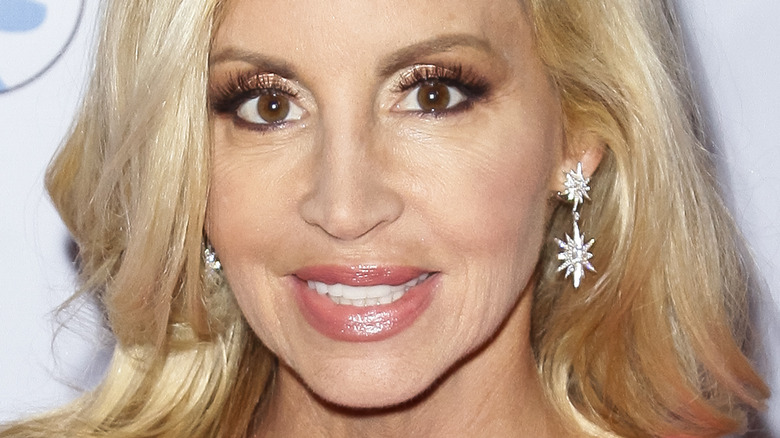 Tibrina Hobson/Getty Images
It's not unheard of for exes to get along, but for Camille and Kelsey Grammer, the pair's nearly 14-year long marriage continues to cause heat even years after finalizing their divorce in February 2011, as reported by Page Six. Besides sharing daughter Mason and son Jude, "The Real Housewives of Beverly Hills" cast member and iconic "Cheers" actor don't seem to share common interests anymore. The pair is still known to make public digs at each other, more than a decade after settling their divorce. Camille has even said she wished their lengthy marriage "ended in a more civil manner," but overall, it seems the Bravo star and the four-time Emmy-winning actor try to stay clear of each other. 
The two have since moved on — Kelsey more quickly than the former model, as he wed his fourth wife two weeks after his divorce from Camille was finalized (though Camille did receive $30 million from the separation), according to Fox News. In 2018, Camille also found love again and tied the knot with David Meyer, a lawyer. But despite the couple moving on, we can't forget the high-profile, messy end to their marriage and what led to the heated tension today.
Did the 'RHOBH' series escalate Kelsey and Camille Grammer's heated divorce?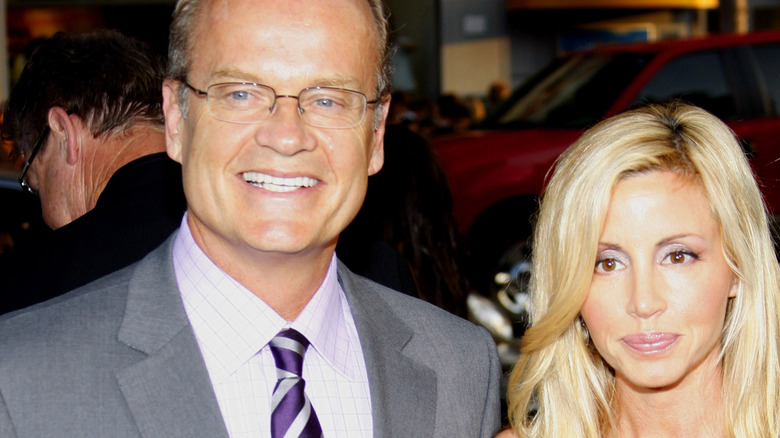 Tinseltown/Shutterstock
In 2010, Camille Grammer's seemingly perfect world fell apart when she discovered her then-husband, Kelsey Grammer, was reportedly cheating on her with his now-wife and former British flight attendant, Kayte Walsh. This spiraled into the start of an unpleasant ending to their more than decade-long marriage. In February 2011, their divorce became official, and a year later, Kelsey admitted to the Daily Mail that he should have told Camille about his infidelity sooner, rather than let it escalate on Bravo's "The Real Housewives of Beverly Hills," which captured the raw ending of their marriage for all to see.
Once their divorce was finalized, Camille used her newfound fame from the "RHOBH" franchise to bash her ex-husband at every opportunity, which intensified their digs at each other. On the show, she even suggested that Kelsey was a closeted crossdresser, per ABC News. In a 2011 interview, via The Hollywood Reporter, Kelsey told Piers Morgan he was the one who got Camille a spot on the show, calling it his "parting gift to her." Kelsey was also recorded saying, "Look, you always wanted to be famous. Here you go."
Where Camille Grammer and ex-husband Kelsey Grammer stand today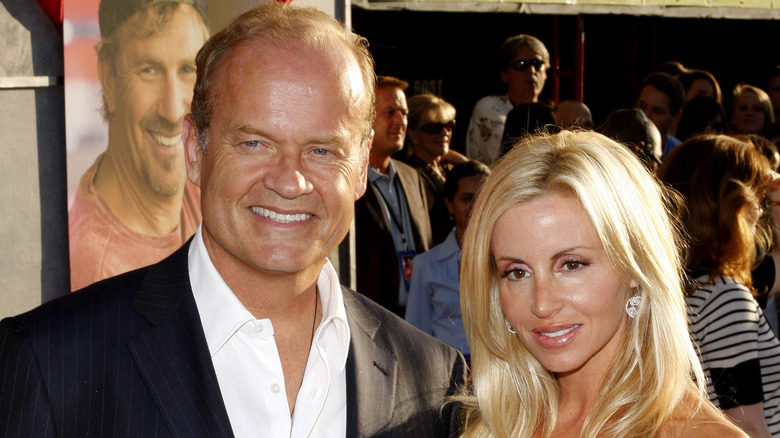 Tinseltown/Shutterstock
Camille and Kelsey Grammer's jabs at each other have continued over the years. In a 2012 episode of "The Real Housewives of Beverly Hills," she said that the difference between Kelsey and her then-boyfriend, Dimitri Charalambopoulos, was "eight inches," according to HuffPost). It's safe to say the pair's total public disdain for each other still remains messy. In 2017, six years after finalizing their divorce, Camille told fans and followers on social media that the "Frasier" star "acts like" she "never existed." Stating his side, Kelsey told Oprah Winfrey back in 2012, via BuzzFeed, that their relationship was all but over before they signed onto "RHOBH" and that "some very bad things, some threats were made, and some extremely unacceptable behavior took place in front of the children which makes it impossible for us to pretend that we can be civil," per People.
"I don't begrudge him his happiness," Camille wrote on Twitter. "What's unnerving is that fact I was there to help him get through some of his hardships and supported his career and his sobriety. I was rt by his side and he acts like I never existed that's disappointing. We were together through his success."
Camille also admitted to Andy Cohen on "Watch What Happens Live with Andy Cohen" that her ex-husband never reached out after her Malibu home burned down in the Woolsey fire in fall 2018 — another sign the former couple's status as friends remains nonexistent.