Why Kanye's Relationship With Donda Was More Important Than You Realized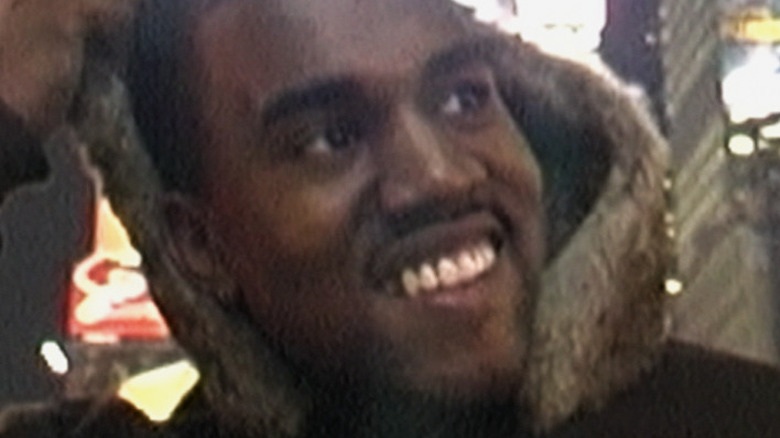 Netflix
This content was paid for by Netflix and created by Nicki Swift.
It's no secret that Kanye West always had a special relationship with his mother. Ye's newest album, "Donda 2," is the second consecutive one he's named after the late, great Donda West. But even as outspoken as the musician has been about how important his mother was to him, the absolute power and poise that she brought to his life simply has to be seen to be believed.
Luckily, thanks to the first act of "Jeen-yuhs: A Kanye Trilogy," titled "Vision," fans can finally discover just how much of an impact Donda West had on her son at a very pivotal time in his early career. Directed by Coodie & Chike, the documentary takes audiences all the way back to Ye's earliest days forming beats for and with other artists, all while desperately working to secure his own recording contract as a rapper.
This intimate, never-before-seen footage was initially recorded by Coodie, aka Clarence Simmons Jr., after he got a firsthand glimpse of Kanye West's talents and determination to succeed before anyone ever knew his name. The film follows Kanye as he moves to the East Coast to produce music for New York City artists, pitching his own songs along the way, and after experiencing a few crushing letdowns, he returns home to Chicago where he gets a confidence boost that changes everything.
Right time, right place, right words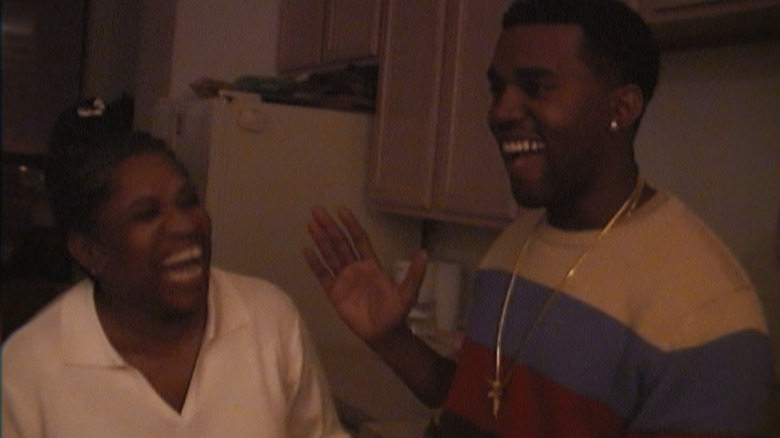 Netflix
Throughout the film, the then-up-and-coming Kanye West often reveals how much of an influence his mother had on his rapping style, especially thanks to her own history as an English teacher and cultivating his obvious love of vocabulary (he even plays favorites with words, such as "fruition"). We also learn from fellow Chicago-based producer Dug Infinite, who was one of the artists who first taught Kanye how to record beats, that it was Donda herself who helped them form this critical connection. As Dug recalls amid a joyous reunion, Donda was his teacher at Chicago State and told him that her son had gotten some "equipment" and "needed to be in the mix."
From there, Ye went on to have a very fruitful career, creating the beats for tracks for a number of famous artists, from Jay-Z to DMX. But perhaps the most significant impact that Donda had on Kanye came when he was feeling a bit down and out after being unable to get a record deal in New York. After traveling back to Chicago for a seminar and enduring a surprising bit of beef with Dug himself, the film follows Kanye as he journeys to his mother's house and gets the pep talk of a lifetime.
Not only does she welcome him and his friends with open arms and start rhyming with her favorite lyrics from one of his songs, but she also reminds him exactly how much she believes in his talents. "Remember, everything you'd do, I'd say, 'That's a million dollars,'" she jokes. "You play tracks like Michael Jordan shoots free throws. Anybody who does something that much and that long and is that good, it's gotta pay off." And when Kanye expresses some concern that his outward confidence might be the thing that's holding him back, Donda gives him the ultimate emotional lift, saying that his enthusiasm for his own talents is spot-on. "You can't be a star and not be a star. You gotta have some oomph about you. ... I think the way you are, you handle yourself, is really just perfect."
Soon after, Kanye is shown returning to New York with his head held high, filming a game-changing television appearance and finally, finally signing his first record deal. If not for that one powerful conversation, things might have gone entirely differently for Ye's career.