The Foods Tom Brady And Gisele Bundchen Won't Eat On Their Strict Diet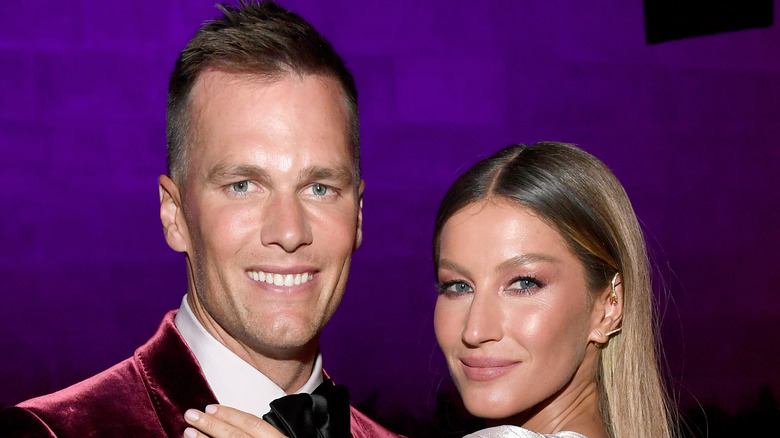 Kevin Mazur/mg19/Getty Images
He is one of the greatest professional football players of all time, and she is among the highest-paid supermodels in the world. Tom Brady and Gisele Bündchen have found unparalleled success when it comes to maintaining their fit, athletic looks and solidifying themselves as one of the hottest couples in the entertainment business. According to Forbes, Gisele was the biggest earner in the modeling industry for 15 years, until Kendall Jenner topped her out in 2017. With her major, ongoing partnerships with elite brands like Pantene and Chanel (per People), Bündchen has gracefully kept up with her newly retired, Super Bowl-winning quarterback husband. 
The pair married in 2009, in an intimate ceremony just one month after getting engaged. They have welcomed two children together, in addition to Brady's son from his ex-girlfriend, who Bündchen refers to as a "bonus" child, according to Us Weekly. Brady and Bündchen aren't shy about letting their followers know family is their priority while sharing their healthy lifestyle and strict plant-based diet, with the Brazilian model vowing by claiming, "Let food be thy medicine," on her Instagram.
What foods Tom Brady and Gisele Bündchen stay away from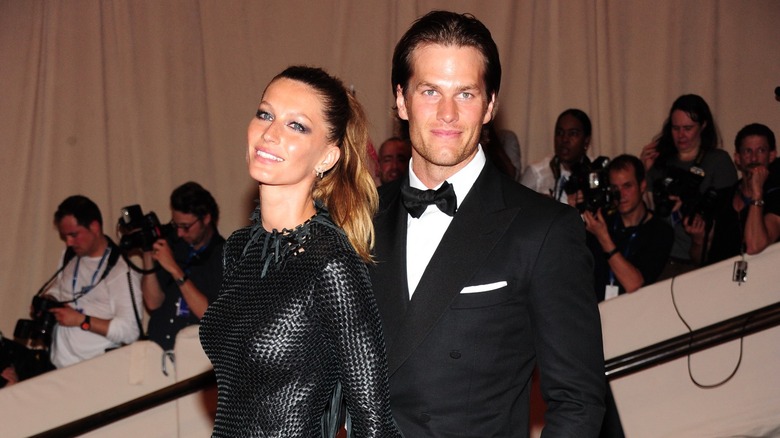 Everett Collection/Shutterstock
As a professional football player for over two decades and a supermodel landing some of the highest-paying gigs in the world, Tom Brady and Gisele Bündchen are known for their dedication to eating well. The power couple chooses to strictly stay away from foods that don't coordinate with an organic and plant-based diet, as per the Food Network. Besides the occasional piece of chocolate, their diet bans alcohol and "processed junk," making sure everything is anti-inflammatory for optimal performance and recovery.  
The athlete and model's personal chef, Allen Campbell, told Boston.com the health-conscious couple's gluten-free diet is "very different than a traditional American" one and he always avoids recipes and foods involving white sugar or flour, caffeine, fungus, iodized salt, or dairy. Let's not forget "no tomatoes, peppers, mushrooms, or eggplants" because they can cause inflammation. We can see why the personal chef was hired, because much like who he cooks for, Campbell practices the philosophy that "sugar is the death of people" and added that he never uses canola oil to cook because it can "turn into trans fats."
What Tom Brady and Gisele Bündchen's family eats on a regular basis
Seven-time Super Bowl champion Tom Brady and Brazilian model Gisele Bündchen's healthy lifestyle and appearance can linked to, at least in part, their famous plant-based meal plans, which results in eating 80% vegetables and 20% lean meat, according to the Food Network. Common foods that end up on their table include whole grains, like brown rice and quinoa, with a combination of fruits, vegetables, nuts, seeds, and legumes. Since sugar is shunned in Brady and Bündchen's household, their personal chef, Allen Campbell, told Boston.com he makes the family's snacks himself by "dehydrating fruits from bananas, pineapple" and algae called "spirulina." Campbell admitted he'll occasionally throw in raw granola and raw chocolate chip cookies, plant-based, of course, using coconut oil instead of canola. For main meals, he's "all about serving meals in bowls, like a "quinoa dish with wilted greens."
The personal chef also does the couple's grocery shopping. He often shops for them multiple times a day, and prefers local markets and Whole Foods, but using produce from the family's own gardens (per Instagram) and trees is his first choice. He will let Brady and Bündchen know their meal plan about two days in advance. Brady has confessed their family will sway away from their strict diet on holidays, saying his "grandma always had a biscuit recipe that she used to make" and so they've kept that tradition alive, notes People.