Ice Cube's Son Is Basically His Twin
Roy Rochlin/Getty Images
Most children resemble their parents — that is, of course, how genetics work. In some cases, however, children appear to be carbon copies of their parents, taking on their physical appearance, demeanor, and even career paths. O'Shea Jackson Jr. is no exception to that rule.
The son of rapper Ice Cube, Jackson Jr. is spitting an image of his famous father O'Shea Jackson Sr. a.k.a. Ice Cube. Not only did Jackson Jr. copy and paste his father's face, his voice but also his mannerisms, and swagger also resemble those of the N.W.A. rapper. Jackson Jr. doesn't shy away from his famous lineage, literally stepping into his father's shoes in his acting debut as Ice Cube in the 2015 biographical drama film, "Straight Outta Compton." The film chronicled the rise of legendary hip hop group N.W.A., which consisted of Dr. Dre, Eazy-E, and Jackson Jr.'s own father. Ice Cube joked with Jimmy Fallon that it feels like he is "in a 'Back To The Future' movie" when watching his son on screen. 
The film kicked off Jackson Jr.'s acting career, but nabbing the role wasn't easy. He revealed during an interview with the Wall Street Journal that it took him years of auditioning before he secured the part — shocking, as Jackson Jr. is the spitting image of his father.
O'Shea Jackson Jr. had to earn his role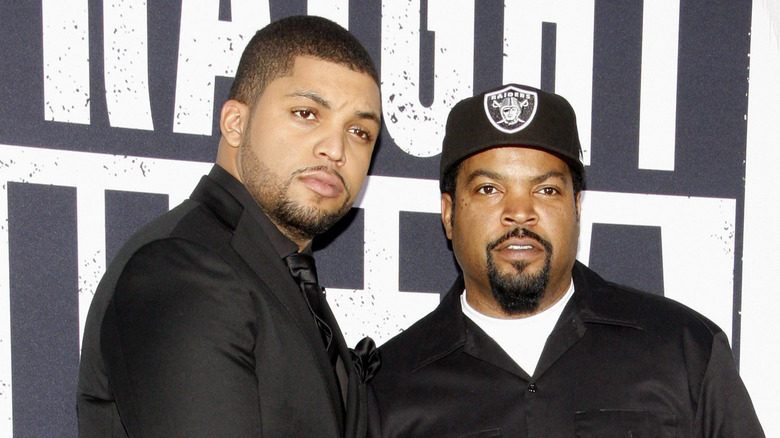 Tinseltown/Shutterstock
Ice Cube is not only a founding member of the legendary hip hop group N.W.A., but he has also starred in several successful film franchises. His eldest son O'Shea Jackson Jr. is following in his father's footsteps. Jackson Jr. was born in 1991 in Los Angeles to Ice Cube and his wife, Kimberly Woodruff, and attended the University of Southern California for screenwriting, according to Eurweb. The oldest of the couple's four children, Jackson Jr. was driven to follow a similar path as his famous father, but as Jackson Jr. revealed, that journey was much harder than he expected. 
"They put me through the wringer," Jackson Jr. told People about the "Straight Outta Compton" audition process. "For two years I was going to acting classes, learning techniques, going to auditions, callbacks, and things like that." Ice Cube, also expecting flack for casting his own son in the biographical drama film, encouraged Jackson Jr. to polish his acting skills. "I knew that people would think I just gave him the job," the father said. "So I wanted him to be more than ready. I wanted him to be a great actor by the time we started to shoot."
O'Shea forges his own path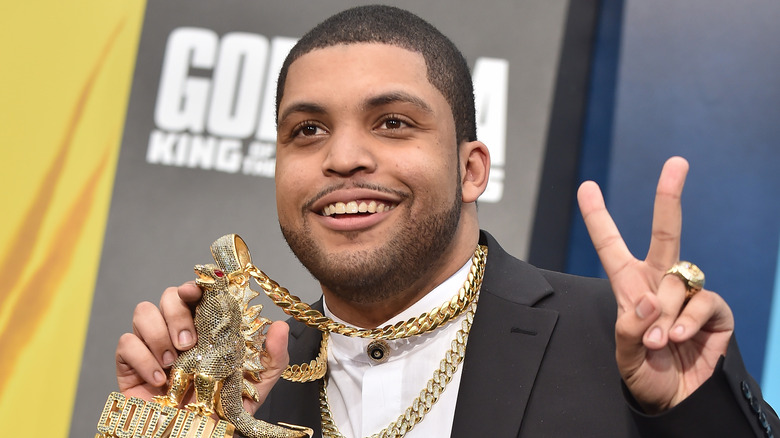 DFree/Shutterstock
If portraying Ice Cube in a biopic about the rapper's life wasn't enough, O'Shea Jackson Jr. was also inspired by his father to continue his acting career post "Straight Outta Compton." Following the acclaimed success of his debut film, Jackson Jr. sought to forge his own path in Hollywood. In 2017, his performance in "Ingrid Goes West" was praised by the Los Angeles Times as "scene-stealing." In 2019, he played Jackson Barnes in "Godzilla: King of the Monsters," a role Jackson Jr. says he took on intentionally, as he hoped to distance himself from his debut role as his father. "Every role that I picked after that was for me to show range," Jackson Jr. told Essence. "It was for me to show that I can get down and I can rub elbows with the best of them." 
When asked about the negative impact of being the child of a famous rapper and having virtually the same face as his father, Jackson Jr. acknowledged that while beneficial, the familiarity comes with its own set of challenges. "It's a lot of pressure," Jackson Jr. reflected. "It's a lot of pressure put on a son to bear his father's name, but at the end of the day, pressure makes diamonds so what are you scared of?"