Mark Consuelos' Son Michael Is His Twin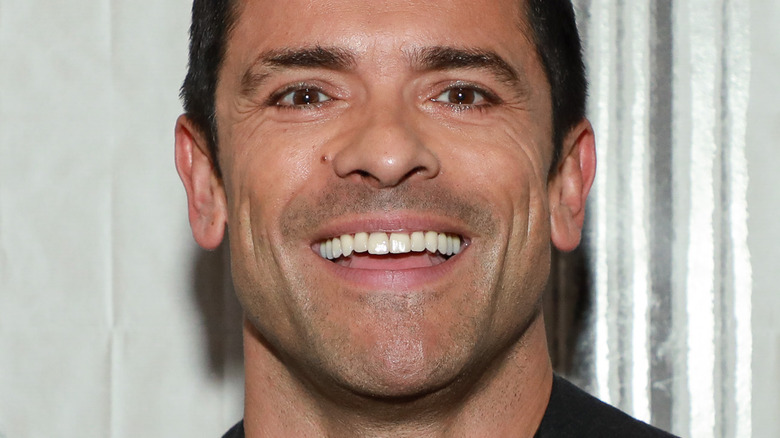 Jason Mendez/Getty Images
Besides being best known for his roles in "All My Children" and playing the evil Hiram Lodge for four seasons on "Riverdale," Mark Consuelos is also known to be a loving father and husband, per Biography. He's been married to co-host of "Live with Kelly and Ryan" Kelly Ripa for more than two decades after the pair eloped in Las Vegas in 1996. Besides posting flirtatious and revealing photos of each other on Instagram, the couple is also known to co-host on television together. Throughout their longtime marriage, the loving couple share three kids — Michael, Lola, and Joaquin. 
And with Mark's firstborn son, Michael, guest starring as a younger version of his character on "Riverdale," the couple now shares the TV screen with their kids, too. But Michael didn't land the part for no reason. From looking like his dad's twin both on and off-screen, he's continuously making fans do a double take, per Hollywood Life. 
Michael Consuelos is the spitting image of his dad
In 2018, Mark Consuelo's son, Michael, first sent fans into a frenzy about the father-son duo's twin-like appearance when he posted a now-deleted Instagram photo dressed as the younger version of his dad's villainous character on set of the teen drama "Riverdale," per People. Showing off the striking resemblance between he and his dad, mom Kelly Ripa commented on the pair's similar looks — replying in the comments, "Son? Is that you??"
Michael has also posted photos alongside his look-alike father. In July 2021, he shared an Instagram pic while posing next to his dad and wrote, "Same energy." One fan commented, "CAN U SAY MINI ME?" In January 2022, the young actor posted another throwback Instagram photo showing himself wearing a chic suit. Fans immediately fluttered with similarities to Mark — with one user commenting, "You look really mature for your age and so much like your handsome father."
Inside Mark Consuelos' relationship with Michael
It seems as though Mark Consuelos and son Michael truly share a bond as a father-son duo, especially after working together on "Riverdale." "It was so awesome," Michael told ET. "I said it before, but it was a bucket list moment working with my dad and he's a great person to act opposite ... Dad in particular brings a lot to the scene and he's a very giving person to act opposite. You have a lot to work with there."
After Mark saw Michael share the screen with him for the first time in 2018, he admitted it was "a bucket list moment" for him and Ripa. "Congrats to my son Michael on being cast as the younger (and much better and handsomer) Hiram. We are so proud," Mark wrote in an August 2018 Instagram post.
As for Michael's next career move, he voiced to ET that he's looking for something less-based on looking like his "twin" dad. "I think the next step would be to not play my dad, I guess," he said. "But again, I'll do it as many times as I can. I love it! But you know, it was no complaints. No complaints. It was awesome."