Bob Odenkirk Admits He Worried About Chris Farley Years Before His Death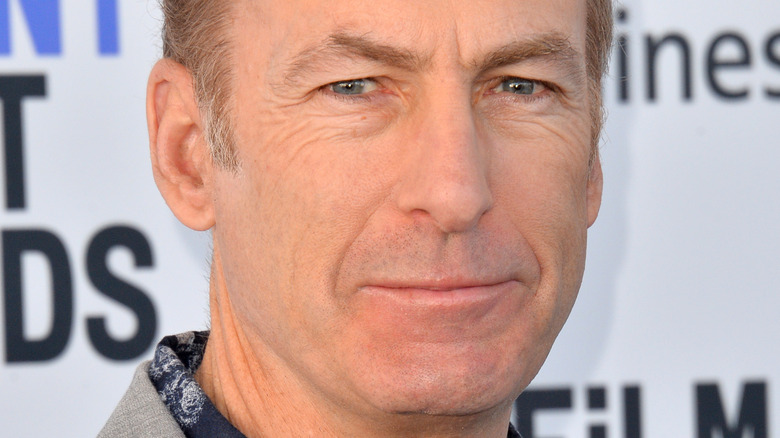 Featureflash Photo Agency/Shutterstock
Chris Farley's life came to a tragic end when he died of a drug overdose on December 18, 1997. The "Saturday Night Live" alum had struggled with his drug use, and had entered rehab 17 times in the last couple years of his life. Leading up to his death, Farley routinely made a spectacle of himself in public settings, as one friend recalled seeing the comedian pour milk all over his body at Planet Hollywood in Indianapolis the summer before his death. "I want to live fast and die young," was Farley's response when that friend asked him to calm down, per Entertainment Weekly.
"SNL" head honcho Lorne Michaels was worried about Farley and decided to enlist Tom Arnold — another comedian who struggled with addiction — to watch over him. "Lorne Michaels called me and he said, 'You have a lot in common with Chris Farley. Would you please spend time with him?'" Arnold recalled on "The Howard Stern Show" in June 2021. "He wanted to be sober, and I think Lorne really worried about that, and so I was his sponsor for a few years," Arnold said.
Bob Odenkirk worked as a writer on "SNL" before famously portraying Saul Goodman on "Breaking Bad." He worried about how Farley was portrayed in certain sketches, such as the infamous "Chippendale's Audition" sketch, where Farley stripped-off against Patrick Swayze. "F*** that sketch," Odenkirk wrote in his memoir "Comedy Comedy Comedy Drama," per the New York Post. Odenkirk also revealed a harrowing night with Farley that made him fearful for his friend.
Chris Farley's destructive rampage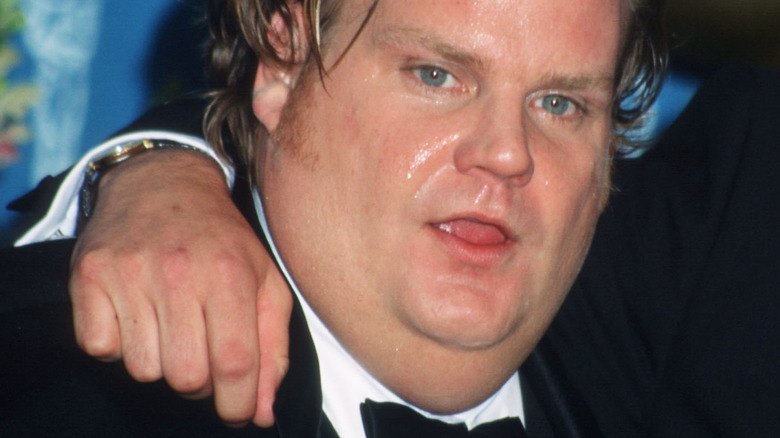 Barry King/Getty Images
Bob Odenkirk revealed a story where Chris Farley displayed particularly destructive behavior that made the "Better Call Saul" star truly concerned. The duo had originally met as performers at Second City in the 1980s, and one night, they attended a funeral service for a fellow Second City alum, as recalled in Odenkirk's "Comedy Comedy Comedy Drama" memoir, via the New York Post. Farley brought two bottles of wine to the funeral, and drank them himself, and the "Tommy Boy" actor caused a scene when he began "tossing furniture through the air." To ease the situation, Odenkirk offered to take Farley home. Although, once home the "Saturday Night Live" star began throwing his own furniture. In an effort to distract Farley from his rampage, Odenkick started talking to his friend. 
"Odie ... do you think Belushi's in heaven?" Farley asked, referencing deceased "SNL" star John Belushi. "'I don't know, Chris. I guess so,'" Odenkirk recalled telling the comedian. Farley had a fascination with Belushi's death and mentioned it on several occasions. "Anyway, I'm fatter than him now ... Did you know that he died at my age this year, at 33?" the "Black Sheep" star told Rolling Stone during an interview in 1997.
Odenkirk also recalled the last time he saw Farley alive, and how he knew his friend didn't have much time left. "Chris looked like a big zit, about to pop. Red, bloated, stubble-faced and sweating profusely," the "Nobody" star wrote, via the Post.
If you or anyone you know is struggling with addiction issues, help is available. Visit the Substance Abuse and Mental Health Services Administration website or contact SAMHSA's National Helpline at 1-800-662-HELP (4357).