Long Island Medium's Theresa Caputo Has Big News To Share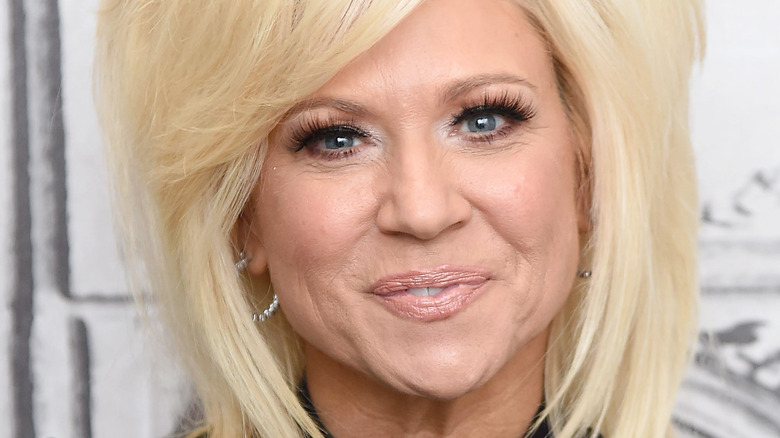 Gary Gershoff/Getty Images
Theresa Caputo, star of "Long Island Medium," has enthralled audiences with her supernatural gift. She claims that she has a gift of speaking to the dead, and from 2011 to 2019, the show featured her as well as her home and family life. She and Larry Caputo are parents to Lawrence and Victoria, and seemed to have an idyllic family life until they announced that they were getting divorced. Per The U.S. Sun, Theresa and Larry met when she was just 18 years old. They got hitched two years later and remained married for 30 years before they called it quits in 2017.  "I'm grieving right now. I'm grieving my 30, almost 34 years, with Larry," she told Us Weekly about life post-divorce in 2019. However, she wisely noted that "things weren't the same that they were 34 years ago. So, of course, I miss that aspect." Theresa added, "But the way that things were at the end, no — I don't miss that."
But, in May 2021, the Caputos gained a son-in-law. Victoria and Michael Mastrandrea tied the knot in a lavish, yet intimate, ceremony. The bride posted snaps on Instagram, and it was clear that both parties were equally smitten. In August 2021, Victoria then announced that they were expecting their first child in February 2022. It appears as if Theresa has plenty to celebrate as she recently took to social media to share her good news.
Theresa Caputo welcomes new granddaughter
Theresa Caputo is a grandmother! Her daughter, Victoria Caputo Mastrandrea gave birth to a baby girl on February 22. The doting grandmother revealed the news that her first grandchild had arrived in a video that she shared with her fans. Victoria also appeared in the video, even though she was still in the hospital, to show off her precious newborn. The baby weighed in at 7 pounds and 12 ounces and measured 19 inches long.
Theresa also shared that there were "no words to describe the love and emotion of holding my Granddaughter." On February 25, she gushed, "Michelina you have stolen our hearts." She added that she was "loved to the moon and back." The three pics showed Theresa cuddling and kissing the infant, and two closeups of the newborn dressed in a pretty pink hue. Fans congratulated Theresa on becoming a grandmother, and many commented on the new tiny bundle. One of the celebs was Kim Zolciak-Biermann, a reality star who appears on "The Real Housewives of Atlanta" and "Don't Be Tardy." The reality star wrote, "So jealous I'm coming to steal that baby for a day!!"
Both Victoria and Michael Mastrandrea also took to social media to gush about Michelina Rose. The father said, "Nothing will ever compare to the moment I first held you baby girl." He promised that they would "shower you with love and spoil you to death." He then added, "Oh and side note please stay this small forever."