The One Thing That Hurt Bobby Flay The Most In His Divorce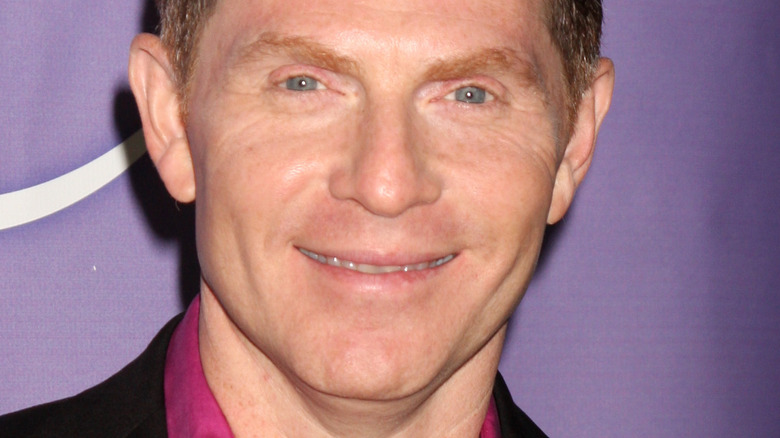 Kathy Hutchins/Shutterstock
Celebrity chef Bobby Flay is known for his nearly impeccable creations in the kitchen. The Food Network star has been at the helm of several cooking shows including "Throwdown! with Bobby Flay," "Iron Chef," and "Beat Bobby Flay." Without a doubt, Flay is considered one of the most notable and famous chefs in the world.
In addition to taking on hosting duties for a number of television programs — cooking-related or otherwise — Flay has had a storied love life, marrying three times. Flay tied the knot with his first wife, Debra Ponzek, in 1991. At the time, they were both highly regarded chefs in New York City, as The New York Times noted, but eventually divorced in 1993. He met his second wife, Kate Connelly, in 1995 and the couple had a daughter, Sophie Flay, in 1996. Unfortunately, the marriage went the way of Flay's first, with Connelly and Flay splitting up for good in 1998, per Insider.
Flay's longest marriage was to "Law & Order: SVU" actress Stephanie March. The couple met on a blind date while March was starring in the hit NBC show, according to CNN. "I know it's a cliché, but I remember thinking, Oh my gosh, this is the rest of my life," March said of her initial meeting with Flay. However, in the end, it seems rumors of cheating put Flay at the receiving end of a painful public shaming.
Bobby Flay's marriage to Stephanie March fell apart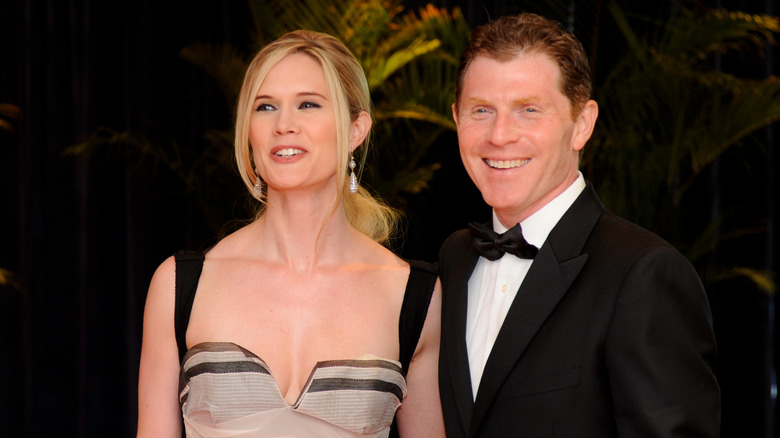 Rena Schild/Shutterstock
Bobby Flay's marriage to Stephanie March looked like it would last forever. The pair married in 2005 and remained, by all appearances, an outwardly happy couple for 10 years, per The New York Times. Unfortunately, the marriage hit a few rough patches behind the scenes — ones which ultimately led to its end. According to TMZ, Flay was missing in action when March's appendix burst in 2014. The outlet reported at the time that their marital turmoil was exacerbated when Flay skipped out on the pair's 10th anniversary to attend a wine festival in Florida. By 2015, the couple had officially separated, and Flay had moved out of their New York City home.
While Flay's marriage to March was subject to several allegations, the union reached a boiling point because of Flay's alleged affair with a hostess at his restaurant, Bar Americain, according to Page Six. "She came to my house and was sobbing uncontrollably," recalled Maia Madison, a friend of March's, to the tabloid at the time. She added: "Elyse had even been to Stephanie's home when she was there — and when she wasn't."
Months after news of Flay's alleged transgressions hit the press, the Food Network mainstay was set to receive a star on the Hollywood Walk of Fame. However, the moment was sullied when a plane carrying a salacious banner interrupted the ceremony.
Bobby Flay is branded a 'cheater'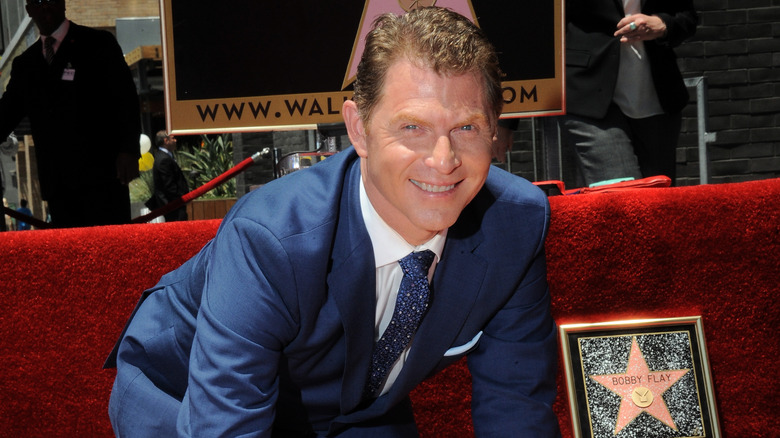 Albert L. Ortega/Getty Images
On the day of Bobby Flay's Walk of Fame ceremony in 2015, a plane carrying a banner reading "cheater" flew conveniently over Hollywood, according to a report by TMZ at the time. While the plane's commissioner was never identified following the incident, the indictment-by-air came as Flay was smack dab in the middle of a divorce from then-wife Stephanie March. Oof.
Despite the one-ended aviation-style kerfuffle, Flay and March officially settled their divorce in July 2015, telling People in an official statement that both had "come to an amicable divorce settlement." Looking toward the future, the ex-couple added, "We look forward to putting this difficult time behind us, and we ask that you respect our privacy as we move forward." While details of the settlement have never been confirmed by Flay or March, TMZ reported that the split cost the top chef $5,000 a month for five years.