Bizarre Japanese Commercials Celebs Thought You Would Never See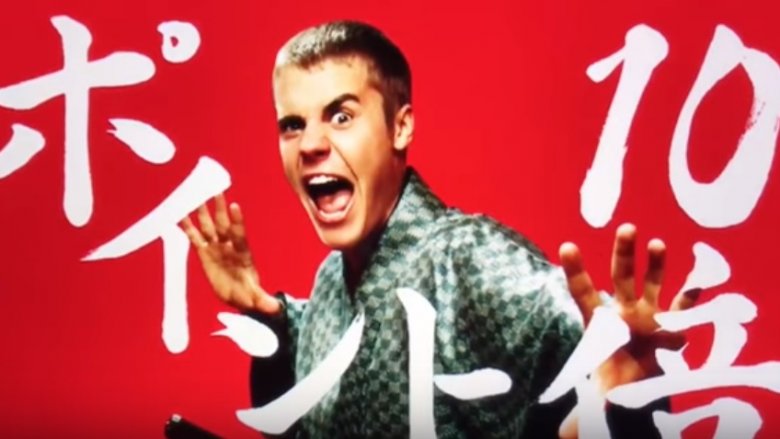 SoftBank
Anyone who's ever had the pleasure of watching even a few minutes of Japanese television knows just how much it differs in style to what we have beamed onto our small screens here in the West. Japan is well-known for its wide variety of crazy game shows, but the stuff that airs between regular programming is often even stranger. 
Japanese advertisers seem to favor style over substance, and what better way to make an impact than by dropping a big-name Western celebrity right in the middle of all that craziness? Hollywood stars sneaking off to Japan to earn a quick buck doing a wacky commercial is nothing new, but in doing so, they run the risk of embarrassment if that clip pops up at home. Here are some bizarre Japanese commercials that celebrities thought you would never see. 
Nicolas Cage - Sankyo
Once a genuine Hollywood A-lister, Nicolas Cage now seems to have settled comfortably into the role of straight-to-VOD star. But he's still big in Japan. In fact, during a live chat with fans, he reportedly said he was interested in bringing box office flop The Wicker Man (2006) back for a sequel set in Japan. Though Cage's character, Edward Malus, was burned alive in the first film, the actor apparently suggested he return as a ghost, which drew much mockery from the internet of public opinion. That probably wasn't the worst idea Cage has had.
There's also this: Sankyo hired him to star in a bizarre advertising campaign for its line of pachinko machines (a cross between a traditional arcade game and a slot machine). While Cage's ho-down with silver-suited aliens on a deserted stretch of road is the weirdest of the lot, he filmed a whole bunch of crazy spots for Sankyo, each as baffling as the next.
Britney Spears - Suki
Britney Spears became the biggest pop star in the world in 1999 with the release of her crazy popular debut album, ...Baby One More Time. She was in high demand all across the globe, and Japan wanted a bit of the action too. 
This incredibly awkward interview with the young singer is one of her first appearances in Japan, though watching her flinch as one of the two men interviewing her repeatedly slaps the bald head of the other is still less cringe-worthy than the commercial she later made for Suki. 
In the ad, Spears dances around the pink interior of her private jet before popping out a Suki (a brand of Japanese candy) and then offering one to her sour-faced bodyguard, who breaks into his own dance the moment he tastes it. This commercial looks like it was pulled from the cutting room floor at the Disney Channel, though we have to hand it to Brit: as far as we can tell, she nailed her one line of Japanese.
Madonna - Jun Legend
Spears merely followed in the footsteps of a previous generation's pop idol. In the 1980s, Madonna made a bunch of commercials for Mitsubishi. The campaign features the singer dancing around to her own music as a Japanese voiceover describes the features of the tech company's top-of-the-line VCR players. By Japanese standards, the adverts are pretty straight-forward and uneventful (with the exception of the one where Madge rides an elephant). 
However, it's not like Madonna to do anything halfway, so in 1995, she returned to Japan to film a much glitzier commercial for Jun Legend, a brand of the Japanese alcoholic drink of choice, sake. Madonna even wrote and performed a new piece of music for the spot, which features her dressed in traditional Japanese garb and wielding a samurai sword to deal with a golden dragon.
Bruce Willis - Kowa Coffee
The Japanese absolutely love Die Hard movies, plain and simple. If you don't believe us, all you need to do is watch this clip of the "Japanese Bruce Willis" appearing on a Japanese TV show to the delight of the audience. (Do you believe us now?) 
A less entertaining but more tangible way to prove just how much the Japanese love Willis and his no-nonsense action franchise would be to look at the numbers. Box Office Mojo lists Japan as the number one foreign market for Die Hard movies by a considerable distance, with 1995's Die Hard: With a Vengeance earning a staggering $82 million there—way more than nearest rivals France and Germany. 
Willis' star power has been exploited by Japanese advertisers on several occasions in the years since the original Die Hard movie made him a household name, and his "Power" commercial for Kowa Coffee actually isn't that bad when compared to his earlier efforts.
Sylvester Stallone - Hot dogs
Sylvester Stallone is a repeat offender when it comes to terrible Japanese commercials. Stallone's Rocky Balboa and John Rambo characters are both big heroes in Japan, idolized for the way they take their destiny into their own hands. Stallone has cashed in on that popularity on multiple occasions, famously advertising Knorr soup in a strange spot that involves him working out semi-naked in front of a bunch of gawking kids.
While that ad was pretty weird, the most bizarre Japanese commercial starring Stallone has to be the one he made for an unknown brand of hot dogs. Dressed in a tuxedo, the action star clutches a bouquet of flowers to his chest as he grins at a pile of dogs being tossed in a bowl. This one most definitely walks a fine line between bizarre and just plain creepy. The Italian-American also did some work on horseback for Japanese brewery Kirin, and, as you're about to find out, he wasn't the last Hollywood star to hawk this canned beer.
Harrison Ford - Kirin Lager Beer
Harrison Ford is another big-name Hollywood actor considered bankable in Japan. In the mid-nineties, he also signed on for Kirin Lager Beer. Having built on the success of Star Wars with the Indiana Jones franchise, Ford was a hot property at the time, so Kirin must have really broke the bank to get his clothes off. 
In one commercial, the actor sits in a sauna with a Japanese stranger, racing him through the door after they both get thirsty for a Kirin cold one. Other spots for the brand include Ford searching for a Kirin at the beach, at a restaurant, and even in a jungle, managing a few lines of Japanese in each.
A more mature Ford returned to Japan in 2011 to take part in a strange little commercial for Uncharted 3 on the PlayStation 3. The ad basically consists of the older actor seemingly struggling with the game for 30 seconds and then giving up on it.
Ben Stiller - Kirin Fruit Beer
Ford's Kirin commercials look like masterpieces when viewed next to Ben Stiller's spot for the company's fruit beer. This one plays like a drug-induced nightmare and stars Stiller's dim-witted model character Derek Zoolander. 
The comic actor goes full gonzo as an explosion of Americana happens all around him, bursting through the pom-poms of the Kirin cheerleaders to tell the good people of Japan all about their latest beverage. Only, it isn't Stiller talking. It's a ridiculous dub that just adds to the surreal experience that is this commercial. The Tropic Thunder (2008) star is randomly frozen in a block of ice after opening a can of the citrus-flavored beer, and then he charges by a pack of football players after the pig skin accidentally lands in his hand. Stiller at least looks like he's having fun with the part.
Arnold Schwarzenegger - Alinamin V
Arnold Schwarzenegger is the unofficial king of bizarre Japanese commercials. He's been making bank in the Land of the Rising Sun since he rose to stardom in the 1980s as Conan the Barbarian and as the Terminator. Hollywood had an appetite for action movies at the time, and as the biggest importer of Hollywood films back then (they've since been overtaken by China), Japan fell in love with Arnie.
The Austrian-American starred in a campaign for Nissin Cup Noodle, carrying cars and blowing up mountains in a series of strange and unusual ads. But those noodle clips pale in comparison to the ones "Schwa-chan" (as he is affectionately known in Japan) made for energy drink Alinamin V. These commercials represent Japanese gonzo-style advertising at its absolute finest.
Schwarzenegger finds himself in several situations where he needs to turn to the drink for a boost, and when he does, weird things happen. Arnie appearing genie-style from inside a bottle of V and laughing like a maniac is a common theme, but the most bizarre of the bunch is the spot where he's apparently accused of groping a lady on a public train and gets out of it by downing a V. 
The former governor of California returned to Japanese advertising in 2014, alongside Willis, as part of Kowa Coffee's "Power" campaign.
Edward Furlong - Hot Noodle
If The Terminator could sell instant noodles, why not John Connor? Edward Furlong might have hit rock bottom in the years since he starred alongside Schwarzenegger in James Cameron's sci-fi action classic, but back when he was still considered 'kawaii' (cute), he was a huge draw in Japan. 
Hot Noodle decided to make him the face of its product, dressing him as a tiny kettle and having him dance along the rim of a noodle cup. In another spot airing in 1992, he plays soccer for a Japanese team as a female admirer watches—he certainly had plenty of those in Japan at the time.
Believe it or not, Furlong also had a brief music career in Japan, releasing two gold albums, according to the Los Angeles Times. His music was tailored specifically for an adoring demographic of teenage Japanese girls, but the former child star came to regret that move. According to Turner Classic Movie, Furlong later described his Japanese music project as "the exact opposite of rock" and "a bad mistake." 
Justin Bieber - SoftBank
Justin Bieber proved that Western stars popping up in weird Japanese commercials isn't just a thing of the past. The Biebs has graced a series of ads for SoftBank. The most bizarre to date features Bieber kitted out as a samurai and howling like a bad kung fu flick as he gets encircled by ninjas armed with smartphones. What service the bank is offering isn't exactly clear, but who cares? 
Some other weird and wonderful TV spots the Canadian megastar has filmed for SoftBank—the company who previously used Quentin Tarantino in a bizarre commercial for dog-shaped speakers—include footage of Bieber waltzing into a living room dressed as a Japanese schoolboy and teaming up with Japanese comedian Pikotaro of "Pen Pineapple Apple Pen" fame.
Mariah Carey - Nescafe
Mariah Carey has been sitting through awkward interviews in Japan since the early '90s, when she was considered one of the top musical exports from the States. She packed the Tokyo Dome in 1996 and was still drawing huge crowds in the Japanese capital as of 2014, when she returned as part of her Elusive Chanteuse World Tour. While her questionable vocal performances during the Japanese leg were mocked by some fans, the overall reception for Mimi proved she's still a draw, and that fact was not lost on advertisers. 
Sony brought in Carey to sing over a graphic of one of its gadgets, and she also promoted one of Japan's largest English language schools, Aeon. Her most memorable appearance in a Japanese commercial has to be for Nescafe. The ad spoofs classic video game Mortal Kombat and other titles as a gamer Carey beats her hapless Japanese opponent.
Sean Connery - L4 Yogurt
Audiences in Japan first came to know Sean Connery when the classic James Bond flick You Only Live Twice (1967) was filmed there. The star even speaks a few lines of Japanese in his fifth turn as Agent 007. In hindsight, the film has been described as a racist, largely due to the fact that Bond appears in yellowface as he leads a pack of ninjas.
1993's Rising Sun (Connery's disappointing collaboration with Wesley Snipes) also drew criticism for its depiction of the Japanese. According to the Los Angeles Times, protesters claimed the film could lead to a rise in hate crimes against Asian-Americans. 
None of this controversy seems to have affected Connery's reputation in Japan, because he's been churning out bad commercials for years. Besides the yogurt spot above, the former Bond has put his name to Japanese car tires, ham, and whiskey products.
Tommy Lee Jones - Boss Coffee
Actor Tommy Lee Jones doesn't visit Japan just to earn a quick buck. The Men in Black (1997) star genuinely loves the nation and visits regularly in his leisure time. According to Kotaku, Jones loves the traditional city of Kyoto and has been spotted feeding wild deer in the world famous Nara Park. 
He signed on to become the face of Japanese coffee brand Boss in 2006 and has appeared in several bizarre commercials as part of its national campaign. In one clip, Jones plays an extraterrestrial who visits Earth to investigate the lives of the planet's inhabitants. Each commercial has "Alien Jones" starting a different job in Japan and ends with him understanding little about his day—other than why people drink Boss Coffee. He shoots lasers from his eyes as a teacher, literally bends over backward working in a warehouse, and turns into a demon to scare kids at airport security. Yes, it's as weird as it sounds.