Who Is Peyton Manning's Wife, Ashley?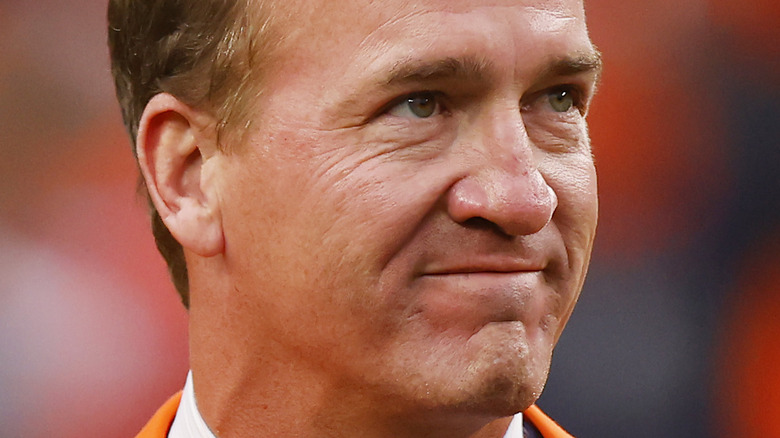 Justin Edmonds/Getty Images
Even casual football fans have likely heard of Peyton Manning. Widely considered to be one of the greatest quarterbacks of the modern era, he is consistently lumped into top brackets with the likes of Tom Brady, Brett Favre, Joe Montana, and Troy Aikman, per Bleacher Report. His impressive stats speak for themselves. When Manning retired in 2015, Pro Football Hall of Fame reported that he held NFL records in career passing yards, career passing touchdowns, single-season passing years, and consecutive seasons with at least 25 passing touchdowns ... to name a few. The star athlete has also won two different Super Bowls with two different franchises: the Indianapolis Colts and the Denver Broncos.
But Manning has remained a staple on NFL networks even after leaving the field for good thanks to his commercial deals. As Bleacher Report points out, the star athlete happens to be a natural comedian, and his acting chops have led to quite the lucrative second act. Whether he's hawking Papa John's or making viewers laugh in his slew of DirecTV commercials, the former quarterback is a natural in front of the camera. It's safe to say that new generations will know the last name "Manning," even if it's only from lines like "Cut that meat," courtesy of MasterCard. Still, as familiar as we are with Manning, we're less familiar with his immediate family, including his wife Ashley, and their two children.
Ashley Manning is her husband's biggest supporter
Pool/Getty Images
According to Bleacher Report, Ashley and Peyton Manning have known each other since before the star quarterback headed to the University of Tennessee. The pair were first introduced by Ashley's next-door neighbor, and clearly hit it off because they later tied the knot in 2001. Per Fanbuzz, the couple welcomed twins Marshall Williams Manning and Mosley Thompson Manning a decade later — and have prioritized family life ever since. Though Peyton retired in 2015, plenty of franchises were jockeying for him to return to football in 2016, as Sports Illustrated reported. But even when he received an offer to play for the Miami Dolphins, Peyton told Head Coach Adam Gase that he was "out." That's because "much of his life is centered around speaking engagements, traveling with wife Ashley, and the twins' flag football and soccer games and practices," per Sports Illustrated.
Peyton might be making up for lost time with Ashley now, but he also credits her for being his biggest cheerleader throughout his football career. The two-time Super Bowl winner told Bleacher Report about how he considered retiring after the 2011 season, but Ashley convinced him the time wasn't right. "Yeah, Ashley and I actually had those conversations," he said. "Because, you know, you don't want to embarrass yourself. Because, they're signing you and people are thinking they're getting the player they had always seen before. And so, Ashley was the one that was saying, 'Peyton, you've got to try. You've got to try.'"
Ashley Manning is impressive in her own right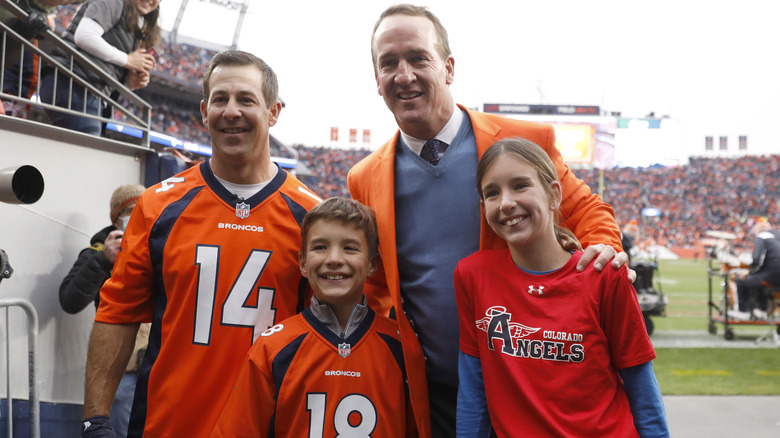 Justin Edmonds/Getty Images
Peyton Manning's name is usually the one in lights, but his wife Ashley is impressive in her own right, though Bleacher Report states that Ashley largely eschews the limelight. "People may think I am aloof ... and I am not shy by any means, but I always let Peyton shine," she's quoted as having said, via Bleacher Report. In 2012, the Tennessee native — who works as a real estate developer — became a minority owner of the Memphis Grizzlies, per The Denver Post. "I am very excited to make the commitment to join the potential new ownership group of the Memphis Grizzlies," Ashley told The Post in a statement at the time. "As a native of Memphis, it was important to me that the Grizzlies remain in Tennessee and continue to have a positive impact on the community." In his own statement, Peyton reaffirmed that he was "proud" of his wife, and was "looking forward to watching her become involved with her hometown team," according to the Denver Post.
When she's not watching NBA games or developing real estate, Ashley works with her husband on the couple's PeyBack Foundation, which provides at-risk children with leadership programs and growth opportunities. She also gives back to the community via projects that benefit St. Vincent Hospital. As the Indy Star reports, Ashley has previously raised money for breast cancer in honor of her mother, who underwent a double mastectomy after being diagnosed with the disease.