Why Did Adam Levine Once Have Beef With Lady Gaga?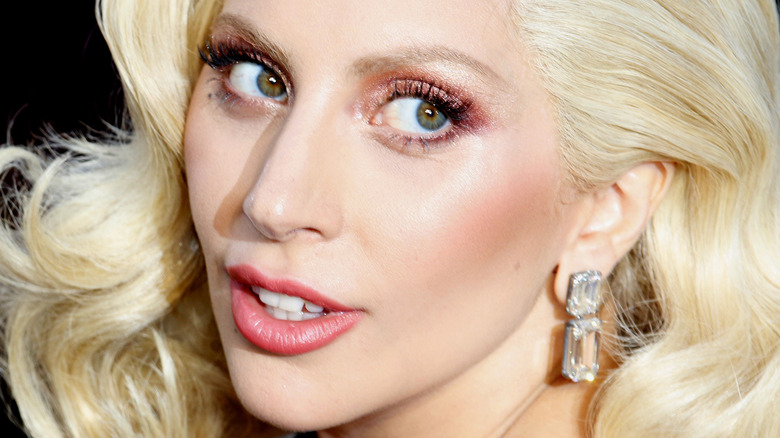 Tinseltown/Shutterstock
Maroon 5 frontman Adam Levine has never been shy about expressing his feelings, whether it's sarcastic or not. Case in point: His pointed banter with country singer Blake Shelton, which was well-documented on "The Voice" and continued off-camera, too. As reported by Just Jared, the "What Lovers Do" hitmaker did an Instagram Q&A on his story in December 2020 and had much to say about Shelton. When asked whether he missed Shelton during the last season of "The Voice," Levine boldly said, "Blake who?" The shade on Shelton didn't stop there, however. When a fan wanted to know what his favorite album from the Oklahoma-born singer was, Levine responded, "Who is this Blake you speak of?" 
While his clash with Shelton seems all fun and games, he allegedly was super disrespectful toward former coach Christina Aguilera behind the scenes. After Aguilera found out Levine had one of his finalists perform Jay-Z's "99 Problems" to indirectly diss her, she was reportedly not pleased. "Christina thought it was ridiculous. She was highly offended," a source exclusively told Radar Online, adding, "Christina is so sick of Adam being looked at as the golden boy of the show. If America knew how disgusting he was, they would be appalled, she always says." As it turns out, Aguilera isn't the only pop diva Levine has bumped heads with.
Adam Levine said Lady Gaga isn't an 'artist'
Amy Sussman/Getty Images
Adam Levine has definitely not held back when expressing his thoughts on pop superstar Lady Gaga. After the release of her 2011 single "Born This Way," Levine insisted the track sounded similar to two of Madonna's previous hits. While that could be considered a compliment, Levine seemingly meant it in a shady way. "Lady Gaga took 'Vogue' and 'Express Yourself' and put them in a blender. Result: 'Born This Way,'" he tweeted.
When Gaga released another single in 2013, Levine didn't hesitate to voice that he wasn't impressed by "Applause" music video, which referenced several major works of art throughout history. "Ugh..recycling old art for a younger generation doesn't make you an artist. It makes you an art teacher," Levine tweeted, before following it up with another: "I unabashedly love writing and performing pop music for both myself AND everyone around me. That's It. It doesn't need any extra sauce."
Gaga didn't acknowledge Levine's words the first time around in 2011 but did have something to say two years later. "Uh oh guys, the art police is here," she tweeted bluntly. Levine just couldn't let it go and took to the social media platform once again, tweeting, "By the way, I'm NOT an artist. I sing in a band and I make music with my friends ... Methinks thou dost protest too much...yikes!!!" Clearly, Levine's take on being a musician didn't align with Gaga's.
Lady Gaga's feud with Adam Levine was short-lived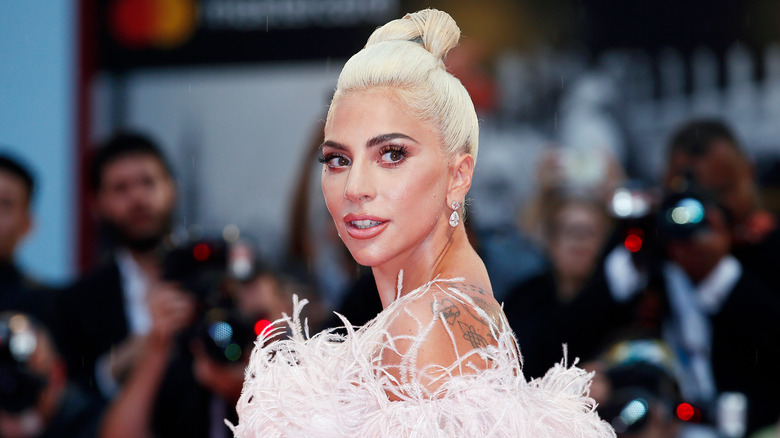 Andrea Raffin/Shutterstock
By December 2013, it seemed Adam Levine was ready to put the claws away when Lady Gaga and Christina Aguilera teamed up to perform a remix of Gaga's song "Do What U Want" on "The Voice." Levine told Clevver News that night he thought the two pop divas were "bada**" and referred to them as "two powerful women" who are "incredible singers." Because Levine's compliment came only months after he seemingly took a jab at Gaga on Twitter, fans think the Maroon 5 lead singer wasn't being genuine with his praise. Whether "The Voice" coach was indeed being two-faced or had a sudden change of heart, it's easy to see why Gaga might have feuded with Levine.
Of course, we can't know for certain whether Gaga was enemies with Levine, as she has never publicly stated that — however, we do know she is a strong and confident person no matter what. After all, Gaga is the same woman whose classmates cyber-bullied her with a Facebook page hurling the insult, "you will never be famous," per Observer. Proving all her haters wrong by becoming a global superstar, Gaga wouldn't be where she is today without a thick skin. "People that are obsessed with hating you, feel flattered," Gaga advised her fans about the naysayers on Twitter in 2014. "Their whole lives revolve around you." Clearly, Gaga wasn't one to get tied up in a lasting feud after her beef with Levine.