The Changing Looks Of Kim Kardashian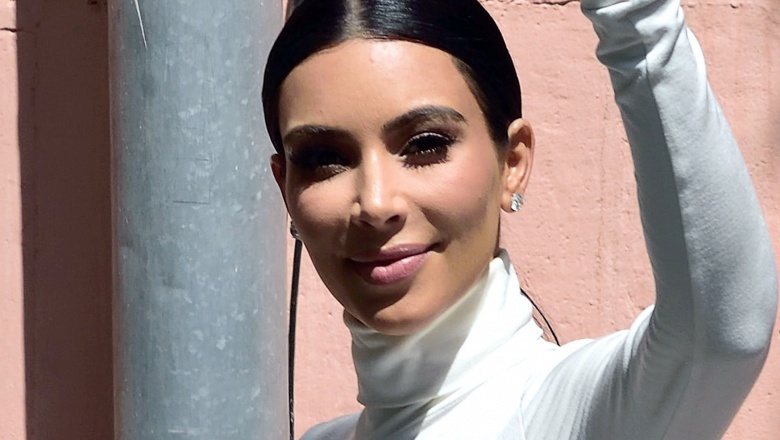 Getty Images
Kim Kardashian catapulted to enormous fame in the early 2000s, thanks to a date with newly-single Nick Lachey, a sex tape, and her frenemy-ship with fellow celebutante Paris Hilton. Love her or hate her, the reality starlet has gone on to become one of the most famous and most photographed women in the world in the ensuing decade. While her long and silky dark hair, her nude, glossy lips, her smoky eye makeup, and her eterna-bronzed skin are her signatures, Kardashian's looks and general style have evolved immensely through the years. She's gone platinum blonde, made the "strobing" makeup technique a "thing," popularized the bandage dress, wore leather while pregnant, and poured her signature kurves into many a latex frock. But overall, she still looks similar to her original form. Let's look back at Kardashian's changing looks, from top to toe.
Non-blonde L.A. party girl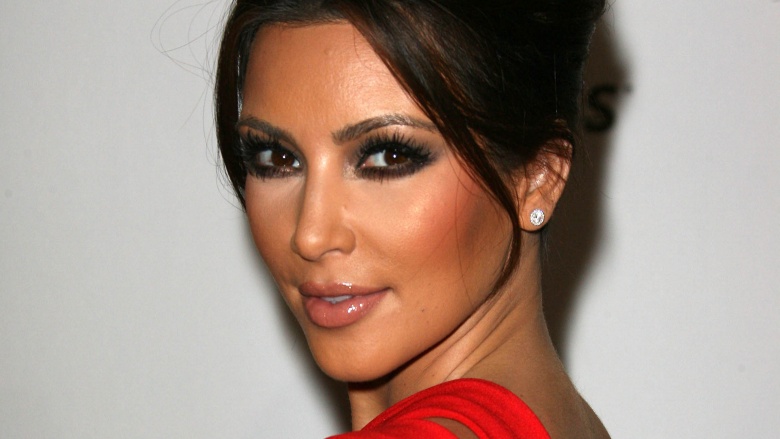 Kardashian arrived on the scene as a party girl in Los Angeles, despite not having the typical California girl blonde locks and blue eyes. That said, she was bronzed and pretty, often framing her deep, dark eyes by rocking lighter eye shadows while out and about. She had and showed off her curves way back when, too!
Orange you glad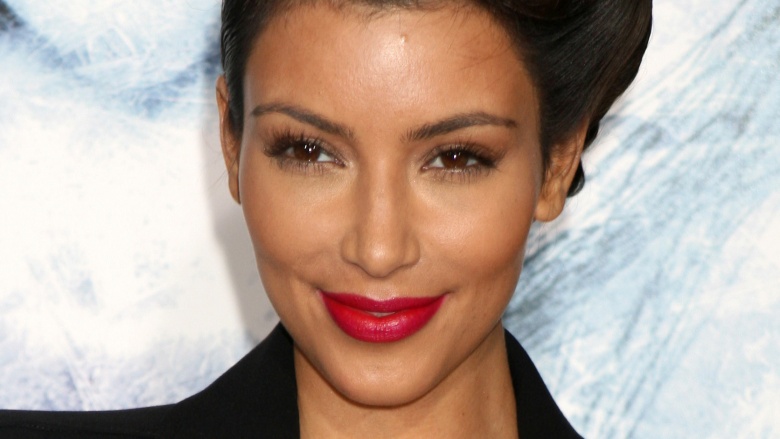 Permatans were Kardashian's thing in the mid-2000s. Her skin, of which she usually showed a lot, often had an orange cast, like she got blasted by Cheeto dust. Okay, so maybe that's an exaggeration. But she did have a bright, citrus-y, and obviously faux tint to her normally olive skin.
Pouty-lipped princess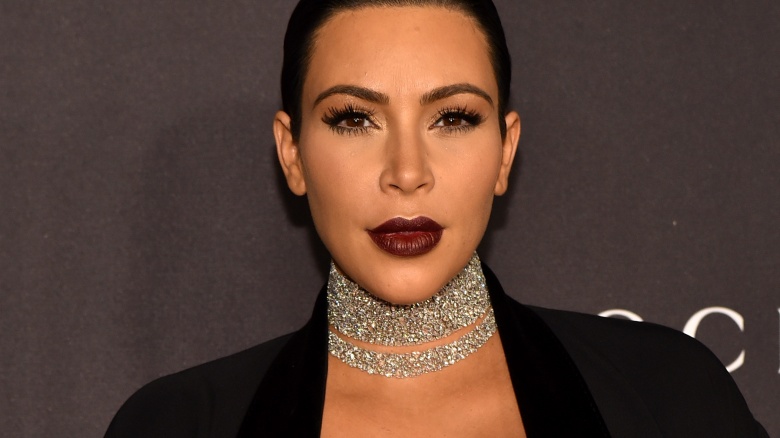 Getty Images
While her little sister Kylie Jenner has admitted to getting lip injections to create her trout pout, Kardashian has always denied getting her lips done, telling SELF that her pucker has always been voluptuous. We have to admit that paging through photos of Double K through the years do indeed prove that she has had a full, Angelina Jolie-like mouth for a long time. It must be a mixture of DNA and the plumping agents in her favorite nude glosses.
Lashing out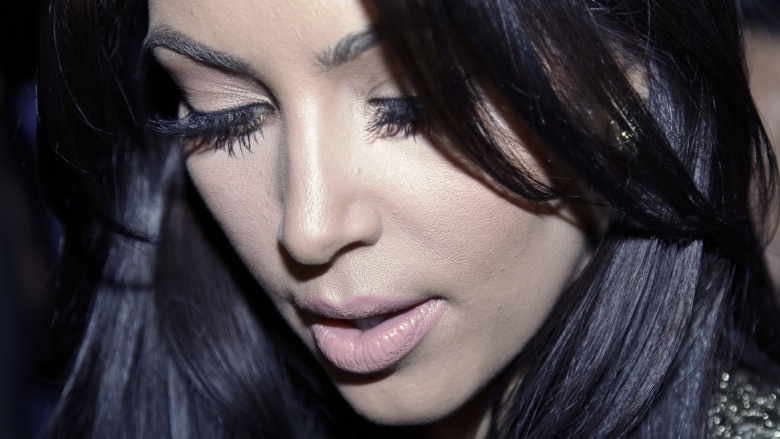 Kardashian's eyelashes are always impossibly long, aided by extensions and falsies, since no one has super long, extra curled, and voluminous lashes all at once and in real life. But Kardashian's eyes began looking bigger and even more doe-eyed as she began to incorporate dramatic, statement eyelashes.
Kontouring kween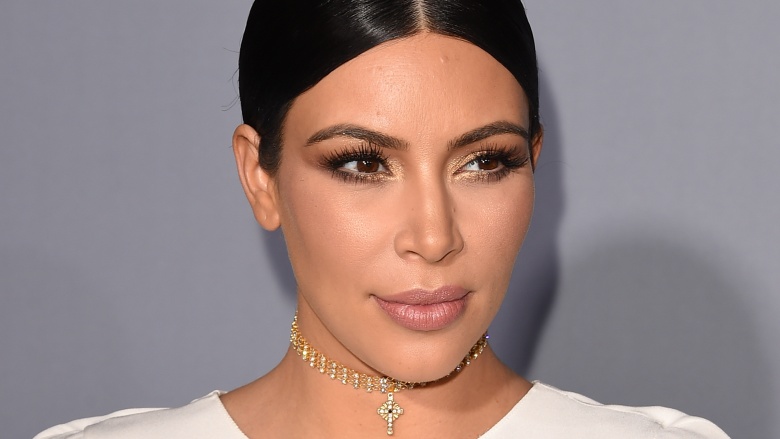 Getty Images
Kardashian also introduced the mainstream world to the makeup technique known as contouring. Her cheekbones, nose, forehead, and other features are always perfectly on point and the light hits and brightens her face flawlessly, thanks to the way she and her makeup artist place shimmery, highlighting products at certain points on her visage. She also popularized strobing, which is a softer alternative to contouring, in recent years.
Botox babe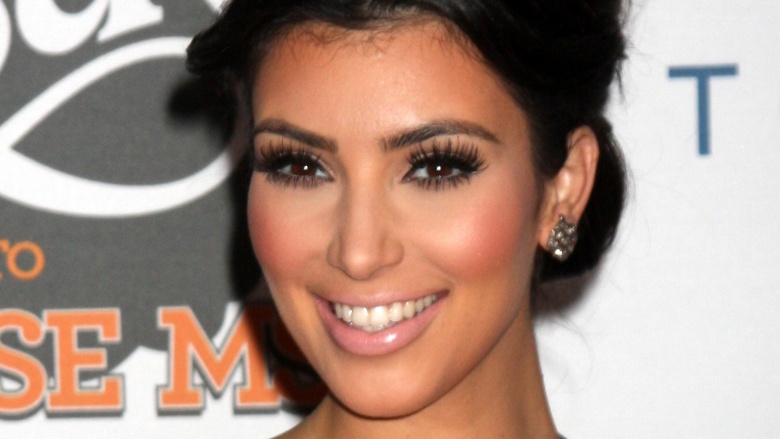 Yes, Kardashian is blessed and is naturally gorgeous. But she gets a little assistance beyond cosmetic products. Her line-free face is the result of Botox, which she has admitted to getting on an episode of Keeping Up With the Kardashians.
Bangs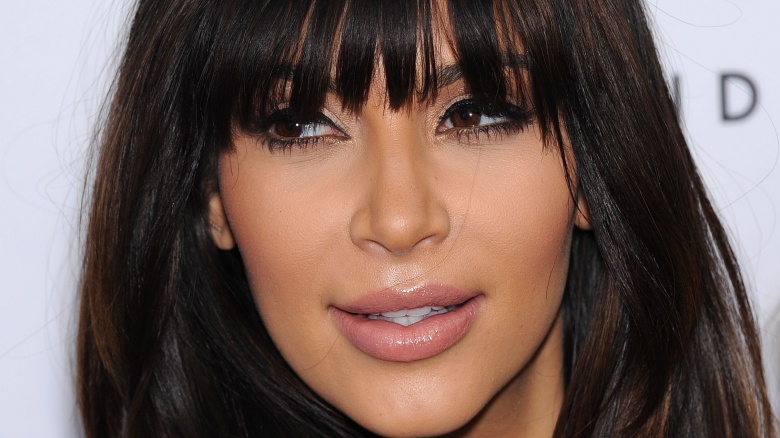 When it comes to her hair, Kardashian usually prefers center parted, long layers. She loves to slick her hair back off her face into a high ponytail. Because of this signature strand style, she's often bangs-free. But she has rocked fringe here and there throughout her career, like in 2008. Sometimes, the bangs are real. Other times, they are clip-ins.
The bodycon bandage dress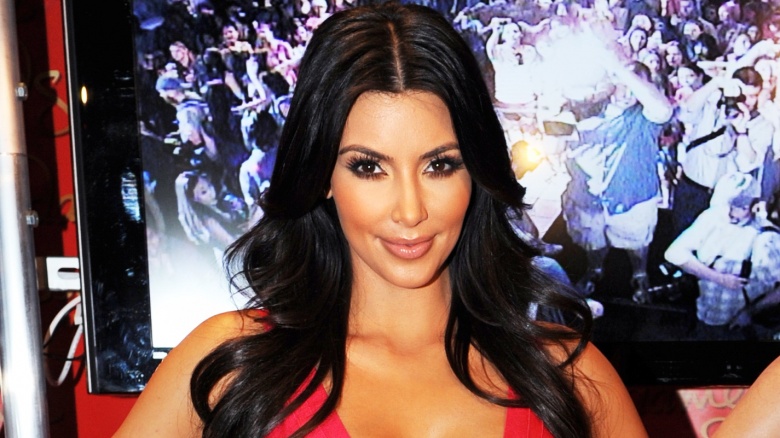 Getty Images
The TV queen was an early fan of the bodycon, Herve Leger bandage dress, which accentuated all of her curves. It was her go-to for a while and always looked as though it were painted on her frame.
Kim nose best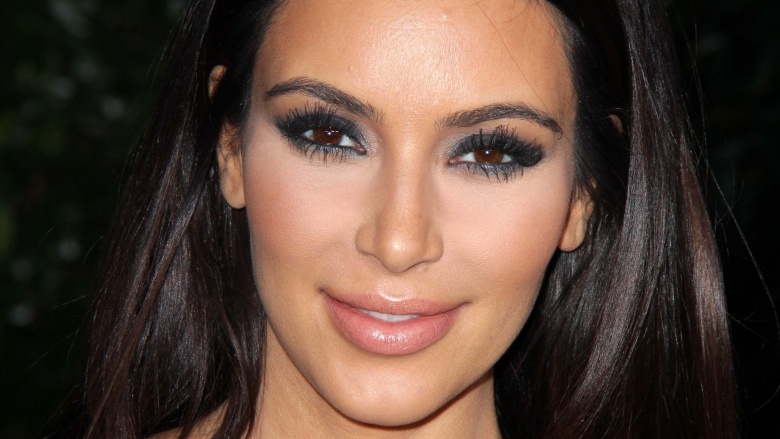 The reality starlet has also denied getting a nose job, despite admitting to Nightline that she hates her nose as is and even went to a doctor to discuss getting rhinoplasty. Strobing and contouring certainly focus on the area around the nose, so that's why hers may look different through the years and in a variety of lighting.
Latex lady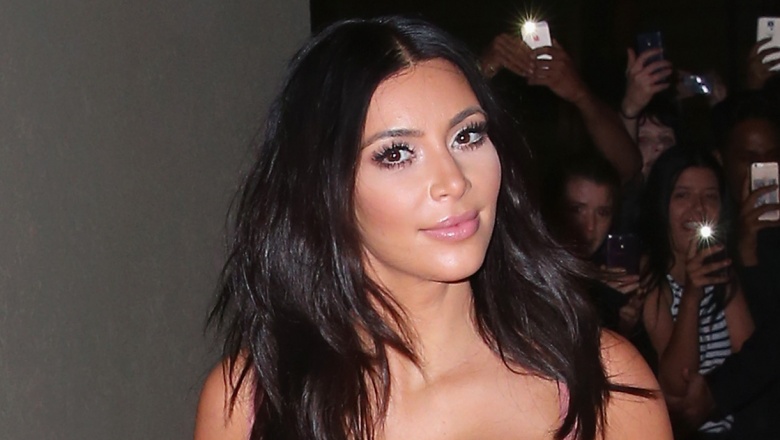 Getty Images
Latex is usually the preferred fabric of the BDSM scene. But Kardashian hurled the material into the mainstream with her nude-pink hued dress, which clung to every single one of her copious curves.
Leather weather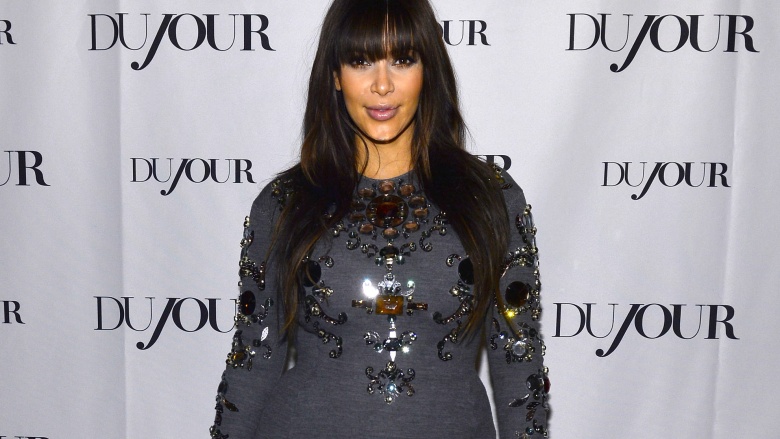 Getty Images
While pregnant with her first child, daughter North West, Kardashian refused to get sloppy with baggy clothes, nor did she alter her style to fit her condition. She continued to do her sexy thing, even if it meant wearing unforgiving, not-exactly-roomy or expanding fabrics like leather while sporting her baby bump.
Blondie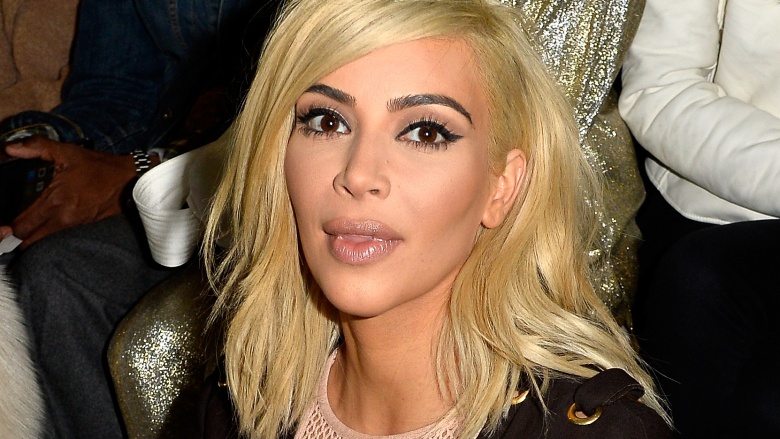 Getty Images
Kardashian has been a blonde many times and in many different gradations. In 2009, she rocked a caramel blonde. Then she went with a soft, honey blonde hair hue in 2012. She also went blonde in summer 2013 after welcoming her daughter North West. Kardashian also rocked ombre locks, with dark roots and blonde tips, in 2013. She has had an on-off love affair with blonde hair. She commits for a little while but almost always goes back to brown.
Lobbed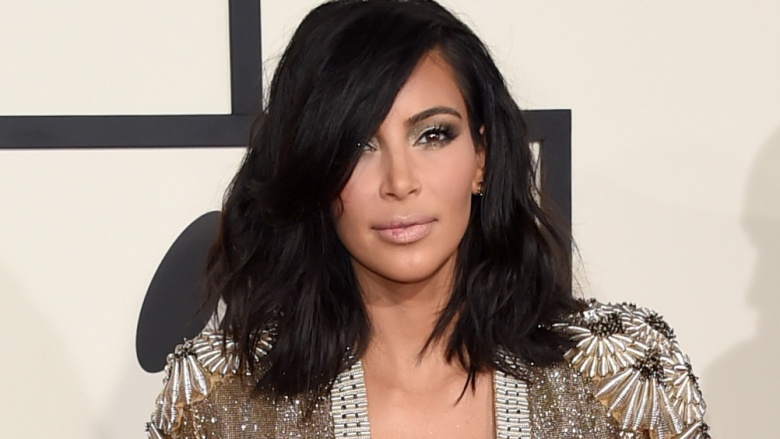 Getty Images
Kardashian's long, glam layers are her most familiar coif look. But she did chop off her locks and showed up to the 2015 Grammys in a gold dress, which she paired with wavy lob haircut that skimmed her shoulders.
Goin' platinum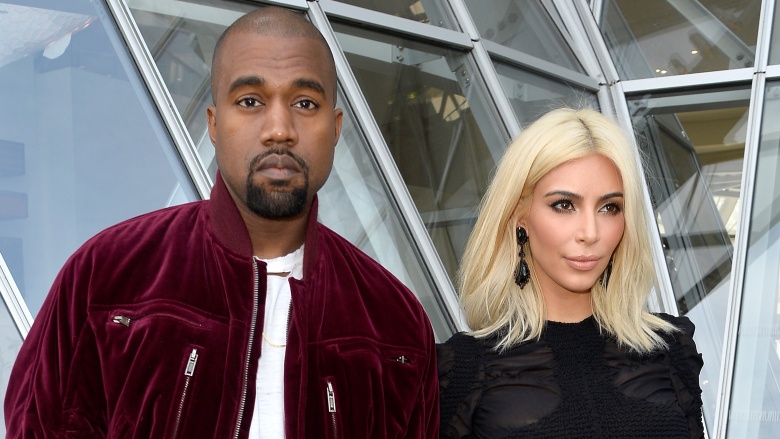 Getty Images
While at Fashion Week in Paris and for a Vogue cover in 2015, Kardashian went platinum blonde, admitting she was inspired by Madonna. She didn't keep the drastic color for long, returning to her signature raven shade within a matter of days. While that much processing is murder on delicate strands, her pitstop at platinum was unforgettable.