Colin Kaepernick Proves He's Ready To Return To The Spotlight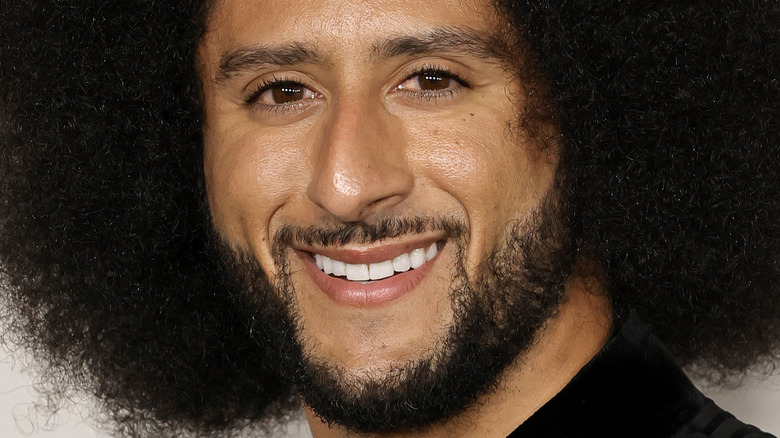 Frazer Harrison/Getty Images
Colin Kaepernick came into the public spotlight back in 2016 for more than his role as quarterback for the San Francisco 49ers when he began taking a stance against police brutality. Before a pre-season NFL game in August 2016, Kaepernick kneeled during the national anthem, per The Washington Post. He revealed why in an interview with the NFL Media around the same time, sharing, "I am not going to stand up to show pride in a flag for a country that oppresses Black people and people of color." His choice to not stand during the anthem would continue throughout the 2016 season, leading to enormous backlash, both from the public and within the NFL. After the season ended, Kaepernick did not sign back on with the 49ers, which led to many questioning whether he was forced out or left by choice. 
After leaving the NFL, Kaepernick continued his fight for social justice and allowed Netflix to turn his story into a limited drama series, titled "Colin in Black & White." The series explores his early years growing up as an adopted mixed-race child in a white family. He explained his reasons for creating the series to Los Angeles Times in October 2021, stating, "I wanted to create a scripted series around my high school years that addressed race and racism head-on."
However, even as he filled his time in recent years with important social projects, Kaepernick hasn't lost his dream of playing professional football.
Colin Kaepernick is 'still working' on his football career
Colin Kaepernick took to Instagram on March 10 to show that he is keeping up with his football training. Alongside a caption that read, "Still Working," the former NFL player posted a video of himself in great physical shape running through a football drill. His followers expressed their support in the comments section. Many fans suggested specific teams that they felt should sign him, while others simply applauded Kaepernick's efforts to keep his dream alive. 
In a November 2021 interview with Ebony, Kaepernick confirmed that his goal is to return to the NFL. "I am still up at 5 a.m. training five, six days a week making sure I'm prepared to take a team to a Super Bowl again," he stated, adding, "That's not something I will ever let go of ... I'm gonna be persistent here." 
Unfortunately, a source within the NFL told Hollywood Life in October 2021 that it will be almost impossible for the football player to sign with a team again. "He hasn't played since 2016 and most teams either have the quarterbacks they want or can get a quarterback they need without the baggage that would come in the media of signing him," the source revealed. There is also the concern that he wouldn't be able to "coexist with the team as a whole" since not everyone supports Kaepernick's stance on social justice. Either way, Kaepernick still appears to have his eyes on the prize.