Donald Trump Just Received A Pricey Gift That Is Sure To Have People Talking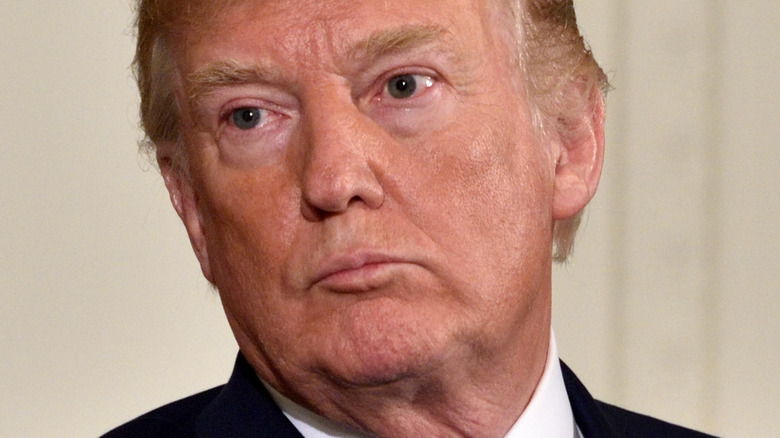 Evan El-Amin/Shutterstock
Former President Donald Trump loves to brag about his wealth. He famously claimed that he was worth $10 billion during his 2016 presidential election campaign, per NBC News. However, that figure is widely assumed to be inaccurate with Forbes reporting his actual net worth to be around $2.5 billion. Still, Trump loves to talk and spend big.
According to Business Insider, Trump has over $122 million in personal real estate, including penthouse and beachside mansions. His real estate profiles include homes in various states like New York, Chicago, Washington, and San Francisco. Meanwhile, The Washington Post notes that Trump has more than several luxury cars to his name.
Seeing how much Trump is worth, it's hard to imagine him being on the receiving end of gifts, but that's exactly what happened when he appeared as a guest on a popular podcast — and the item he received has people talking.
Donald Trump added another watch to his collection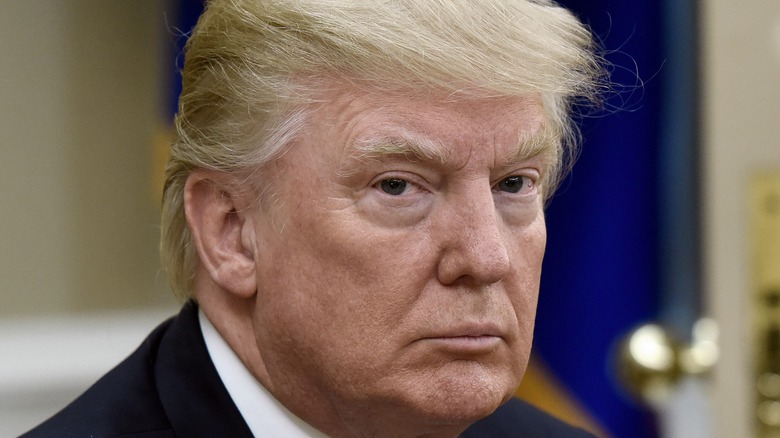 Pool/Getty Images
Donald Trump received a luxurious watch from Nelk Boys' SteveWillDoIt after appearing on his "Full Send" podcast on March 7, according to TMZ. Steve presented the former commander-in-chief with a ice blue platinum Day-Date 40mm Rolex that's worth $75,000. The outlet noted that the watch most likely had to be custom ordered, as Rolex does not carry that model in store. Steve added that he purchased the gift as a thanks to Trump after using his imagery to sell t-shirts.
During the episode, which was also posted on YouTube, Trump spoke with Steve and other co-hosts — Kyle Forgeard, Bob Menery, and Salim The Dream — about a variety of topics, including the Russia-Ukraine invasion, the 2020 election, and his musical preferences on the dance floor, according to the New York Post. However, YouTube quickly pulled the video because Trump again raised claims that the 2020 election was stolen.
Despite the controversy, Steve definitely knows Trump's style, as the former "Celebrity Apprentice" host has had a long history wearing Rolex watches. Per SCMP, Trump is a big fan of the brand and already owns a classic gold watch. He also prefers Vacheron Constantin watches.