The Real Reason Magic Johnson Hated His Childhood Nickname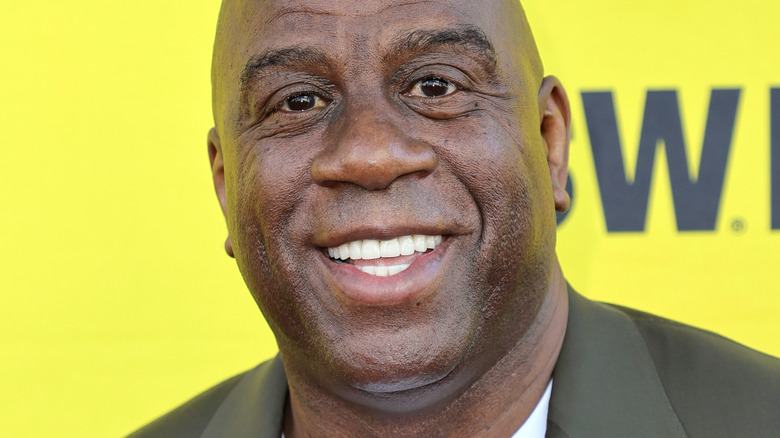 Michael Loccisano/Getty Images
Earvin "Magic" Johnson is considered by many as one of the greatest NBA players of the '80s. He dominated the league over that decade and earned the Los Angeles Lakers five NBA Championships on his way to being the NBA Finals MVP on three occasions, plus he was a nine-time All-Star during that span, per Bleacher Report.
The Lakers rewarded the star with a 25-year contract worth $25 million in 1984 which was the most lucrative contract in the history of sports at the time. Team owner Jerry Buss thought of Johnson as more than simply a superstar player. Buss wanted to mentor Johnson and had big plans for the All-Star's future in the '80s. "He may even be my coach ... Or general manager. Or maybe he'll run the team and I'll just sit back and watch," Buss told The New York Times after Johnson signed the 25-year deal. "Magic is a bright kid and I plan to make him my protege, teach him the business aspect of sports," the then-Lakers owner said.
When it was announced that HBO was launching a series based on Johnson and the Lakers called "Winning Time," the NBA legend was less than thrilled. "Well, like I said, I'm not looking forward to it. I'm going to leave it at that," Johnson told TMZ in 2021 when asked about the HBO series. Perhaps Johnson's trepidation had something to do with a nickname he always disliked.
How Earvin Johnson earned his nickname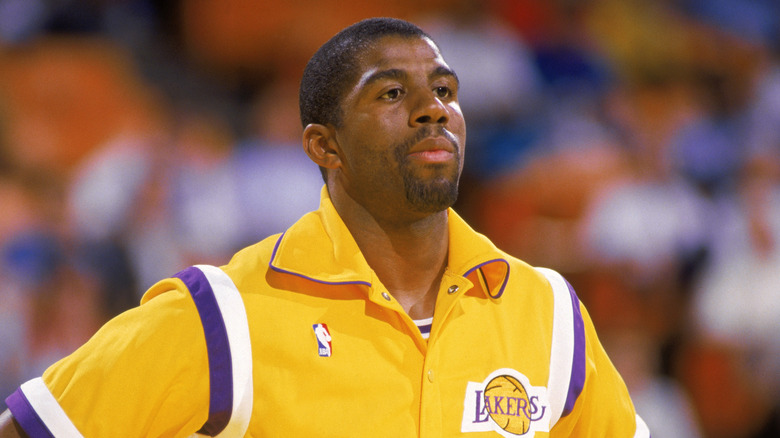 Stephen Dunn/Getty Images
While basketball fans know Earvin Johnson as "Magic," he did not always have an enviable nickname. Long before the NBA icon made headlines, he was known by a different name as a child. "I was chubby before I grew tall, and when I was young people called me June Bug," Johnson wrote for the Seattle Times in 1992. As a youngster, most people in Johnson's neighborhood called him by that moniker. "I'd hear them say, 'There goes that crazy June Bug, hoopin' all day,'" Johnson recalled older folks saying. Ultimately, the Los Angeles Lakers legend was "glad I didn't have to go through my professional career with that name," as "June Bug Johnson" did not have the same appeal.
Fortunately for Johnson, he was given a new nickname his sophomore year in high school. Sportswriter Fred Stabley of the Lansing State Journal was the person who dubbed the point guard "Magic," per M Live. It came after Johnson had an impressive triple-double performance against a rival team.
Decades later, the Hall of Famer could still recall the night he earned the iconic name. Johnson remembered that Stabley approached him after the game and said the basketball phenom needed a nickname. "He said 'somebody's already called 'Dr. J,' somebody is already called 'Big E.' I wanna call you 'Magic,'" Johnson said on the "Literally! With Rob Lowe" podcast in 2021. While beloved by fans, that nickname caused friction within Johnson's family.
Why his mother disapproved of the nickname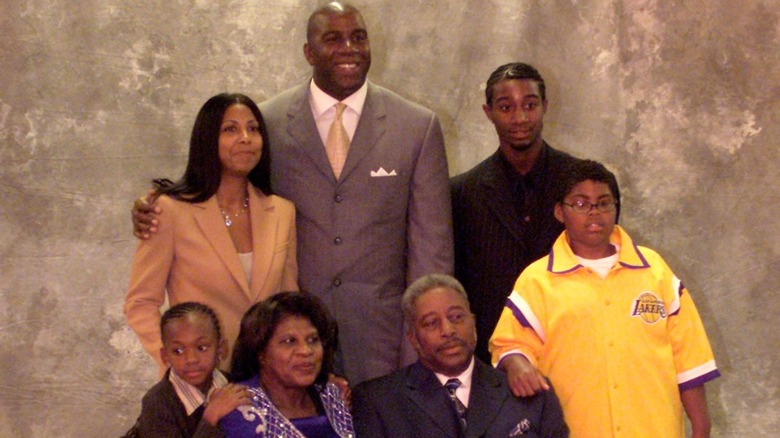 Marc Serota/Getty Images
When Earvin Johnson was dubbed "Magic" as a teenager, he had no idea the impact the new name would have on his life. "At 15, you giggle," Johnson recalled to the Alice Echo-News Journal in 2018. "It's not really going to stick, right? [The writer] fooled me. The next day in the paper, it says '[Earvin] Magic Johnson leads Everett High School,'" Johnson said. Being given a memorable nickname was great news for the then-teenager, and it would follow him for the rest of his life. "Now, 40 years later, they're still calling me Magic," he fondly recalled.
While being called "Magic" seemed serendipitous to Johnson, not everyone was thrilled. Johnson's mother — a woman of considerable religious faith — considered the nickname to be blasphemous, per NBA. The Los Angeles Lakers legend discussed his mother's disapproval, and how he believed she failed to see the big picture. "My mom, she doesn't like it, but it's been great," Johnson said while appearing on "Late Night with Conan O'Brien" in 2003. The basketball icon credits at least part of his success to the identifiable name. "Funny thing is, Earvin isn't the reason she lives in that big house ... 'Magic' is the reason," Johnson said while laughing.
Johnson's mother is not the only person at home who does not use the nickname. "None of my family, really, have called me Magic," he told the Los Angeles Times in 2011. "Around the house, I'm Earvin," Johnson added.