How Tall Is Hayden Panettiere?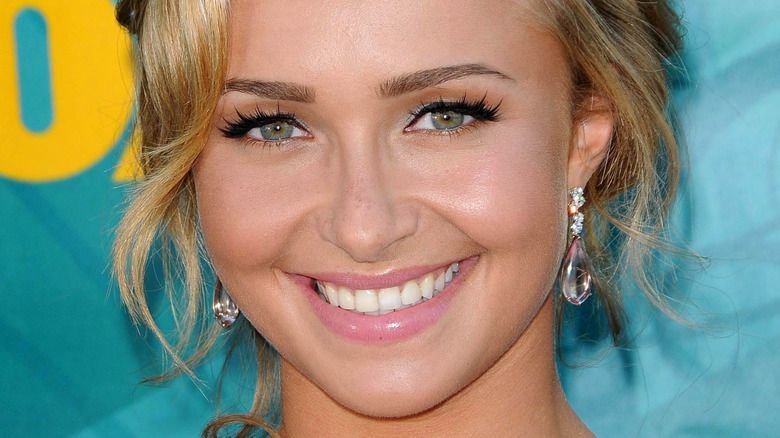 s_bukley/Shutterstock
Surely to the disappointment of her fans, Hayden Panettiere may not be getting cast as much in Hollywood as she was a few years ago. However, whatever Panettiere's onscreen future may hold, she can still look back at a long career filled with various memorable roles thanks to her being in the entertainment industry since she was young. First appearing as Sarah Roberts on "One Life to Live" from 1994 to 1997 and then as Lizzie Spaulding on "Guiding Light" from 1997 to 2000, she went on to pop up on a number of shows and nabbed gigs of various sizes in plenty of movies (via IMDb). As for a couple of her biggest roles, you might have seen her on "Heroes" as Claire Bennet or on "Nashville" as Juliette Barnes.
While opening up about working in front of the cameras when she was so young, Panettiere explained on "The Late Show with Stephen Colbert" in January 2017, "Your confidence is through the roof [when you're a kid]. I don't know where that went ... I'm saying you could be in your birthday suit and you could be the most confident person in the room at 7 years old."
Along with her confidence level changing as she got older, Panettiere's looks have also changed quite a bit as she's matured from a young performer into an adult star. Granted, there's one thing about the actor that hasn't changed all that much: her height.
Hayden Panettiere's height might be up for debate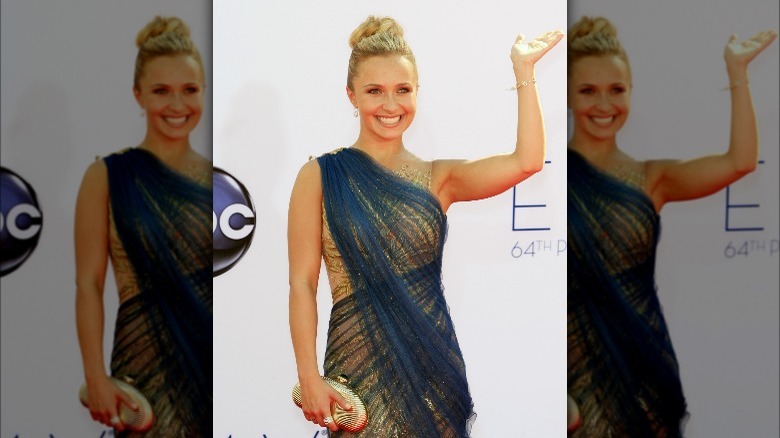 Joe Seer/Shutterstock
When it comes to how tall Hayden Panettiere is, there's not exactly a straightforward answer. She may be just a quarter of an inch over 5 feet tall, according to Celeb Heights, however, the star herself told TeenHollywood (via Celeb Heights) that she's 5 feet 2 inches tall. At the same time, her height was noted as 5-foot-1-inch by Digital Spy, according to Bustle. Whatever her exact height, there's no doubt that Panettiere is shorter than average women in the U.S. That's because they're around 5-foot-4-inches, according to the Cleveland Clinic.
Despite — or perhaps because of — Panettiere's height, she claims that she is "very much an athlete" who "love[s] sports." Back in May 2019, she told Live About Dot Com, "Gymnastics was my favorite sport. If I wasn't an actress, I probably would have been a gymnast. I swam for years, I played volleyball, I played softball and baseball." While being on the taller side might be beneficial for those team sports, the average woman gymnast is around four-foot-nine, per Slate, so it makes sense that Panettiere might excel at that sport. Frankly, she could be considered tall compared to other gymnasts.
How ever Panettiere stacks up against other athletes, she refers to herself as "a big jock." That may be true, but she's not as big of a jock (height-wise) as her ex who is a lot taller than her.
There's a drastic height difference between Hayden Panettiere and Wladimir Klitschko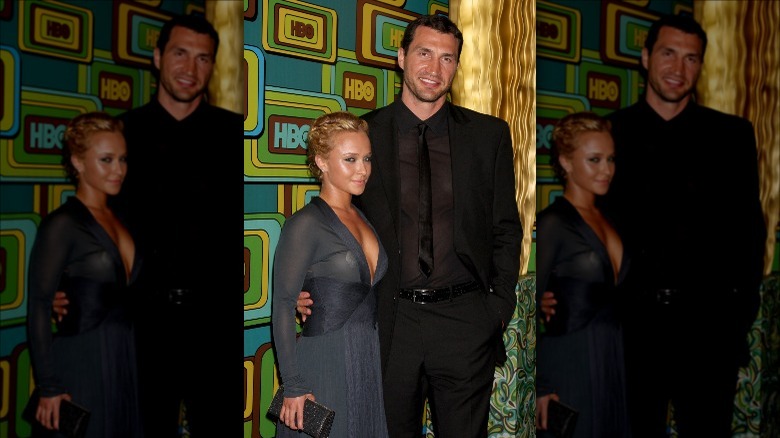 Kathy Hutchins/Shutterstock
Opposites attract, as they say, and that certainly seems to be true when it comes to some celebrity couples who have major differences in their height. For instance, Kristen Bell is 5-foot-1-inch while her husband, Dax Shepard, is 6-foot-2-inches, which means that there's a difference of 11 inches between them, according to Marie Claire. There's a 12-inch difference between 5-foot-3 Isla Fisher and her hubby, 6-foot-3 Sacha Baron Cohen, as well as Jada Pinkett Smith (5 feet) and Will Smith (6-foot-2).
As for Hayden Panettiere, she's over a full foot shorter than her ex-fiance, Wladimir Klitschko, who is pretty darn tall at 6-foot-6, according to People. A former professional boxer, there's no doubt that Klitschko's size helped him in the ring, however, it also gave him something to talk about when he first met Panettiere. In an interview on "The Ellen DeGeneres Show" in 2013, Panettiere recalled, "That's how we met. I said, 'You're huge.' He said, 'You're tiny.'" They were obviously both right.
At the time, Panettiere and Klitschko still hadn't welcomed their daughter, Kaya Evdokia, into the world, however, the actor was already thinking ahead to how their height difference might affect their future child. She explained to DeGeneres, "God telling us [that we] were too far on either end of the spectrum ... They'll be normal height." Time will tell whether Kaya grows up to be an average height, or Panettiere's prediction comes up short.