Tamron Hall's Rare Photo Of Her Mom Has Everyone Saying The Same Thing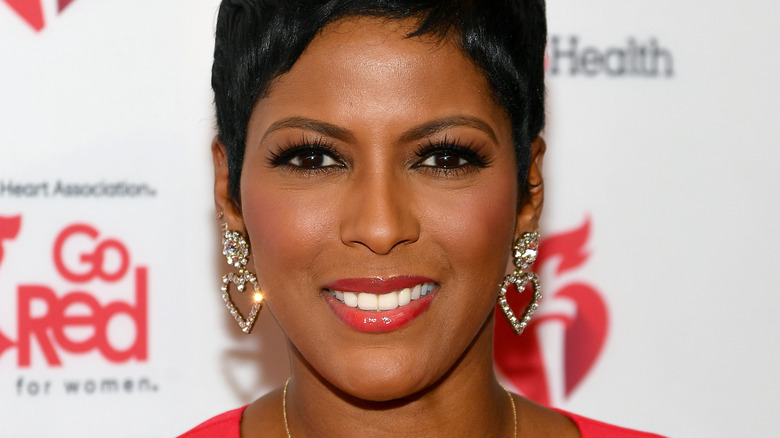 Mike Coppola/Getty Images
The bond between Tamron Hall and her mother, Mary Newton, was strengthened when the talk show host's father died in 2008. "I could see that resilient spirit in the middle of all of that heartbreak that she was here for us," she told Today in 2015. "She's taught me to be resilient. She's my inspiration," Hall added. Newton, who was also present for the interview, said to Hall, "I hope that what I've instilled in you, there's going to be a time that you're going to fall. Get yourself up, dust yourself off and go on."
Motherhood is another aspect of Hall's life where her mother has been instrumental. The television personality said in 2020 that Newton would come up from Texas to help look after Hall's son. "I talk to her every day, but to watch her nurture my child is next-level," Hall shared with Parents. And on a humorous note, Hall's mom also isn't afraid to share her opinions when it comes to her daughter's style."I [once] had a dress I thought was very cute, and I wore it one morning," Hall told People in 2018. "I couldn't even get off air [before] my mother says 'Don't you ever wear that dress again!'" she added. 
Speaking of style, Hall recently shared a new photo that showed off her mother's fashion sensibilities, and it had many fans saying the same thing.
Tamron Hall's beautiful mom gets social media talking
To commemorate her mother's birthday, Tamron Hall posted a photo of her mother, Mary Newton, to Twitter on March 20 along with a sweet message. "72 years old where !!?! Happy Birthday to my day one, my ace, and my Queen. Happy Birthday Mama. 72 and an all new you," Hall wrote while pointing out Newton's youthful appearance. In the snap, her mother wore an off-the-shoulder denim dress and sandals while posing on a, and accessorizing with hoop earrings.
Fans flooded the replies as many were surprised to hear Newton was in her 70s. "There is no way this is a 72 year old woman. Wow!!" one Twitter follower replied. "I thought you were sisters until I read the comment she is your mother," another added. A few fans were inspired by Hall's mother. "Happy Birthday to your gorgeous Mama! I want to be like her when I grow up!" a Twitter user wrote. "Mama be looking young and sharp," a follower added.
Two years earlier, when Newton turned 70 years old during the early stages of the COVID-19 pandemic, Hall was unable to join her mother. The talk show host showed her love by sending a giant bouquet of flowers to her mom, and shared a photo on Instagram. For Mother's Day 2021, Hall had her mom on the air. Newton rocked a blue and orange-print dress that had billowy sleeves for the television appearance. Viewers gushed over Hall's mom when the host posted a snap to Instagram of Newton's glamorous entrance. Talk about a style icon!