Demi Moore Has A Special Birthday Message For Bruce Willis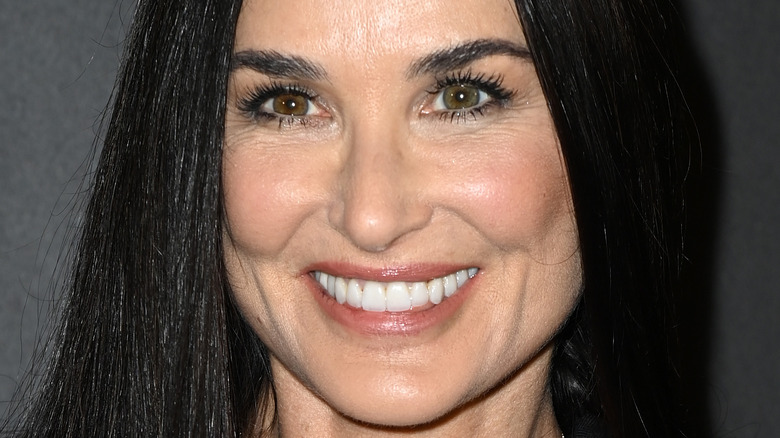 Pascal Le Segretain/Getty Images
Despite her youthful good looks, Demi Moore's been a star for nearly four decades. Born Demi Gene Guynes, she hit it big thanks to "St. Elmo's Fire," per Biography. Following the iconic '80s teen-flick, Moore, costars, and a selection of other hot young stars were nicknamed "The Brat Pack" due to off-screen antics and heavy partying. However, Moore's road to fame wasn't all lined with stardust and champagne. According to Hello!, she suffered her fair share of heartache. Moore's childhood was chaotic after her parents split. Her mom and second husband struggled to make ends meet, and he ultimately took his own life when she was 18.
A year prior, she'd married her first husband, Freddie Moore. The Sun reports it was doomed as the 17-year-old Demi allegedly cheated the night before their wedding. They divorced after five years and didn't keep in touch; however, Demi did keep his last name. Her second marriage to Bruce Willis lasted a lot longer — from 1987 to 2000 — and spawned three daughters. This time, it was Willis who allegedly cheated. "It was tense, and it was weird, and there was just stuff that didn't seem kosher," Moore said, per The Blast, about her suspicions Willis was doing the dirty. 
However, post-divorce, Moore and Willis forged a tight bond, co-parenting their kids. The couple remains close friends to this day, and as her ex-hubby edges ever nearer to the big 7-0, Moore has a special birthday message for her ex.
Demi Moore and Bruce Willis are #DivorcedCoupleGoals
Bruce Willis and Demi Moore may have divorced over two decades ago, but they're still #CoupleGoals — okay, #DivorcedCoupleGoals. Demi had a very special birthday message for her ex, and it was super cute. "Happy birthday, Bruce! Thankful for our blended family," she posted on her Insta. An accompanying photo shows Moore in glasses and her famous brunette hair, She's holding a wooden board filled with assorted mushrooms, while Willis stands next to her — looking pretty fly for a senior citizen guy.
It seems like only yesterday that Willis was leaping from rooftops, crawling through heating vents, and pulling shards of glass from his feet. However, the Christmas-not-Christmas family fave, "Die Hard," was released in 1988 – that's 34-years ago — when Willis still had hair. The actor turned 67-years old on March 19, making him eligible for a senior discount bus pass, which would really help save on skyrocketing gas prices.
It speaks volumes that the couple's maintained such a close friendship. Metro reports Willis, Moore, Rumer Willis, Scout Willis, Tallulah Willis, and her husband Dillon Bus even went through lockdown together -– all under the same roof. "Bruce isn't with his wife or young children, but that was understood going into this," a source told ET about their decision to self-isolate together. They shared that Moore and Willis' second wife are super close and that "none of this is weird to them."