Kid Rock Makes Absolutely Wild Claim About Donald Trump's Actions While President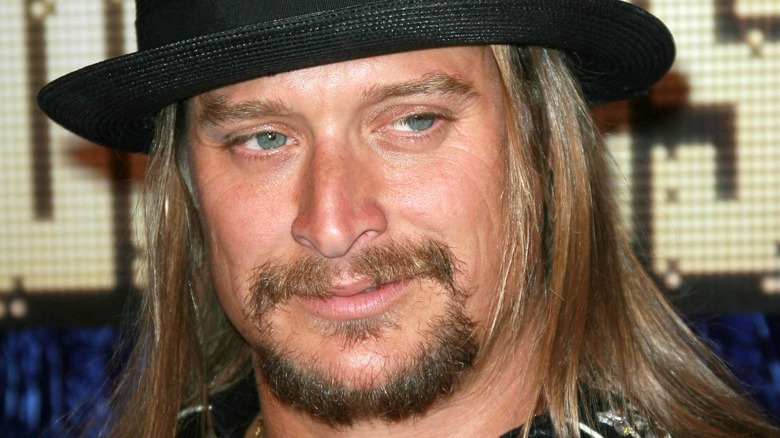 s_bukley/Shutterstock
Rapper-rocker Kid Rock is no stranger to political headlines. Describing his political views to The Guardian in 2015 as "a Republican on fiscal issues and the military, but I lean to the middle on social issues," Rock even ran for Michigan senate in 2017 ... in what turned out to be a PR gimmick, per Politico. The outlet reported in January, however, that Republican members of Congress wanted Rock to make a sincere Tennessee congressional bid. As an unapologetically vocal figure, Rock's appeal to a certain voter base is conceivable. Proudly using the Confederate Flag in concert and promotional imagery, Rock told The Guardian in 2008, "To me it just represents pride in Southern rock' n' roll music, plus it just looks cool."
Although the musician did perform at Barack Obama's 2009 inauguration, he is famously a friend of the Trumps. Deer-hunting buddies with Donald Trump Jr., per his own Instagram post, Rock was an early fan of Donald Trump's 2016 presidential bid. "[L]et the motherf**king business guy run [the country] like a f**king business. And his campaign has been entertaining as s**t," he enthused to Rolling Stone that year. Nonetheless, Kid Rock's recent claim about an encounter with the former is catching people off-guard.
Was Kid Rock an unofficial Trump adviser?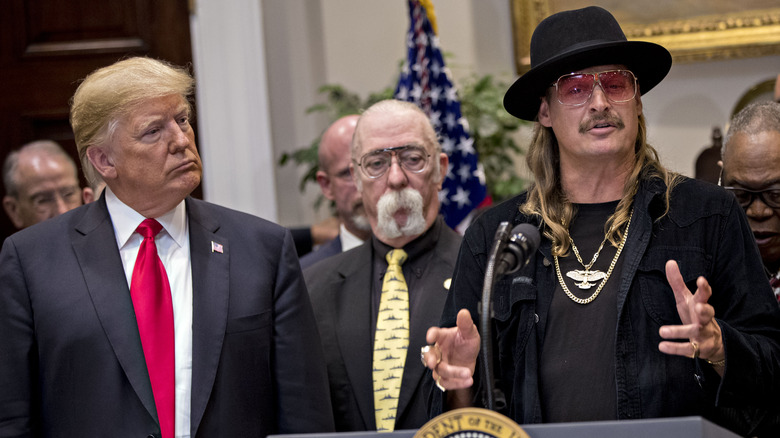 Bloomberg/Getty Images
Did Donald Trump go to Kid Rock for North Korea advice? On a March 21 episode of Fox News' "Tucker Carlson Tonight," Kid Rock claimed that ex-president Donald Trump had sought his counsel on American foreign affairs. As Rock recalled to host Tucker Carlson, Trump, while "looking at maps" together with the singer once, asked, "What do you think we should do about North Korea?" (per The Guardian). Rock remembered his internal response as being, "'What? I don't think I'm qualified to answer this.'" 
On another occasion, Trump, who has since been permanently suspended from Twitter, allegedly ran a tweet that condemned the Islamic State by Kid Rock first. "[T]he tweet was... 'If you ever joined the caliphate, you know, trying to do this, you're going to be dead,'" Rock recounted. After Rock gave Trump his thumbs-up, the musician remembered the president's published tweet being "reworded and more political, to look politically correct. And just, 'be afraid.'"
Despite his own controversial share of headlines, Kid Rock told Carlson in the same interview why his career has yet to succumb to "cancel culture." Rock said plainly, "Because I don't give a f**k" (via the New York Post). "I love the trolls and the haters and the critics who've been trying to, you know, knock me down for 20, 30 years. And ... I'm still standing, still operate at the highest levels."