The Baker Mayfield NFL Saga Is Getting Worse And Won't Stop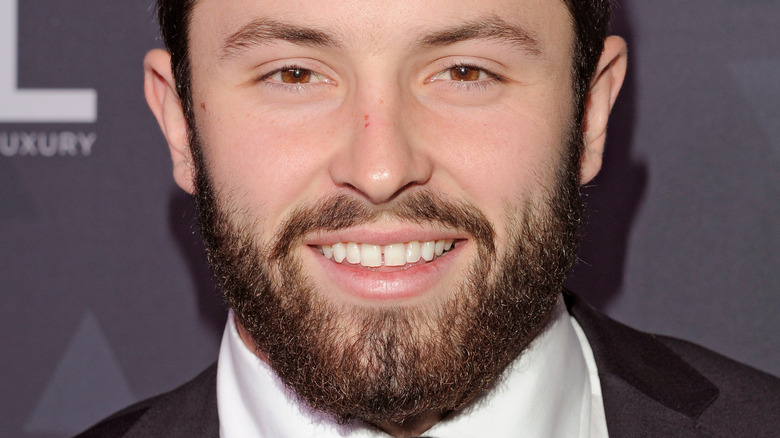 Ron Adar/Shutterstock
Life has changed a lot for Baker Mayfield since being drafted as the No. 1 overall pick in the NFL nearly four years ago, reports Browns Wire. When the Cleveland Browns selected Mayfield as their quarterback and NFL commissioner Roger Goodell made the announcement in April 2018, fans seemed largely happy. At the draft, some Brown's supporters were seen showing support to their new quarterback, while others were seen taking off their jerseys, revealing Oklahoma ones — Mayfield's alma mater — underneath. 
Mayfield started his college football career as a walk-on at Texas Tech where he worked his way up to a starting position within the first week of being on the team, cites NCAA. But after spending one year in Texas, he transferred to the University of Oklahoma and broke numerous records, including having the best all-time passer rating and yards-per-attempt rating, per SB Nation. In 2017, Mayfield finished school and was crowned the Heisman Trophy winner that same year. The elite award is given to the top college player, according to select votes.
However, after three NFL seasons with the Browns, the one-time Oklahoma athlete is struggling to keep his professional career alive and find a new team that wants him. Yahoo! Sports analysts state that Mayfield has only played "average" on the field and was recently traded for Deshaun Watson. While some think the athlete deserves more time, FS1's Nick Wright said on "First Things First," that the Browns are "going to ship [him] somewhere awful" and that he feels "badly for Baker in this."
Why the Cleveland Browns traded Baker Mayfield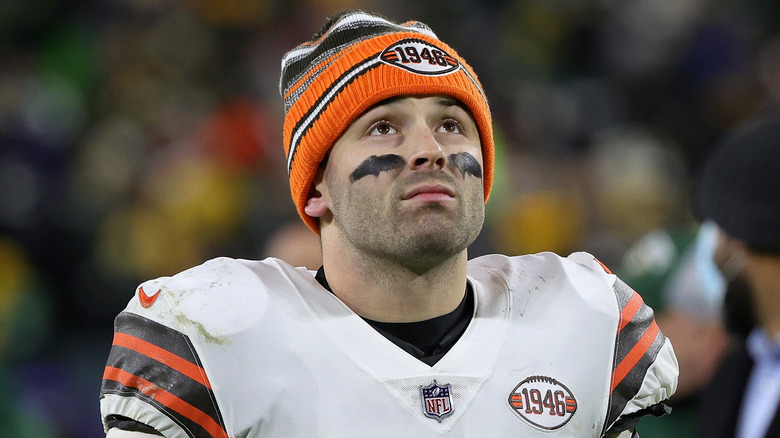 Stacy Revere/Getty Images
Things are getting dramatic for the Cleveland Browns. The drama really began when Baker Mayfield, the Brown's quarterback for the past three seasons, announced that we wanted to be traded from the Ohio team. It was initially announced that the Browns would trade Mayfield for Deshaun Watson, per CBS. Watson first joined as the quarterback on the Texans in 2017, and his trade comes with three first-round players. 
On March 15, Mayfield wrote a "goodbye" message to Cleveland fans on his Twitter. "I have given this franchise everything I have ... And that will not change wherever I take my next step." However, the drama really kicked up when Watson seemed to change his mind about coming to Cleveland, meaning that the Brown's staff didn't release Mayfield, leaving him stuck in the very place he had been trying to leave. However, things changed just three days later after Watson changed his mind and agreed to be traded from the Texans to the Browns, leaving Mayfield, the former No.1 overall pick with an unclear future. 
To make things worse, more and more NFL teams are dropping out of the idea of having Mayfield as their quarterback, it's looking like he is running out of options on where to go next, reports the New York Post. Mayfield initially floated the Indianapolis Colts as his preferred trade destination, but the team decided to pick up former Falcons quarterback Matt Ryan on March 21 — a dampening move on Mayfield's career. 
Where might Baker Mayfield go?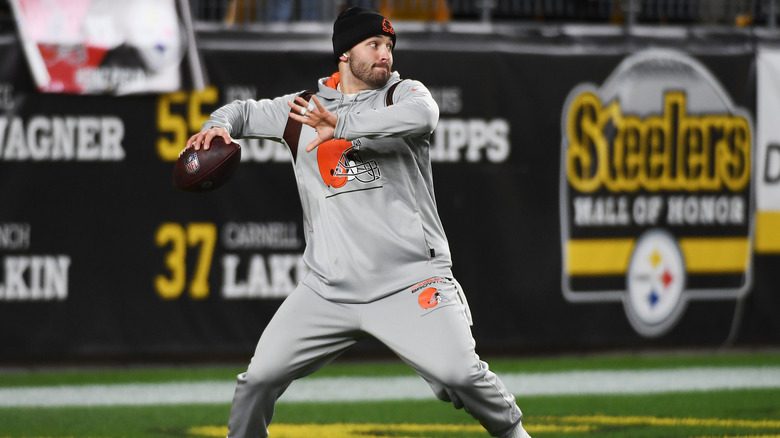 Justin Berl/Getty Images
The fate of soon-to-be former Cleveland Browns quarterback Baker Mayfield is still unclear. Per Yahoo! Sports, Deshaun Watson is taking his spot, the "very talented" former quarterback for the Texans is poised to see his career improve after previously working with an "awful roster." (However, Watson reportedly has trouble off the field, as Fox Sports reports he is facing a civil lawsuit regarding multiple alleged sexual assaults.) Mayfield is labeled to have worked with a "very talented" roster throughout his four years with the Browns, but his career stats are subpar. As a professional quarterback, Mayfield has a record of 29-30. 
Browns insider Mary Kay Cabot opined on the "Orange and Brown Talk" podcast (via Sports Illustrated) that few teams have reached out with inquiries regarding Mayfield, mostly because he's injury-prone and has had poor play for the last year. This is leaving Mayfield with little success at being picked up by his second NFL team; however, according to The Athletic, the Seattle Seahawks have preliminary interest. However, if Cleveland decides to cut the quarterback completely, the Pittsburgh Steelers would "pounce" on signing him.
Mayfield told GQ in August 2019, "Either you have a history of winning and being that guy for your team or you don't." Even if some people may think he's not that guy, FS1's "First Things First" host Nick Wright argued that Mayfield is currently "getting the short end of the stick."