This Is The Cast Of Drake & Josh Now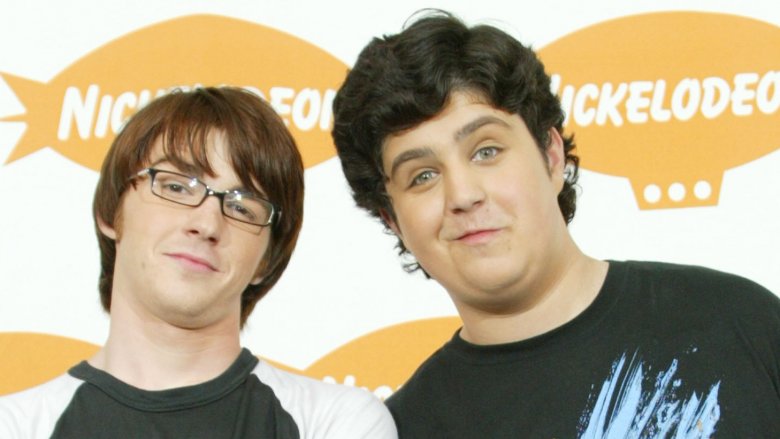 Getty Images
We may receive a commission on purchases made from links.
Please don't call us liars (or truthers) for saying this, but it has been a long, long time since Drake & Josh went off the air. While we've been constantly watching reruns and holiday specials since the series' 2007 finale, its child stars have been busy flying the Nickelodeon nest to build interesting and exciting careers. Here's what the cast of this four-season, two-film franchise looks like now.
Drake Bell (Drake)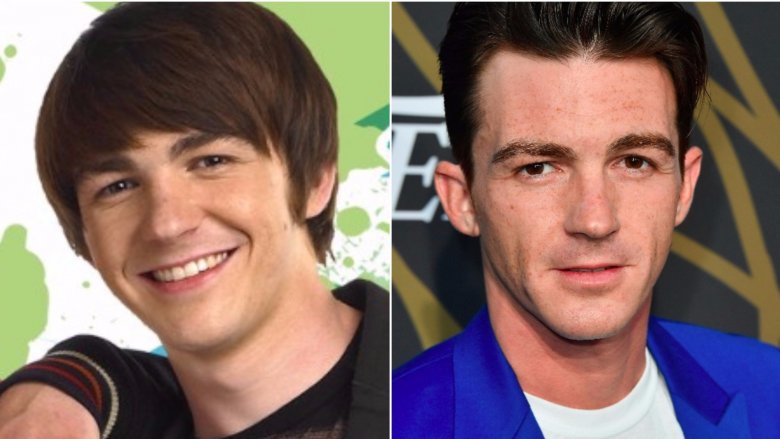 Getty Images
As the resident cool kid in the Parker-Nichols household, Drake Bell was the guy everyone wanted to be. With his flippy hair and musical talents, we were certain Bell would become a big success after his tenure on the show, but a series of personal struggles stunted his potential.
After Drake & Josh went off the air, the child star booked a few notable roles, appearing in the Superhero Movie and The Fish Tank. He also did a lot of voiceover work, lending his pipes as Timmy Turner in A Fairly Odd Christmas and other Fairly Odd Parents flicks. He also voiced Peter Parker in some Marvel projects, most notably the Ultimate Spider-Man TV series. However, Bell primarily focused on music, releasing an album called Ready Steady Go in 2014 and an EP titled Honest In 2017.
Unfortunately, most of the hype surrounding Bell is focused on his personal troubles, which include a string of DUIs and the infamous spat about not getting an invite to Drake & Josh co-star Josh Peck's wedding. (Don't worry: Bell says there are no more hard feelings, so these bros are ready to hug again.)
Hopefully, Bell will be able to get his career back on track soon. He's set to appear in some buzzy new projects in 2017, including Cover Versions with Katie Cassidy and Jerry Trainor and American Satan with Booboo Stewart and Denise Richards. He also landed a voiceover role opposite Kesha in the Maker Studios animated series Highly Gifted.
Josh Peck (Josh)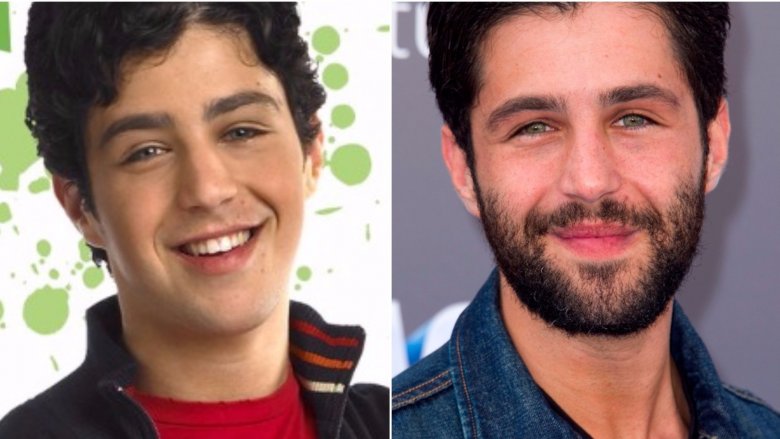 Getty Images
Josh Peck "Neville Longbottom-ed" hard after playing the dorky dude on Drake & Josh. The actor lost a lot of weight after going through his self-described "awkward teenage years" on the show, and while he's happy his weight-loss journey has inspired others, he says he'd also be happy to stop talking about the way he looks and just focus on his work.
That work has been rather impressive, although Peck has hit some speed bumps. After Drake & Josh, he nabbed roles in Drillbit Taylor and the Ice Age films, before breaking out on the big screen in 2012's Red Dawn remake. He completed a guest arc on The Mindy Project and appeared in Danny Collins before he landed the lead in his own network series, Grandfathered. Unfortunately, Grandfathered, which stars Peck as the son of John Stamos, lasted only one season on Fox. Peck's next TV role didn't work out either. The actor appeared in just two episodes of the quickly canceled Pitch. 
However, this former Nick kid has an exciting future. He wed longtime girlfriend Paige O'Brien in June 2017, and you check him out in the 2017 drama Locating Silver Lake, opposite Aubrey Peeples and Finn Wittrock. 
Miranda Cosgrove (Megan)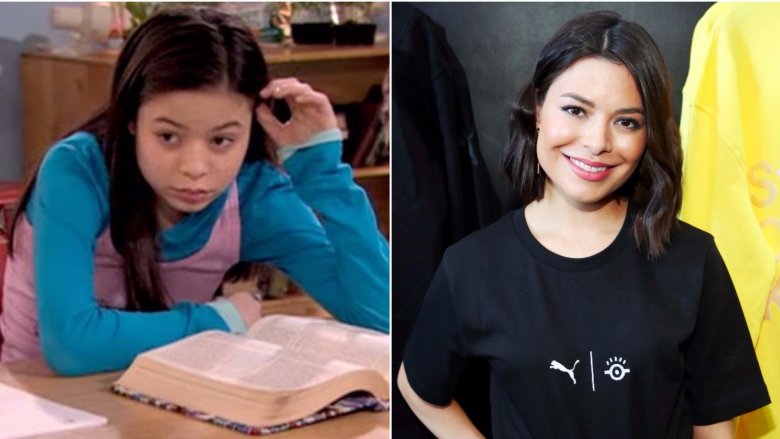 Getty Images
Miranda Cosgrove made a name for herself playing precocious children. She starring in School of Rock before joining Drake & Josh as the title characters' ambitious younger sister Megan (or should we say, "Megan!") While Cosgrove has presumably stopped referring to people as "boobs" in the years since the show, she has continued to dominate the small screen with strong and smart female characters.
Cosgrove stayed in the Nickelodeon family after Drake & Josh, leading her own show as the title character in iCarly. That series earned seven Emmy nominations, including four for outstanding children's program, and Cosgrove earned five Kids' Choice nominations for favorite television actress. She also landed in the Guinness World Records book for being the highest paid child star, earning $180,000 per episode. 
Cosgrove started releasing her own music while iCarly was on the air, producing an album titled Sparks Fly in 2010. While she's stuck mostly to the small screen, she has landed some notable movie roles, too, most prominently voicing Gru's oldest daughter, Margo, in the Despicable Me franchise. 
The actress took some time off in 2012 to attend the University of Southern California, majoring in film. While in college, she starred in a failed pilot titled Girlfriend in a Coma, before landing a lead role on the NBC comedy Crowded, which was canceled after just one season. Cosgrove then booked the pilot Spaced Out, from Scrubs creator Bill Lawrence, but alas, that was also not ordered to series. Let's hope she finds a TV show that sticks soon. 
Jonathan Goldstein (Walter)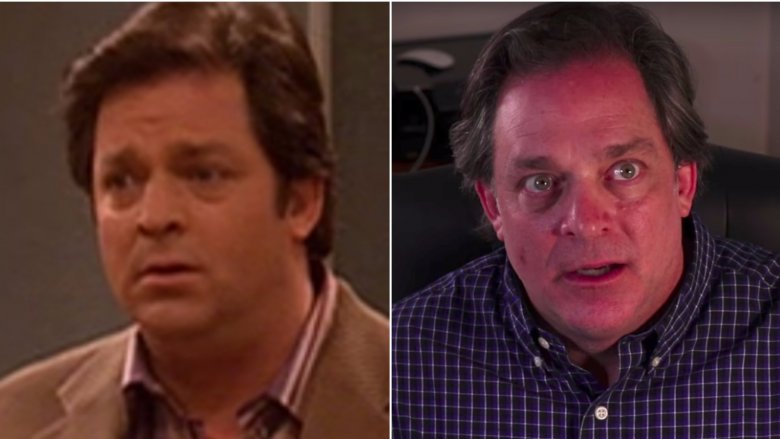 YouTube
Jonathan Goldstein, who played Josh's father, Walter, was already an established actor when he joined the series. You may recognize him from The West Wing, Buffy the Vampire Slayer, and The Jitters.
After he finished up his run on Drake & Josh, he booked guest-star appearances on shows such as Californication, Party Down, Grey's Anatomy, House of Lies, and Fear the Walking Dead. He also landed a role in the revival of the popular 1940s TV series and radio drama Suspense. 
Goldstein, who is definitely not married to his Drake & Josh co-star Nancy Sullivan, despite all those stubborn rumors, has done some notable work behind-the-scenes as a writer, producer, and director. He even oversaw three episodes of iCarly. But perhaps his best work is the hilarious short film series he made with Bell. In the series, he reprises his Drake & Josh role alongside a whole host of the shows' original stars (or, well, clones of them). Check it out.
Nancy Sullivan (Audrey)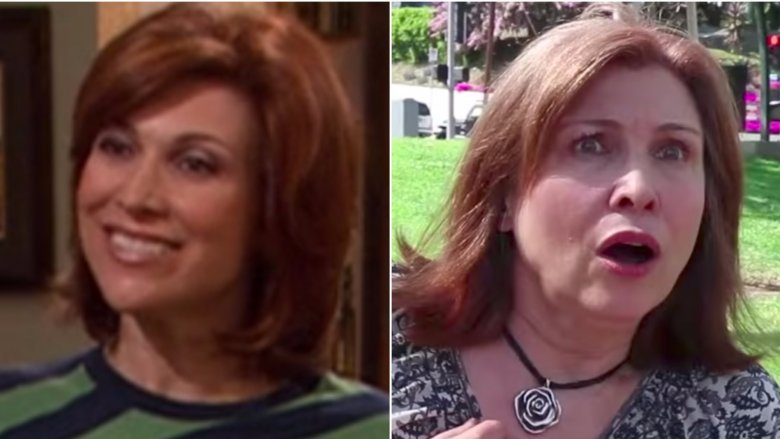 YouTube
Like her on-screen husband, played by Goldstein, Nancy Sullivan was also an accomplished actress when she landed the part of matriarch Audrey on Drake & Josh. Her resume includes appearances on The Amanda Show, Double Dare 2000, and The Setting Sun, and after Drake & Josh, she stuck close to the Nickelodeon family, appearing on Zoey 101 and in Drake & Josh flicks.
While Sullivan hasn't been seen on screen much of late, there's a chance you've heard her voice. She lent her pipes to the Cartoon Network series Squirrel Boy, along with the video game World of Final Fantasy, and the cartoon Monster Island. On camera, she's had small roles in All Kids Count, Abner the Invisible Dog, and Unwanted Guest. 
She also reportedly teaches classes at The Voiceover Connection in Burbank, Calif. 
Yvette Nicole Brown (Helen)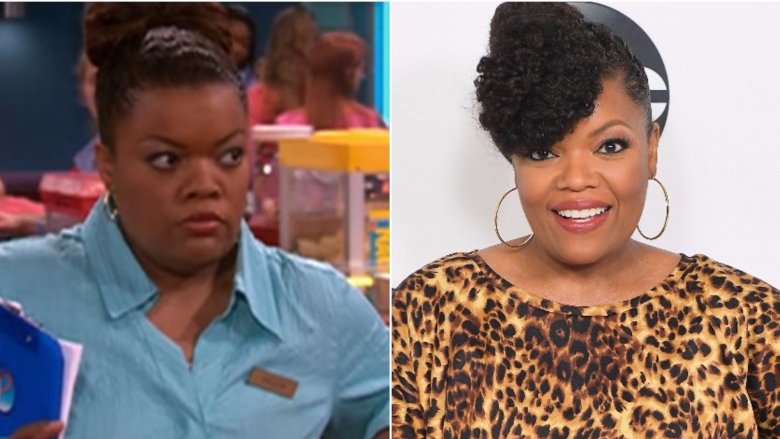 Getty Images
It looks like Helen finally got her due. Yvette Nicole Brown, the actress who plays Drake & Josh's put-upon theater manager, has become one of the show's most successful alumni. The series offered Brown a consistent gig after years of guest-starring, and she immediately capitalized on that position, booking small roles in big films such as Tropic Thunder and 500 Days of Summer.
Brown's next big break came in 2009, when she signed on to play Shirley Bennett, a religious mom on the NBC (and later Yahoo!) sitcom Community. The show proved Brown could be a comedic powerhouse and opened doors for guest roles on Psych, Once Upon a Time, Chuck, Family Guy, and more.
Brown left Community after its fifth season to take care of her sick father. She eventually signed on to the CBS multi-cam The Odd Couple, which reportedly took up less time filming than the single camera Community. The Odd Couple was canceled in 2017 after three seasons, but Brown has already landed on her feet, nabbing a lead role in the ABC musical comedy The Mayor, which is executive produced by Hamilton's Daveed Diggs. In addition to doing some killer voiceover work, she also hosts Cosplay Melee on Syfy.
Outside of acting, Brown is a busy volunteer. The self-described "champion of kindness" promotes volunteerism through her website, encouraging fans to support organizations such as Donors Choose and the Motion Picture and Television Fund. 
Jerry Trainor (Crazy Steve)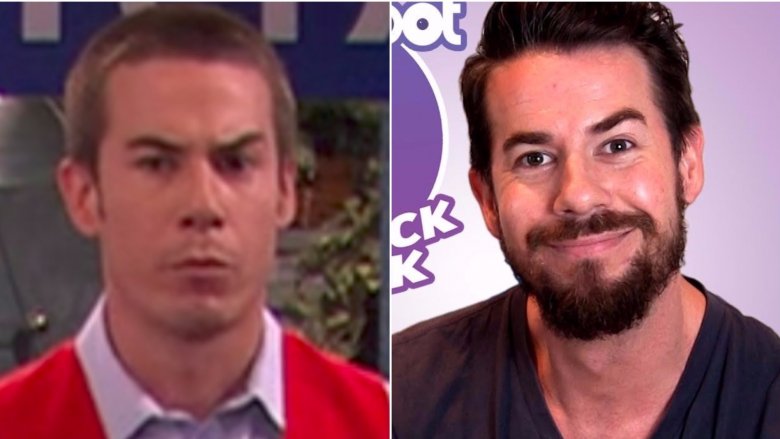 Twitter
Jerry Trainor was a little unhinged in his role as theater attendant Crazy Steve, and he carried that wacky spirit into future roles. Trainor's biggest post-Drake & Josh part kept things in the family, with the actor signing on to play the older brother and guardian of Cosgrove's character in the Nickelodeon series iCarly—a role that earned him Kids Choice and Teen Choice nominations. 
After iCarly, Trainor tried his hand at leading yet another Nick show, starring opposite Buddy Handleson on the comedy Wendell and Vinnie. That series was axed after one season. Since then, Trainor has stuck mostly to guest roles, appearing on Still the King and 2 Broke Girls. He also voiced the lead character on T.U.F.F. Puppy for five years, earning a Daytime Emmy nomination in 2013. 
Trainor is set to reunite with his former Drake & Josh co-star Bell for the 2017 film Cover Versions, but that won't be the only time he's worked with one of his former castmates. Trainor is also a member of the band Nice Enough People with Allison Scagliotti, who played Mindy on the show. 
Allison Scagliotti (Mindy)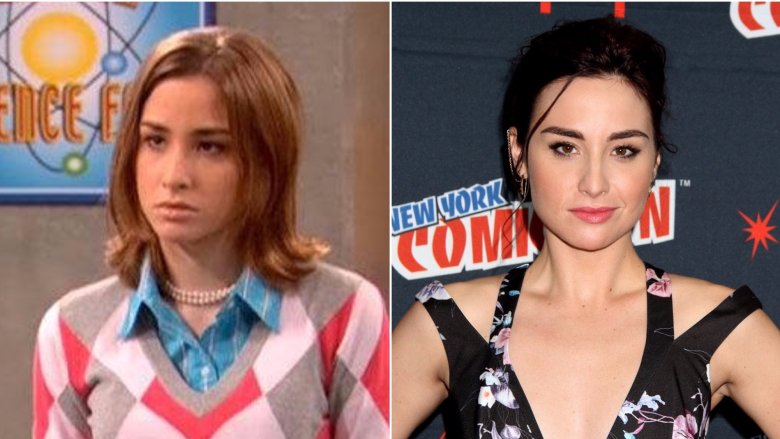 Getty Images
In addition to rocking out with Trainor, Allison Scagliotti, who played Josh's extreme girlfriend, Mindy, on Drake & Josh, has flexed her acting muscles. She guest-starred on One Tree Hill, CSI: Crime Scene Investigation, Party Down, and Smallville, before landing a lead role in the Syfy series Warehouse 13.
While filming Warehouse 13, Scagliotti also attended New York University, majoring in film production. However, she said that program just wasn't for her and wound up taking classes online to earn a certificate in playwriting and screenwriting from UCLA and a few different musical degrees from the Berklee College of Music. 
Scagliotti kept hitting up Hollywood while hitting the books. She led the Freeform series Stitchers and booked a recurring role on The CW's The Vampire Diaries. She also somehow found time to star in the Off Broadway musical Jasper in Deadland and has said she'd love to take her talents back to the stage at some point. 
Scott Halberstadt and Alec Medlock (Eric and Craig)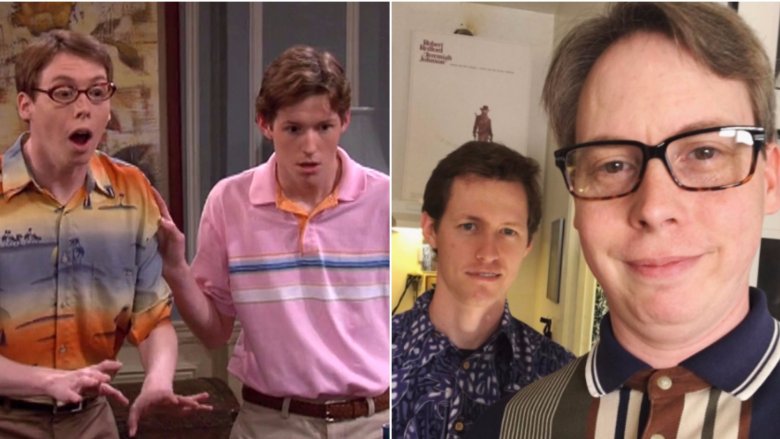 Instagram
As Josh's nerdy friends Eric and Craig, Scott Halberstadt and Alec Medlock were nearly always seen together on the Nickelodeon series. While it appears they aren't attached at the hip in real life, they did work together again, appearing in Bell's "Where's Walter" shorts. 
Halberstadt didn't act very much after Drake & Josh, appearing in a handful of commercials and reprising his role as Eric on iCarly. The former thespian—who describes himself as a nerd in real life too—became a father and also a research manager for the Beverly Hills-based talent agency William Morris Endeavor.  
Medlock has continued to act, appearing on Warehouse 13, How I Met Your Mother, Baby Daddy, Grey's Anatomy, and Touch. He has also lent his voice to Monsters University and Despicable Me 2. In 2013, Medlock successfully launched a Kickstarter campaign to fund Evelyn's Wake, a short film he wrote and directed. He says he thinks he belongs behind the camera and has continued to produce short films with his friends. 
Dylan Minnette (Jeffrey)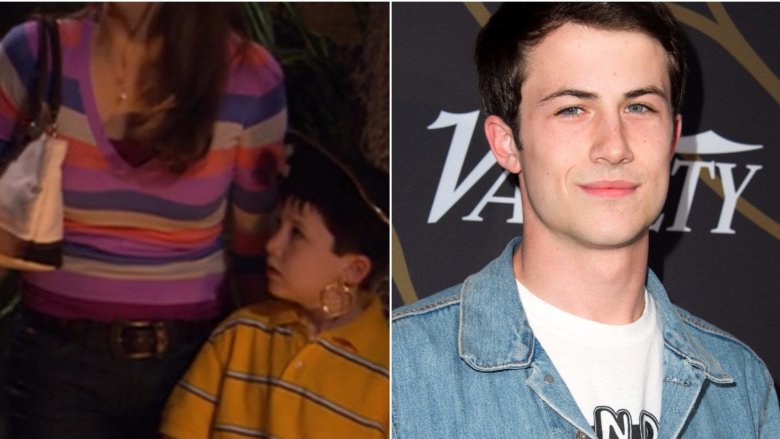 Getty Images
It seems like Dylan Minnette's name is everywhere for his starring role in Netflix's hit 13 Reasons Why. However, many fans don't realize he got his start on Drake & Josh, earning his first on-screen acting credit for briefly appearing in the Season 3 episode "The Demonator." Minnette played Jeffrey, a kid who causes headaches for Drake, Josh, and Megan as they wait in line for a roller coaster. (Arr, indeed.) 
After his appearance on the show, Minnette started to book more high-profile guest starring roles, appearing on Prison Break, Lost, and Ghost Whisperer. He also landed a starring gig on the TNT drama Saving Grace and on the short-lived NBC series Awake, followed by more guest appearances on Men of a Certain Age, Agents of S.H.I.E.L.D., and Scandal. 
Minnette kicked off his film career with parts in Prisoners and Alexander and the Terrible, Horrible, No Good, Very Bad Day, followed by a starring roles in Goosebumps and the horror film Don't Breathe. However, it's his gig as Clay on 13 Reasons Why that catapulted this former Nickelodeon kid to the A-list. 
Vanessa Hudgens (Rebecca)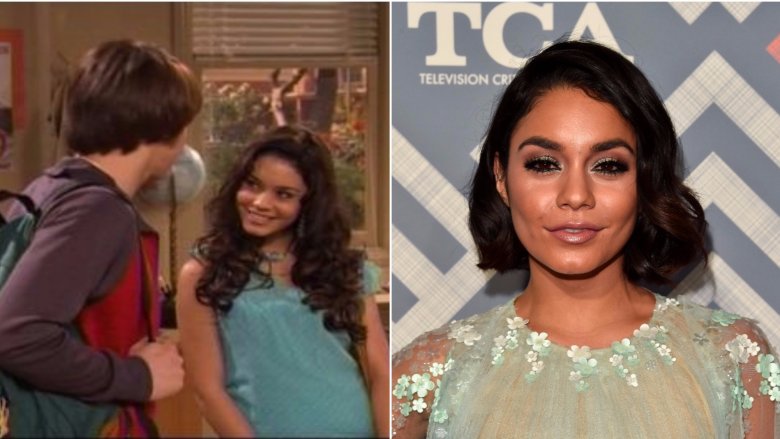 Getty Images
The same year Vanessa Hudgens booked a small guest-starring role as one of Drake's flings on Drake & Josh, she landed a much, much bigger part as Gabriella in Disney's High School Musical. The starring role catapulted her to teen stardom. She used her instant icon status to launch a music career, releasing her first album, V, in 2006, and her second, Identified, in 2008.
Hudgens has continued to maintain a successful showbiz career, appearing in two more High School Musical films before moving on to more adult roles. She played Mimi in RENT at the Hollywood Bowl and appeared in a slew of movies, including Beastly, Sucker Punch, Spring Breakers, Machete Kills, and Gimme Shelter. 
The actress moved viewers to tears in 2016 with her powerful performance as Rizzo in Grease Live!, going on despite the fact that her had father passed away the day before. 
She later landed the lead in DC Comics' Powerless comedy, but trouble behind the scenes supposedly led to the show's demise after just one season.
Hudgens' squeaky-clean image was tainted in 2007 when nude photos of her surfaced online. Some reports alleged she sent the pictures to her former flame, Bell, but he denied it and the scandal eventually blew over. 
Lucy Hale (Hazel)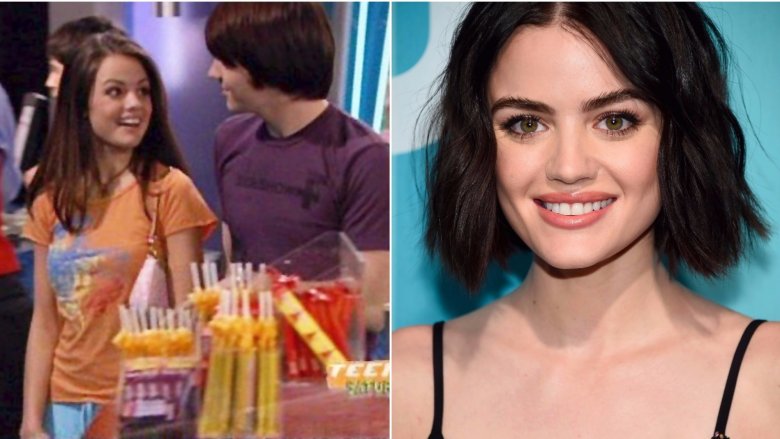 Getty Images
Lucy Hale also got her showbiz start on Drake & Josh as one of Drake's flings. Hale's appearance in a Season 3 episode was reportedly just her third acting credit, but she quickly built upon the experience and soon landed a leading role on the NBC reboot Bionic Woman. That show was nixed after just one season, and Hale's next attempt at leading a series, The CW's Privileged, met a similar fate. However, during that time, she did book high-profile roles in movies such as The Sisterhood of the Traveling Pants 2, Fear Island, and Sorority Wars. 
Hale's big break came when she landed the lead role of Aria Montgomery on ABC Family's (now Freeform's) wildly popular Pretty Little Liars. When she isn't giving us #fashiongoals through her character's not-so-appropriate-for-high school high heels, Hale is busy elsewhere on the big and small screen, appearing in A Cinderella Story: Once Upon a Song and How I Met Your Mother. 
The actress has signed on to star in The CW dramedy Life Sentence, due out in 2018. On the show, she'll play a woman who's been living life to its fullest for years, thinking she has terminal cancer, only to discover that she's been cured, which forces her to deal with the consequences of her decisions. With Hale's charm, the series is sure to be a hit.