Mike Tyson Had Amazing Reaction To Dangerous Situation At Comedy Show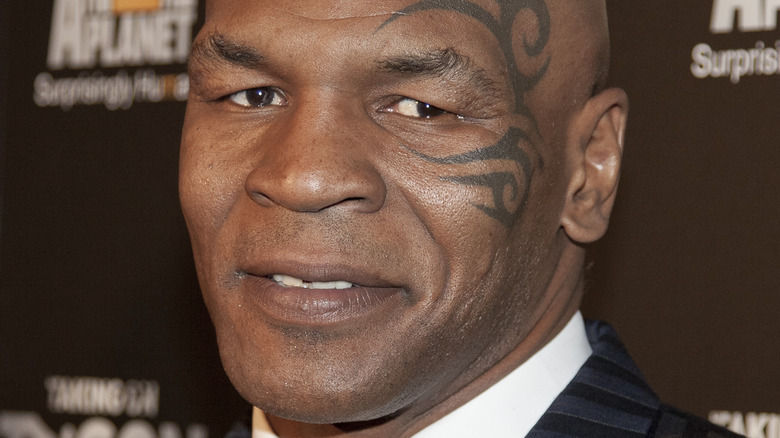 Lev Radin/Shutterstock
Mike Tyson used to be all about the fighting. Per Live About, Tyson became the youngest heavyweight champion ever in 1986, and was unbeatable throughout the decade. Tyson only lost six fights during his career, scored two no contests, and won 50 – 44 of them, knockouts. However, it all went downhill in the 1990s after Tyson was convicted of rape and spent three years inside.
Then, he bit Evander Hollyfield's ear twice during a match, resulting in a suspension of his boxing license. He was incarcerated again for assaulting two elderly men. Then, a third time following a DUI arrest. Tyson started struggling with substance abuse and addiction, and things proceeded to spiral even further. Despite having earned $400 million during his boxing years, Tyson filed for bankruptcy in 2003 after landing $34 million in debt, per Biography.
However, the now clean and sober Tyson is all about love these days — and the pigeons. Tyson loves him some pigeons. The fighter's rock dove devotion stems back to his childhood when he kept them as pets. In recent years, Tyson has become an increasingly feathered friend fancier. He once dumped a girlfriend after she cooked and ate one of his beloved birds, according to the Mirror. Per Daily Beast, Tyson is now a practicing Muslim, which could have informed his amazing reaction to a dangerous situation at a comedy show.
Mike Tyson's a lover not a fighter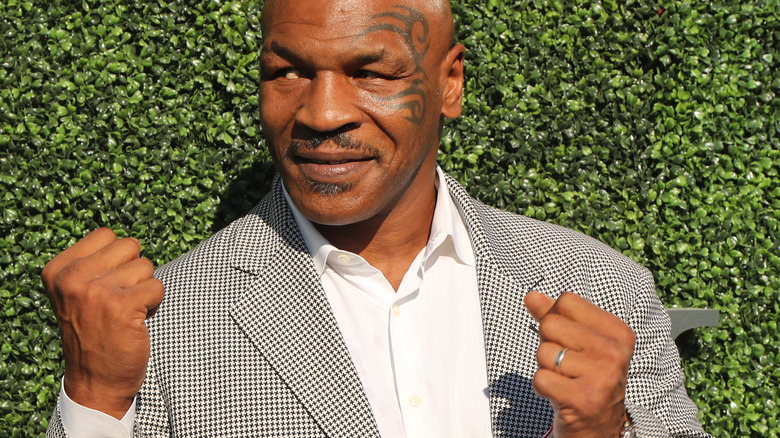 Leonard Zhukovsky/Shutterstock
Mike Tyson was enjoying a night at a comedy club when things took a decidedly unfunny turn. According to TMZ, a random guy tried to start a fight with Tyson — the World Heavyweight Champion for three years in a row. A source said the guy thought the fight would help "elevate his status," an unlikely outcome given Tyson's status as one of history's greatest boxers.
The retired fighter was having none of it, though — he's a lover, not a fighter these days. However, things escalated after the comedy MC attempted to intervene. The wannabee challenger started waving a gun around before stuffing it back in his waistband. Tyson didn't flinch. He sat listening to the man, then hugged it out with the dude, completely diffusing the situation.
Meanwhile, Tyson may have turned his back on brawling, but that doesn't mean he wouldn't return to the ring again — if the price was right. During a March episode of his podcast "Hotboxin'," per the Independent, Tyson was told his buddy, Jake Paul, had been talking smack about arranging a boxing match between them. Given his money woes, it could be a quick way for Tyson to earn a buck or two. Instead, the retired pugilist said he'd get in the ring with Paul for $1 billion — which even a YouTube star is doubtful to have in the bank. "Hey, I ain't got no f***ing money," Tyson joked. "So, where's the f***ing contract?"