The Untold Truth Of John McCain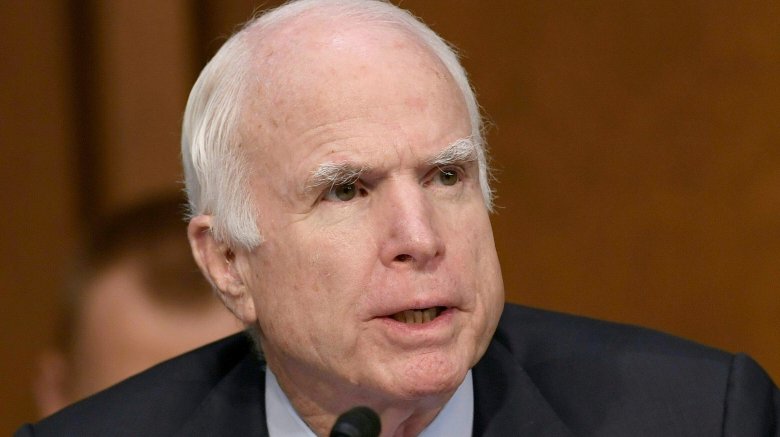 Getty Images
The late Arizona Sen. John McCain was well known for his long career in Congress and his two attempts at the presidency, particularly his most recent run against Barack Obama in the 2008 presidential election. McCain's campaign on the Republican ticket famously pushed his running mate, former Alaska Governor Sarah Palin, into the national spotlight. Most people are probably also aware of McCain's heroic five-year stint in a Vietnamese prison camp. The naval aviator refused to use his family name as a bargaining chip and instead demanded the release of other soldiers. The details of McCain's political and personal life are an interesting tapestry that explain why the statesman earned his famous reputation as a maverick. 
True to form, McCain continued striving to serve his country even after being diagnosed with a malignant brain tumor in 2017. That year, while fighting for his life, the senator "made a dramatic appearance in the Senate to cast a thumbs-down vote against his party's drive to repeal the Affordable Care Act," reported The New York Times. The powerful statesman died Aug. 25, 2018 at his home in Arizona. He was 81. 
Though McCain's influential life has been well-documented, there are still elements of this story that are less familiar to the general public. Let's take a closer look at the untold truth of John McCain.  
He had an awesome nickname in high school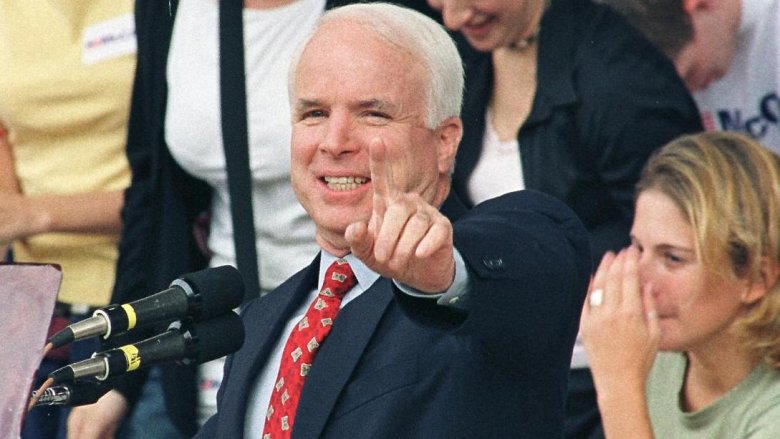 Getty Images
John McCain's fiery personality was already evident during his high school days. His classmates, who dubbed him "Punk," had some interesting words for McCain in their senior yearbook. "His magnetic personality has won for him many life-long friends," the editors wrote, according to ABC News. "But, as magnets must also repel, some have found him hard to get along with."
To his close friends, McCain had an altogether different nickname that, unfortunately, didn't stick around for his political career: "McNasty." The sweet moniker reportedly came from his time on the wrestling team, but it would also be a fitting title for the start of McCain's military career.
He had some problems at the U.S. Naval Academy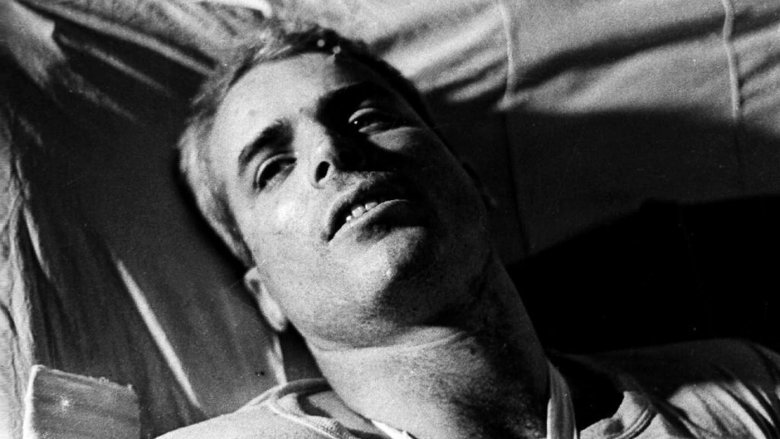 Getty Images
After high school, McCain followed in the footsteps of his father, Adm. Jack McCain, and grandfather, Adm. John "Slew" McCain, by enrolling in the U.S. Naval Academy in Annapolis, Md. But right off the bat, the youngest McCain had trouble adapting to academy life, according to The Arizona Republic. He reportedly fought with upperclassmen, and every year, he earned a spot in the "Century Club" for earning more than 100 demerits for refusing to clean his quarters, shine his shoes, or show up on time for formation. He graduated near the bottom of his class, which turned out to be something of a family tradition as well. 
Where the young McCain really excelled was with the ladies. His fellow cadets reportedly called him "John Wayne McCain" and often turned to him for advice when it came to the opposite sex. "He was graying at the temples, and it made him more dashing." said McCain's Naval Academy roommate. "It was a real adventure living with John."
He was a party animal while stationed in Florida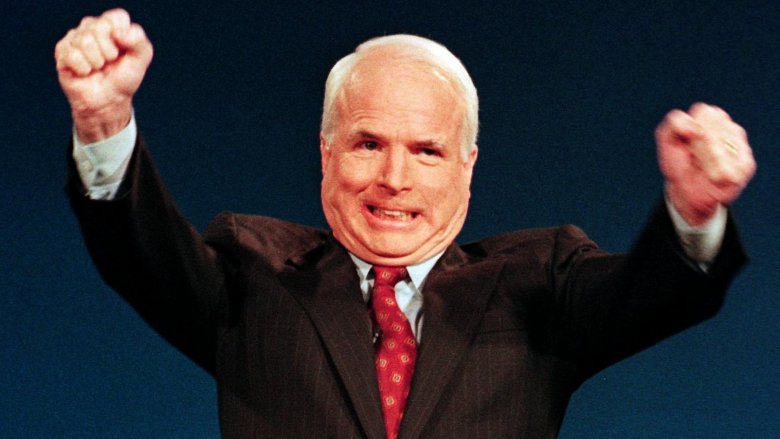 Getty Images
During his early years in the Navy, McCain was stationed in Pensacola, Fla., where he earned a reputation for throwing the "most raucous and longest beach parties of any squadron in the Navy," reported TIME. "He dated everyone from schoolteachers to the strippers at Trader John's [sic], the fabled airdale raunch bar, often returning to base just in time to change clothes and drag himself out to the flightline," according to Robert Timberg, author of John McCain: An American Odyssey.
The Arizona senator also described his relationship with an exotic dancer named Marie the Flame of Florida in his own book Faith of my Fathers. According to TIME, "McCain recounted one night out with friends, when the Flame reached into her purse, popped open a switchblade and began to clean her fingernails, shocking some of those around her. Afterwards, McCain  wrote, he took the 'worldly, lovely Flame of Florida to dinner.'"
Eventually, McCain settled down and started dating Philadelphia model Carol Shepp. They married in 1965, but just over a year later, on the heels of their daughter Sidney's birth, he was shipped off to Vietnam to serve as a bomber pilot. It would be nearly six years before he returned.
His first marriage didn't end well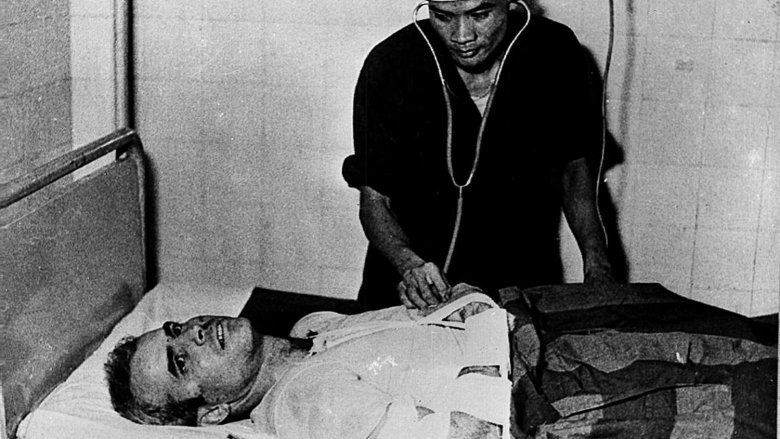 Getty Images
Looking back on his time as a prisoner of war, The Arizona Republic reported that McCain praised his wife for her "determined spirit" and "refusal to succumb to pity and despair." But upon his return in 1973, things had changed. 
McCain was badly injured, and so was Carol, who had been in a disfiguring car accident in 1969. The two soldiered on and recovered from their wounds, but their marriage did not survive. McCain reportedly engaged in a series of affairs. "The breakup of our marriage was not caused by my accident or Vietnam or any of those things," Carol told author Timberg (via The Arizona Republic). "I don't know that it might not have happened if John had never been gone. I attribute it more to John turning 40 and wanting to be 25 again than I do to anything else." He was equally candid in his book, Worth the Fighting For. "My marriage's collapse was attributable to my own selfishness and immaturity more than it was to Vietnam," he wrote, "and I cannot escape blame by pointing a finger at the war. The blame was entirely mine."
McCain's celebrity status as a war hero quickly turned into political ambition, and he soon found love again — perhaps a little too soon for some.
His second marriage had a sketchy start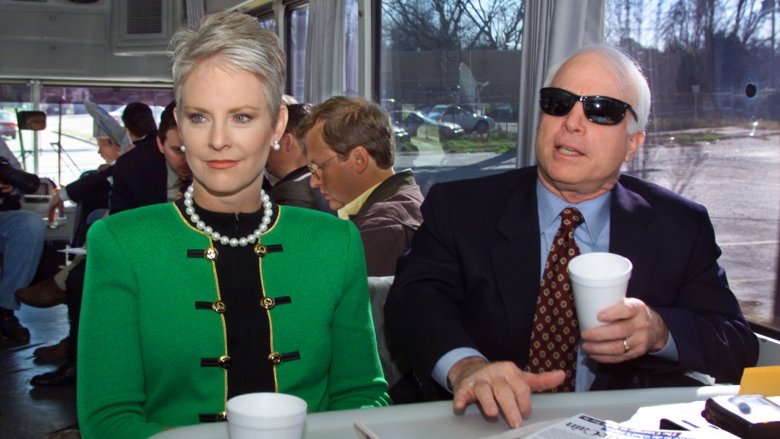 Getty Images
While attending a military reception in Hawaii in 1979, McCain met Cindy Hensley of the extremely wealthy Hensley & Co. in Arizona. He was immediately smitten, and it didn't take long for him to propose. There was just one small problem. He was still married to Carol.
In February 1980, McCain filed for divorce from Carol, and just a few months later, he married Cindy. According to The Arizona Republic, McCain and his new wife moved to her home state of Arizona where her father's connections helped McCain launch a successful run for Congress in 1982. His win required the McCains to be close to the capital, so they bought a house in Alexandria, Va., but Cindy wasn't exactly welcomed there.
The New York Times reported that Carol was still a "presence on the social scene, working in the Reagan White House as an events planner. Everyone knew her story: she had stood by her husband during his captivity, in North Korea, never passing word about a debilitating car accident, only to discover, a few years after their reunion, that he was leaving her for a younger, richer woman." The other Congressional wives gave Cindy the cold shoulder, and she soon returned to Phoenix to start a family.
Carol's close family friend, business magnate Ross Perot, summed up the situation, bluntly. He told Newsweek: "After [McCain] came home, he walked with a limp, she walked with a limp. So he threw her over for a poster girl with big money from Arizona and the rest is history."
His ex-wife protected his political campaign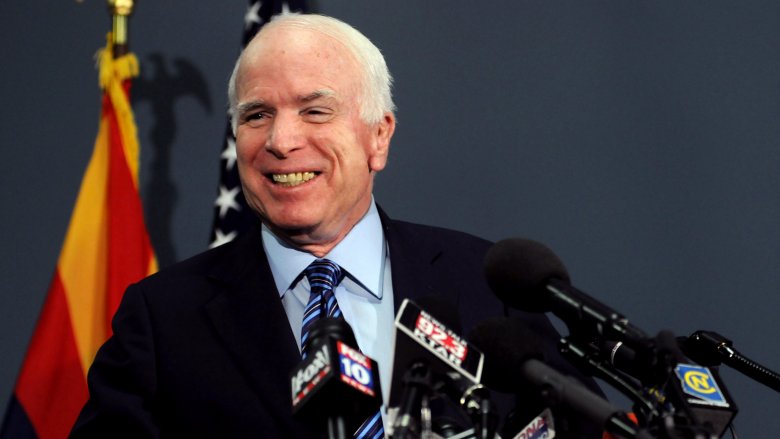 Getty Images
Despite their failed marriage, Carol never acted bitterly toward McCain. In fact, during his first Congressional run following their divorce, she warned him about a political opponent approaching her for dirt to use against him. With that tip in hand, things turned "McNasty" following a political debate.
In Worth the Fighting For (via The Arizona Republic), McCain wrote, "When the debate ended, I walked over to the opponent who had attempted to mine some little nasty opposition research from my failed marriage and told him with as much steel as I'm capable of demonstrating, 'If you ever try to hurt anyone in my family again, I will personally beat the s**t out of you.'"
Carol also endorsed McCain during his 2008 presidential run and agreed to a rare interview with the Daily Mail to "publicize her support" for a "good man" and "close friend." She expressed no ill will about the outcome of their marriage and said McCain was extremely gracious to her in the divorce. He reportedly gave her their beach house in Florida and agreed to pay all of her medical bills for life, along with alimony and child support.
A scandal almost ended his political career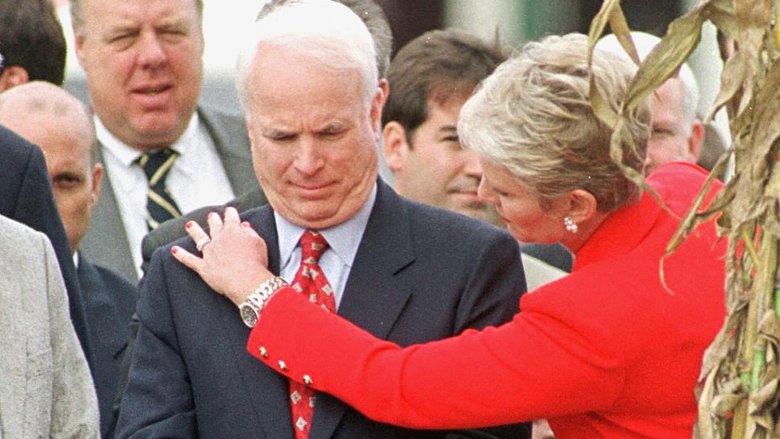 Getty Images
In 1986, McCain successfully ran for the senate after the retirement of prominent Republican Sen. Barry Goldwater. As the young politician's popularity grew, the top Republicans hoping to be president in 1988 all wanted McCain's endorsement to help secure the nomination. The party wound up choosing George H.W. Bush., and though McCain denied being contacted by the Bush campaign, the press widely believed the senator was on the short list for vice president, according to The Arizona Republic. Then the "Keating Five" scandal hit.
Just a few months after joining the senate, one of McCain's top donors, Charles Keating, reportedly encouraged McCain and four other senators to pressure federal regulators to lay off Lincoln Savings & Loan, which Keating ran. McCain and the senators complied, only to watch Lincoln collapse during the subsequent savings-and-loan crisis. Keating was charged with 42 counts of fraud, and "taxpayers lost more than $2 billion" on the S&L's bailout. Not good.
Considering his close ties to Keating, things got especially tricky for McCain. The Arizona Republic reported that "McCain and his family had vacationed at Keating's Bahamas retreat and that his wife and father-in-law in 1986 had invested nearly $360,000 in a Keating shopping-center development." The other senators of the "Keating Five" retired, but McCain miraculously survived the scandal and won re-election. It helped that he ran on campaign finance reform. 
In Worth the Fighting For, (via The Arizona Republic) McCain said thinking about the scandal still makes him "wince," describing it as "a vague but real feeling that I had lost something very important in pursuit of political ambitions."
George W. Bush's campaign pulled a dirty trick on him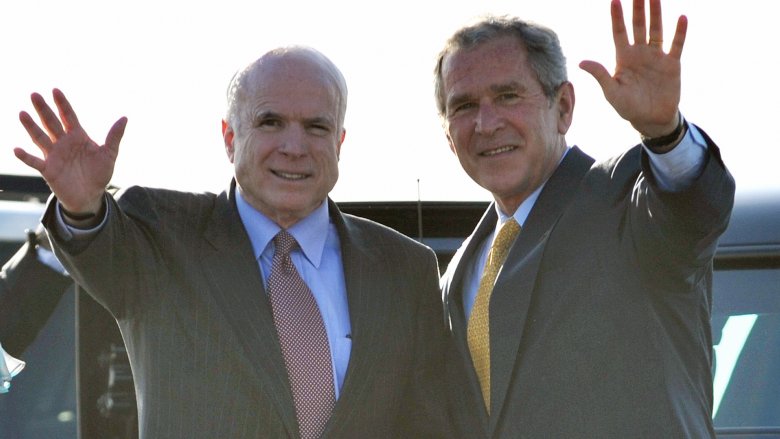 Getty Images
With the "Keating Five" scandal in his rearview, McCain decided to go for the big job. In 1999, he announced he'd be running for president and challenging front-runner George W. Bush in the Republican primaries. When McCain began upsetting Bush in key places, such as New Hampshire, things got ugly fast. As the two headed into South Carolina, the Bush campaign found itself on the ropes and reportedly decided to play dirty.
In the days leading up to the South Carolina primary, Vanity Fair reported that activists who were friendly to the Bush campaign circulated a rumor that McCain fathered a child out of wedlock. Not just any child — a "Negro child." Soon, fliers started popping up that depicted the McCain family with a dark-skinned child. The Bush campaign denied being involved in the campaign, but those fliers gained traction. "I've seen the worst form of racist sons of b**ches in the world in David Duke, but this was unbelievable," said McCain's deputy campaign manager, Roy Fletcher.
McCain lost in South Carolina, and Bush went on to win the presidency, but here's the thing that very few people knew at the time. The child in those campaign fliers was the McCains' adopted daughter, Bridget, who Cindy met on a 1991 relief mission in Bangladesh via Mother Teresa's nuns. That's who political activists used to smear McCain. Pretty gross, right?
Bush thinks he could have helped McCain beat Obama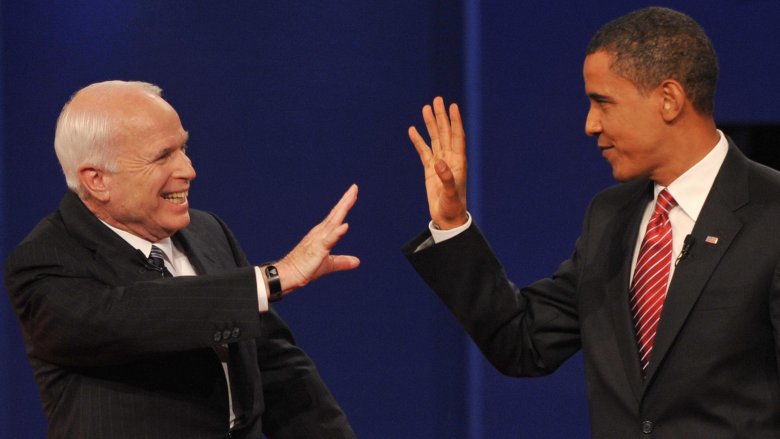 Getty Images
In 2008, McCain finally got his chance to run for president, and he went out of his way not to seek an endorsement from George W. Bush. The former president considered that a mistake and said so in his book, Decision Points.
"I understood he had to establish his independence," Bush wrote (via Politico). "I thought it looked defensive for John to distance himself from me. I was confident I could have helped him make his case. But the decision was his. I was disappointed I couldn't do more to help him." Bush also thinks McCain dropped the ball when it came to the stock market crash, calling the senator's response "erratic" compared to Obama's "cool demeanor."
However, Bush concedes that McCain was probably doomed from the start. "Like Dad in 1992 and Bob Dole in 1996, John McCain was on the wrong side of generational politics," Bush wrote. "Electing him would have meant skipping back a generation. By contrast, 47-year-old Barack Obama represented a generational step forward." Ouch.
Donald Trump mocked McCain's capture in Vietnam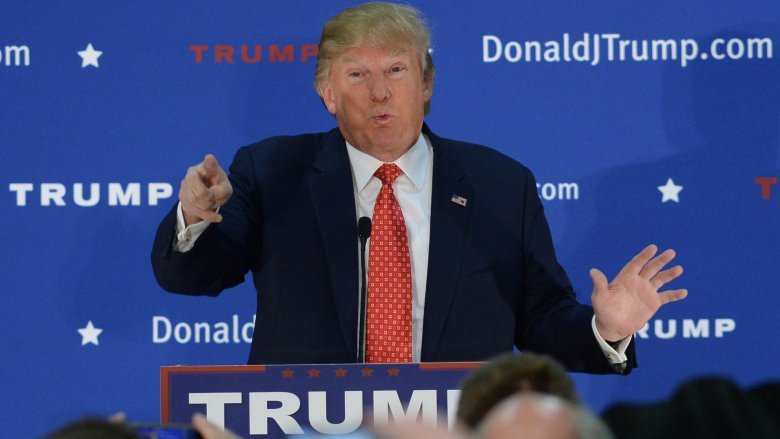 Getty Images
Sen. McCain wasn't running for president in the 2016 election, but he still managed to insert himself in the race by feuding with Republican front-runner Donald Trump during the primaries. It all started in June 2015, when Trump accused Mexican immigrants of being rapists and drug runners. That did not sit well with McCain. 
"I just think that it is offensive to not only Hispanic citizenry, but other citizenry, but he's entitled to say what he wants to say," the senator told The Arizona Republic. "But I guarantee you the overwhelming majority (in Arizona)...do not agree with his attitude, that he has displayed, toward our Hispanic citizens. We love them."
The two men continued to trade words until the situation reached a boiling point in July 2016, when Trump insulted McCain's time as a prisoner of war. "He's not a war hero," Trump told the Family Leadership Summit in Iowa (via Politico). "He was a war hero because he was captured. I like people who weren't captured."
While Trump (slightly) walked back his remarks, he found himself widely criticized by both Republicans and Democrats for his attack on McCain's service. However, there was one particular person who didn't seem to have trouble overlooking Trump insulting the man who put her on the political map...
Sarah Palin stabbed him in the back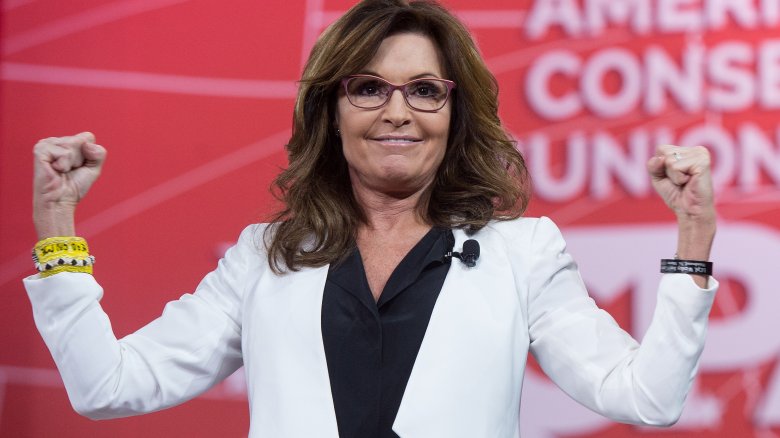 Getty Images
Sen. McCain has been widely criticized for choosing Sarah Palin as his vice-presidential candidate during the 2008 election. In fact, even McCain's own campaign manager reportedly regrets the decision and its ramifications on the Republican party.
However, as journalist Rachel Maddow noted (via Mediaite), McCain himself has never criticized Palin or publicly expressed any second thoughts about making her his running mate. He's actually referred to Palin as "the best decision I have ever made," which makes it especially awkward that she endorsed Trump after he criticized McCain. It's worth noting that Trump received five draft deferements during Vietnam: four for college and one due to bone spurs. 
In Palin's defense, she was rumored to be Trump's vice presidential pick, but is that really a good reason to throw McCain under the bus? Without him, she probably would not have landed all of those reality TV shows!
He defied Trump while battling brain cancer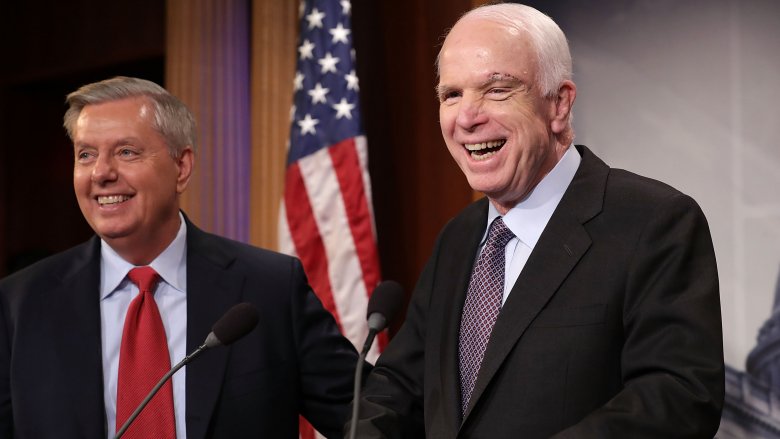 Getty Images
One of Trump's biggest campaign promises was to repeal the Affordable Care Act, better known as Obamacare, but that ended up being easier said than done.
The biggest setback to Trump's efforts came in late July 2017, when McCain flew to Washington just days after surgery. The operation removed a blood clot near his eye and revealed he had brain cancer. At first, it seemed like McCain would vote the party line to pass something called a "skinny repeal" of the healthcare system. It was a controversial piece of legislation, but its passage would still be a political win for the Trump administration. McCain wasn't a fan of the plan but had indicated he would vote for it. 
And then the "Maverick" came out. According to CNN, McCain surprised the president and his party by joining Alaska Sen. Lisa Murkowski and Maine Sen. Susan Collins in voting no on the skinny repeal and preventing the bill's passage. It was a devastating blow to Trump's agenda, and it restored McCain's reputation as a fierce independent. 
A true maverick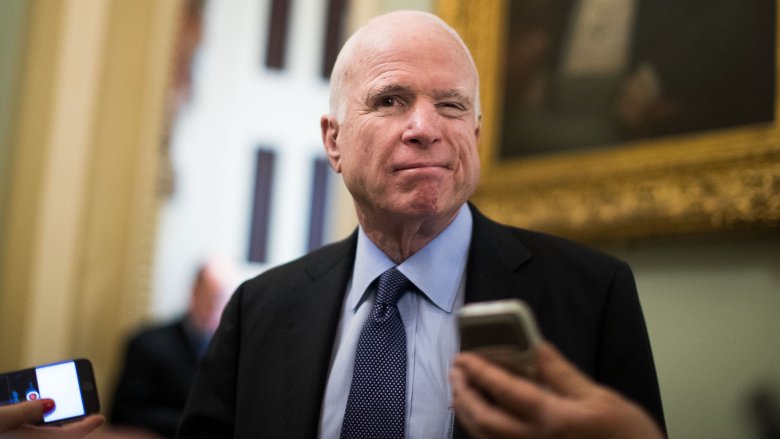 Getty Images
Despite a personal and political life that's no stranger to controversy, there's no denying Sen. McCain was a dedicated public servant who deeply loved his country. Whether it was slogging in a Vietnamese prison camp or going against his own political party, he wasn't afraid to stay the course when the chips were down. He also was not ashamed to admit when he'd made a mistake (e.g. the Keating Five scandal) or to atone for his wrongs (e.g. making sure his ex-wife was financially secure). 
The long-time senator also demonstrated a willingness to put partisan politics aside for general decency. During his presidential run against Obama, a woman at one of McCain's campaign rallies said she didn't trust Mr. Obama because "he's an Arab." McCain took the mic from her and said, "No, ma'am. He's a decent family man, a citizen that I just happen to have disagreements with on fundamental issues." 
Following McCain's passing, Obama was among the many voices who responded to the news with great reverence. "Few of us have been tested the way John once was, or required to show the kind of courage that he did," the former president said in a statement. "But all of us can aspire to the courage to put the greater good above our own. At John's best, he showed us what that means. And for that, we are all in his debt."