The Truth About Michael Oher's Wife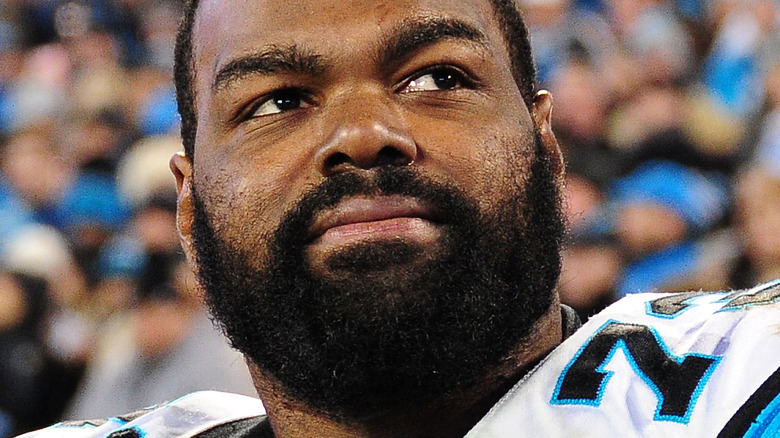 Scott Cunningham/Getty Images
The 2009 Oscar-winning film "The Blind Side" chronicled the life of NFL player Michael Oher. The movie, adapted from Michael Lewis' book of the same name, sees actor Quinton Aaron taking on the role of Oher, while his adoptive parents, Leigh Anne and Sean Tuohy, were played by Sandra Bullock and Tim McGraw.
Oher, who retired from his career as a professional athlete in 2017, had a difficult childhood. The Tennessee native's teenage years were riddled with turmoil. As revealed in the film, Oher was raised in poverty and would eventually end up in foster care. After several unsuccessful foster pairings and bouts of homelessness, the teenager was adopted by the Tuohy family.
Oher would go on to have a successful football career after being drafted to the Baltimore Ravens in 2009, per NFL.com. But, while Oher's life and early career as an athlete were put on display in the film, the retired offensive tackle seemingly lives a very private life now. Oher's Instagram account — which boasts more than 260,000 followers — has few personal photos, leaving many fans to wonder: Who is Michael Oher's wife?
Michael Oher is married to Tiffany Roy
Since leaving the NFL, Michael Oher has shied away from the public eye, having only been the subject of headlines after a 2017 arrest for assaulting an Uber driver. The accident, and the Uber driver's subsequent lawsuit, was the first time Oher's wife, Tiffany Roy, was ever mentioned publicly.
Oher and Roy's limited use of social media means there are very few digital traces of the couple together. However, Oher included a photo of him and Roy from 2020 in a slideshow on his Instagram. Roy has the same photo as her profile picture on what is believed to be her personal Instagram account. While the couple has remained relatively private, Oher's adoptive brother, Sean Tuohy Jr., shared a group photo of the couple, along with a child believed to be the couple's son. Roy is the owner of Feminish Collection, an online clothing boutique that offers clothing for women of all sizes, while also encouraging self-love and confidence. Roy has even shared a few pictures of herself and Oher on the Instagram account for her online shop. 
In addition to running the Tennessee-based boutique, Roy is also listed as vice president for Oher's non-profit organization, Beat The Odds, per ProPublica. According to the foundation's website, the program aims to "help America's youth achieve success by empowering them to live meaningful, purposeful lives as caring human beings and builders of caring communities."