Comedy Icon Jerry Lewis Dead At 91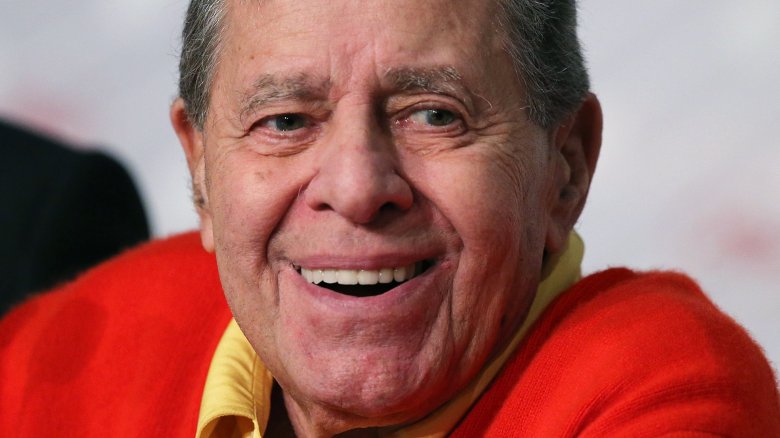 Getty Images
The legendary comedian and actor has passed away.
Las Vegas Review-Journal columnist John Katsilometes reported the death of Jerry Lewis with a tweet on Sunday, Aug. 20, 2017. "Very sad to report entertainment legend #JerryLewis has died today at 9:15 a.m. at his home in Las Vegas," he wrote. "He was 91."
Katsilometes later reported a statement via Twitter, presumably from a representative of Lewis. The tweet read, "Legendary entertainer #Jerry Lewis passed away peacefully today of natural causes at 91 at his home w/ family by his side."
Penn Jillette, of Penn and Teller fame, also confirmed the news, tweeting, "Jerry Lewis just died.  When I met him, I [fell] apart, just sobbed. I guess it's time for that again."
He continued, "We will miss Jerry so much.  I can't believe I got to meet him and spend time with him."
We will miss Jerry so much. I can't believe I got to meet him and spend time with him. pic.twitter.com/wpHtjuWwmp

— Penn Jillette (@pennjillette) August 20, 2017
Lewis was well known for his slapstick routines and his comedic partnership with Dean Martin, with whom he'd co-hosted The Colgate Comedy Hour. He starred in several films over the decades, including The Bellboy (1960), Cinderfella (1960), and The Nutty Professor (1963). Most recently, he'd appeared in the 2013 movies Max Rose and Till Luck Do Us Part 2, as well as the 2016 film The Trust.
He was also a successful singer, releasing multiple records—not to mention the hit song "Rock-a-Bye Your Baby" in 1958.
Lewis was also famous for emceeing the annual Labor Day Muscular Dystrophy Telethon until 2011.
As The Hollywood Reporter noted, Lewis, a former drug addict, had suffered a number of health ailments over the years. In 1983, he had open-heart surgery. He later required treatment for his addiction to prescription drugs (Percodan, in particular) in both 1992 and 2003. In 2006, he'd endured both a heart attack and a battle with pulmonary fibrosis.
Lewis is survived by his second wife, SanDee Pitnick.