Dick Gregory Dead At 84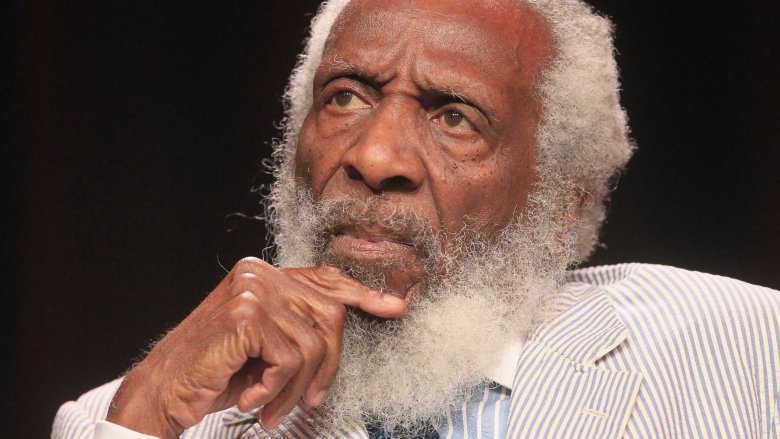 Getty Images
The legendary comedian and social activist has passed away. 
On behalf of his family, Christian Gregory announced the passing of his father, Dick Gregory, in a Facebook post on August 19, 2017. "It is with enormous sadness that the Gregory family confirms that their father, comedic legend and civil rights activist Mr. Dick Gregory departed this earth tonight in Washington, DC. The family appreciates the outpouring of support and love and respectfully asks for their privacy as they grieve during this very difficult time," he wrote, promising more details in the coming days. 
In a subsequent post, Christian revealed that his father died from "a bifurcated thoracic aortic aneurysm," following his hospitalization for a urinary tract infection. "Years of severe fasting, not for health but for social change, had damaged his vasculature system long ago. He always reminded us, many of his fasts were not about his personal health but an attempt to heal the world," he wrote. 
As reported by The New York Times, Dick was a trailblazer not only as a comedian who broke the color barrier — he famously refused to perform on Tonight Starring Jack Paar unless he would be invited to talk as a panel guest afterwards — but also as a force for social activism. 
Dick's life as an activist began after he joined "a demonstration for black voting rights in Mississippi" in 1962, according to The Times. From there, he joined countless social causes, often resorting to fasting as his method of protest. 
"Civil Rights, Women's Rights, children's Rights, Human Rights, Disabled Rights, Animal Rights. Dick Gregory's DNA is virtually on every movement for fairness and equality for all livings things on this planet," Christian wrote on Facebook. 
Dick's activism eventually overtook his comedy career, which began in 1961 when a lucky break performing a fill-in spot at The Playboy Club led to a regular gig. He then became a regular fixture at comedy clubs across the nation, but his activism remained his primary focus. 
Dick staged hunger strikes to protest the Vietnam War, the 1980 hostage crisis in Iran, and in support of Michael Jackson. He ran for mayor of Chicago, and even President of the United States as a write-in candidate for the Freedom and Peace Party, according to The Guardian. 
"He was rarely one to rest and never one to stop championing for peace. Hopefully now he may find some semblance of them both. A healthy dose of wit and wisdom just arrived in heaven, of that I am absolutely certain," Christian wrote in his Facebook remembrance. 
Dick is survived by his wife, Lillian, and their ten children.