How Many Grandchildren Does Chevy Chase Have?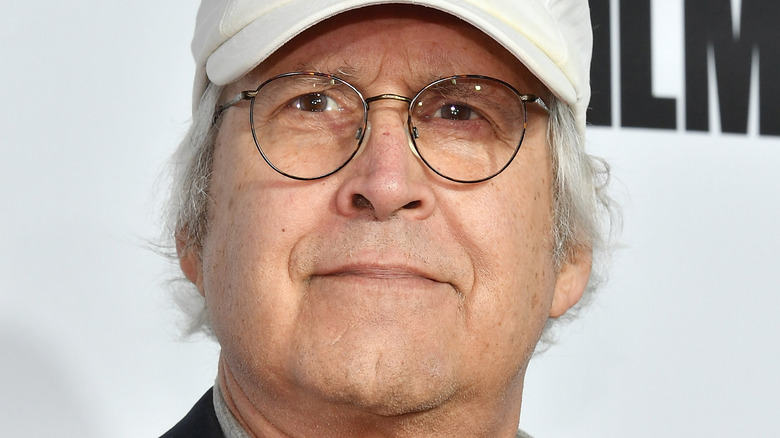 Dia Dipasupil/Getty Images
Veteran comedian Chevy Chase, of "Saturday Live Night" fame, is a legend in every sense of the word. Mostly out of the spotlight these days, Chase still relives his glory days as if it was yesterday. "I can't tell you, to be up there, on that stage, doing that stuff, Oh, God, it was fun, he told The Washington Post in 2018. "I'll tell you, I'd do it again in a minute."
But even though Chase has been at the center of a lot of controversies — including allegations of being racist and an overall difficult person to work with — the actor has a solid support system: his family. While he does seem like a tough nut to crack, Chase is a family man through and through. So much so that he has in the past turned down roles to protect his wife and kids. "Once I got married and had kids, I moved away from romantic roles, because it seemed wrong to have my three-year-old wondering why Daddy was kissing someone else," he once revealed (via IMDb).
So, what else is there to know about Chevy Chase's family life?
Chevy Chase has four children from two women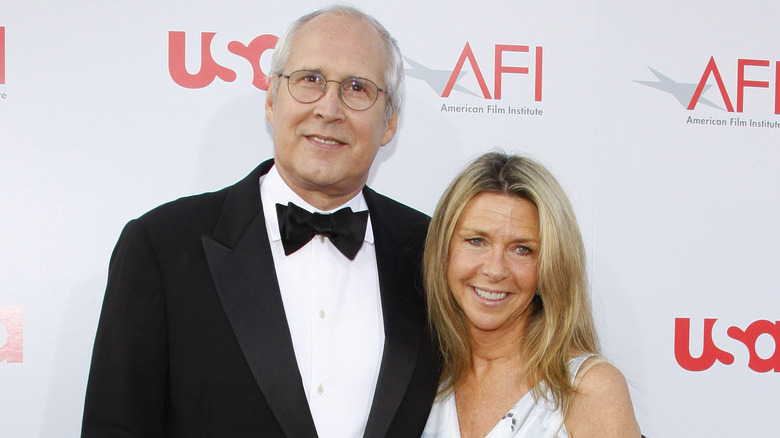 Tinseltown/Shutterstock
Chevy Chase, a man with a very shady reputation and probably the most random family ties you could imagine, has found a small community in his wife Jayni Chase and their kids. This was, however, not before experiencing a fair share of failed relationships.
According to Yahoo, Chevy tied the knot for the first time in 1973 when he married Susan Hewitt. Their love story was not meant to be, as the couple reportedly got a divorce only three years after in 1976. The comedian had a second attempt at marriage later that year, this time, to actor Jacqueline Carlin. Sadly, the couple ended up getting a divorce in 1980 (per UPI). Only one year after his divorce from Carlin, Chevy met his third and current wife, Jayni. They got married in 1982 and soon started a family.
The couple welcomed their first child together Cydney Chase in 1983, with their second child Caley Chase coming only a year after in 1984, per Closer Weekly. Chevy and Jayni's third and youngest child, Emilly Chase, was born a few years later in 1998. In addition to his kids with Jayni, Chevy is also a proud dad to son Bryan Perkins, whom he welcomed in October 1979. According to Glamour Path, the identity of Bryan's mother remains unknown.
Chevy Chase's daughters seem as ambitious as their dad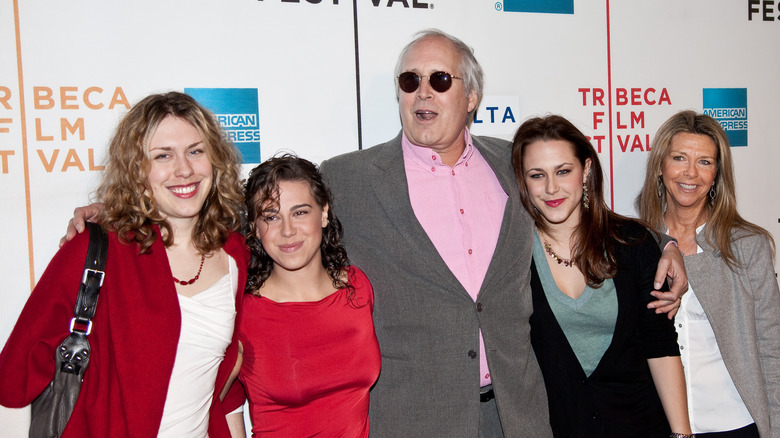 Miro Vrlik Photography/Shutterstock
Going by their social media pages and other info available online, Cydney Chase, Caley Chase, and Emily Chase have grown into beautiful young women. If you're wondering about whether they've started their own individual families, the answer appears to be no at this time. Instead, just like their dad, the sisters are chasing their dreams. Per Closer Weekly, Cydney is pursuing a career in music as a singer/songwriter, while Caley is following in her dad's footsteps as an actor. The outlet noted that Emily, on the other hand, seems passionate about criminal justice reform and promotes the cause on her Instagram.
But even though his kids have yet to start having kids of their own, Chevy Chase is in no way any less proud of his brood — all of whom he shares a close bond with. Earlier in March, he shared a throwback family photo with the caption, "Love this picture of Jayni and me with two of our three little girls, who are now grown women!" He also takes to Instagram to wish his daughters happy birthdays.
Perhaps the real reason we no longer hear from Chevy is because he is busy making memories with his children. A great comic, a fantastic actor, and a dutiful father, Chevy Chase is as iconic as they come. And if or when he does become a grandfather, there is no doubt that he would be an amazing one!