The Untold Truth Of Joss Whedon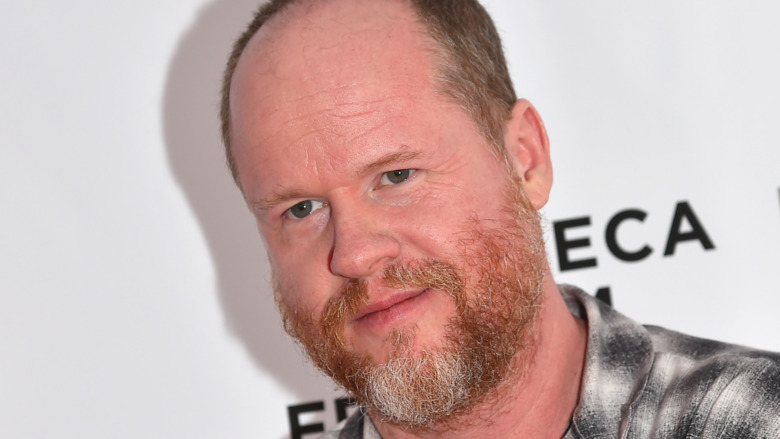 Getty Images
Joss Whedon has earned his credentials as one of the masters of genre entertainment. He birthed Buffy the Vampire Slayer (along with the short-lived but feverishly-loved Firefly), and he transformed Marvel's The Avengers into a massive blockbuster whose success Hollywood is still trying to replicate. He's become practically synonymous with the term "strong female characters" and is often lauded for his efforts to push the industry away from its sexist tendencies. 
Though Whedon delivered beloved characters such as Buffy and her team of Slayers, his track record with women isn't without some awkward bumps and outspoken naysayers. To further complicate matters, his ex-wife made some startling accusations against him in August 2017, suggesting this acclaimed director might not be the man he says he is.
He became a feminist hero thanks to Buffy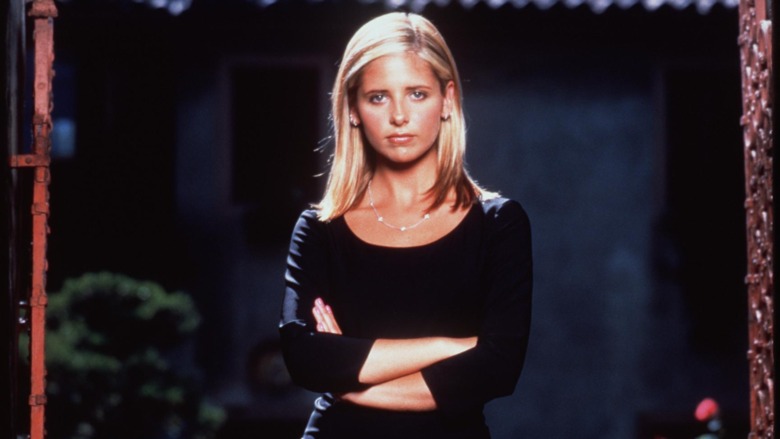 Getty Images
After watching his script for Buffy the Vampire Slayer (1992) become a forgettable horror comedy film starring Kristy Swanson and Luke Perry, a downtrodden Whedon eventually reworked his creation into a cult-classic TV series whose legacy drove a stake through those bad memories of the early '90s and made starring actress Sarah Michelle Gellar a hero to young women everywhere.
To celebrate the 20th anniversary of the show's premiere, Whedon spoke to The Hollywood Reporter about his motivations behind the pop-culture phenomenon. "With Buffy, I obviously wanted to make a feminist show, but I wasn't really interested in talking about politics," he said. "I wanted to see something that I felt I needed to see. I felt this girl wasn't being represented. I wanted see a woman taking charge and men who were comfortable with that. That's my thing. That's my kink."
Whedon claims he is careful not to think too highly of Buffy's impact. "I don't want to be a drop of water pretending I'm the whole wave, but where that wave crashes, that's our beachhead—empowering women and young people, and making everybody matter."
While there's no doubt Whedon's focus on strong female characters was a breath of fresh air, that doesn't mean he was always on point when it came to the opposite sex.
He used violence against women as a plot device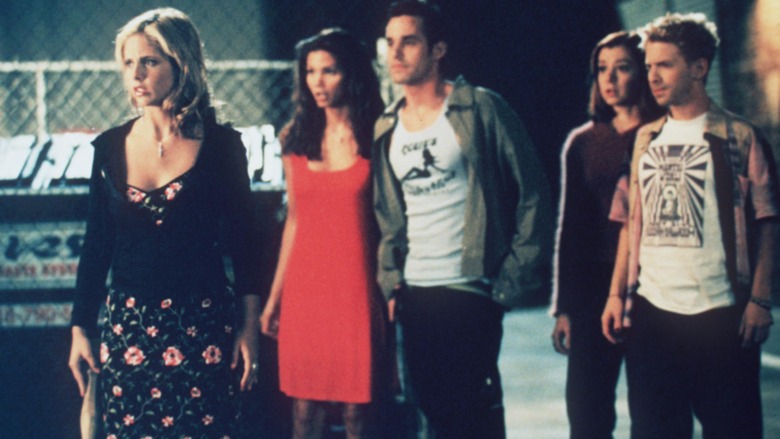 Getty Images
During Season 6 of Buffy, there's a controversial scene where James Marsters' character, Spike, attempts to sexually assault Buffy. In an interview with The A.V. Club, Marsters described filming that scene as the "hardest day of my professional life."
"I was curled up in a fetal position in between takes," Marsters said. "I can't watch scenes like that. I choose not to. I won't go to a movie that has something like that. It's a specific hot button for me. It just really makes me crazy. It was really hard. It was just unbelievably hard. But again I'm glad we did it. Spike was evil, and I think a lot of people forgot about that."
Even pro-feminist sites such as The Mary Sue acknowledged that the episode tapped into a real fear that women know all too well. "That's not vampire-evil. It's human-evil," the site said. "And that's so much scarier, because that's the kind of evil we all see every day."
However, during the early days of Firefly (2002-03), io9 reported that Whedon pitched an extremely graphic episode that would have made Morena Baccarin's character fall victim to some pretty awful stuff. We won't go into the details, but as The Telegraph suggests, Whedon seemed to be getting too comfortable using sexual assault as a plot device. He also used the sensitive subject as a joke in Avengers: Age of Ultron (2015), which is not the best move for someone who refers to himself as a "woke bae."
He allegedly fired an actress for getting pregnant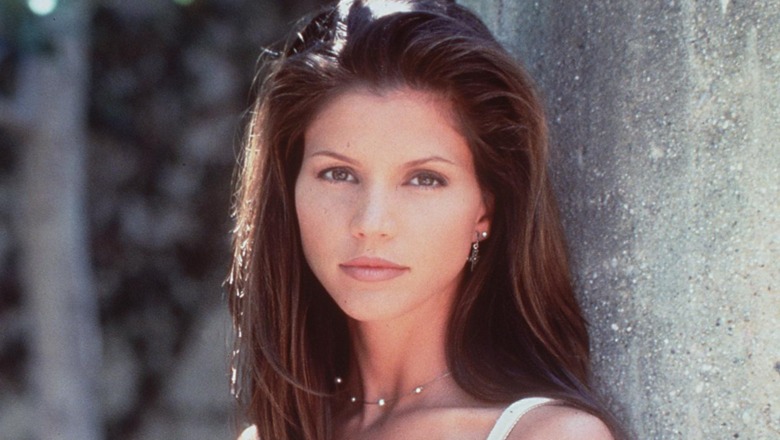 Getty Images
During Season 4 of the Buffy spin-off Angel (1999-2004), lead actress Charisma Carpenter got pregnant. Rumor had it her character's storyline was rewritten to address the situation, according to The Telegraph, but that new storyline apparently didn't go over well with fans. Right before the fifth season, things got weird. Not only was Carpenter missing from The WB's press release for the new season, but the network refused to comment on anything related to the actress. Eventually, Whedon confirmed to TV Guide that Carpenter and the show had "parted ways" because "it just seemed like a good time for certain people to move on."
If that seems like a glib response to losing a lead character, the true reason might be worse. While appearing at DragonCon 2009, Carpenter confirmed fan speculation that she was fired because of her pregnancy. "It's a very complicated dynamic working for somebody for so many years, and expectations, and also being on a show for eight years, you gotta live your life." she said (via The Telegraph). "And sometimes living your life gets in the way of maybe the creator's vision for the future. And that becomes conflict, and that was my experience."
As if allegedly firing a woman for getting pregnant wasn't bad enough, Carpenter also claimed that neither Whedon or The WB told her she was let go; she supposedly found out after getting a phone call from the press. Ouch. We're pretty sure that's the exact opposite of woke.
He hypocritically criticized Hollywood for being sexist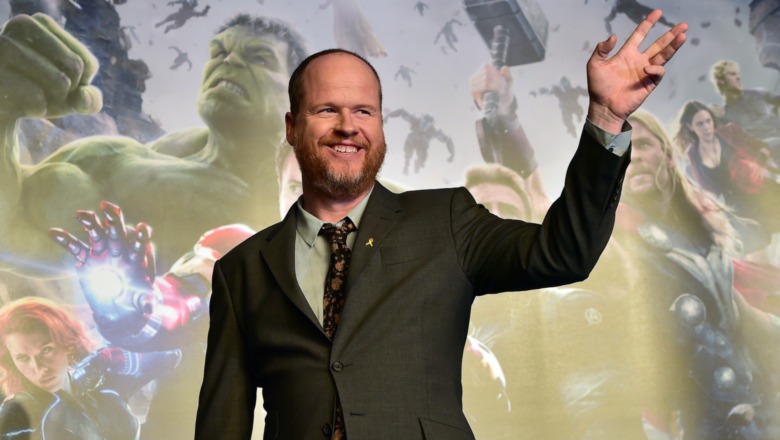 Getty Images
Thanks to Buffy, Angel, Firefly, and an acclaimed run writing for the Astonishing X-Men miniseries, Whedon was "high on the fanboys wish-list" to write and direct Marvel's The Avengers (2012), and he absolutely delivered. The film made more than a billion dollars and won over both fans and critics with its witty Whedonesque banter coupled with superhero action. The Avengers success gave Whedon an even bigger soapbox, and while filming the sequel, he showed he wasn't afraid to use it by calling out sexism in comic book movies at a time when both Marvel and DC still seemed hesitant to make films with female leads.
"It's a phenomenon in the industry that we call 'stupid people'," Whedon told Digital Spy. "There is genuine, recalcitrant, intractable sexism, and old-fashioned quiet misogyny that goes on. You hear 'Oh, [female superheroes] don't work because of these two bad ones that were made eight years ago', there's always an excuse."
Oddly, Whedon made these comments while shooting Avengers: Age of Ultron, which IndieWire noted is full of "reductive gender s**t" regarding its female characters. For example, casting Linda Cardellini as a pregnant housewife who is "literally keeping the home fires burning" while her husband Hawkeye saves the world. But nothing earned Whedon more scorn than his treatment of a certain Avenger, and the director soon revealed that he's not as good at taking criticism as he is at dishing it out.
He quit Twitter during the Black Widow controversy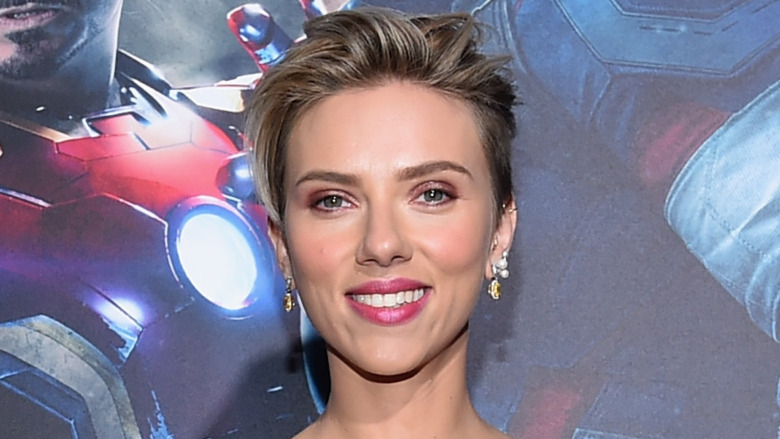 Getty Images
In Avengers: Age of Ultron, Scarlett Johansson's Black Widow spends a decent chunk of her non-fighting screentime pining for Mark Ruffalo's Bruce Banner and referring to herself as a "monster" because she can't have kids. Needless to say, that situation didn't go over well with some female fans.
In a lengthy piece for the Daily Beast, Reporter Jen Yamato took Marvel and Whedon to task for its Black Widow problem. While Yamato's position was well-written and argued, Whedon also got flanked by Twitter users in a not-so-eloquent fashion. Instead of weathering the storm, Whedon quit Twitter. He later told Entertainment Weekly that it wasn't because of "militant feminists," which he says he's used to, but because he simply wanted to go to a "quiet place" so he could start writing again.
Soon after, Whedon walked away from Marvel altogether, but if fans thought he was done with the superhero game, they were in for a big surprise.
He ditched Marvel to work for the competition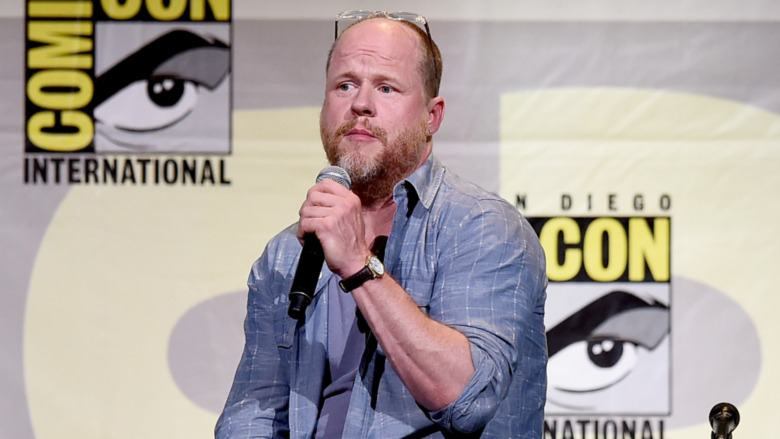 Getty Images
Even as Age of Ultron was filming, Whedon made it pretty clear in interviews that he wasn't having the best time with the sequel. At one point, he even told Digital Spy that Fox has all of the best Marvel characters, not Disney, who was paying him an insane amount of money to oversee its cinematic universe. As the film hit theaters, Whedon openly discussed how executives meddled with the story and described the situation as "really, really unpleasant." So it wasn't exactly a surprise when he confirmed his clean break from Marvel in early 2016. Whedon said he was focusing on "smaller projects." That may have been true at the time, but it wasn't long before he was back in the superhero game, only this time for the competition.
In March 2017, Variety dropped bombshell news. Whedon will reportedly write and direct a Batgirl movie for the DC Extended Universe. With his experience on Buffy, and his enthusiasm for seeing female superheroes on the big screen, it could not have been a better match, even if he got roped into doing reshoots for Justice League along the way.
Comic book fans knew Whedon had struggled for years to get a Wonder Woman movie off the ground (way before he took a shot at The Avengers), so Batgirl seemed like a big break. What followers didn't know at the time was that his script for the Amazon princess was an unfortunate, sexist mess. But they'd soon find out.
His Wonder Woman script leaked online, and it was bad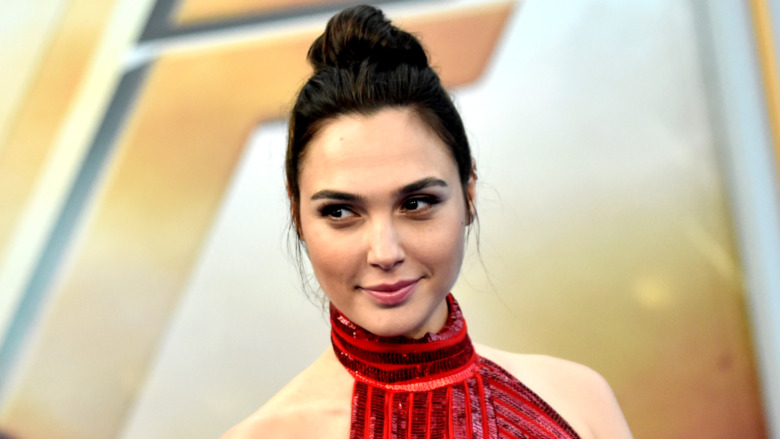 Getty Images
Following the Batgirl announcement, Whedon's unproduced Wonder Woman script from 2006 was leaked online. This was shortly before Patty Jenkins' epic blockbuster debuted, starring Gal Gadot as the DC heroine. Jenkins' version proved to be a breath of fresh air that even left Marvel stars singing its praises. Meanwhile, Whedon's leaked script was heavily criticized online. According to The Daily Dot, the consensus was clear: fans dodged a bullet.
"This thing is so sexist it's hard to believe Whedon wrote and submitted it on a professional basis." wrote film critic Gavin Baker-Whitelaw. "Constantly sexualizing and demeaning its lead character, it's like an evil mirror universe version of the movie we eventually got. Diana's introduction is the first warning sign, describing her 'curvaceous' body instead of her thoughts or personality. It starts an ongoing theme of lurid descriptions of women's appearances. (Especially their feet. Diana is barefoot in scene one, and we get several foot updates later on.)"
Yikes. In a classy move, Jenkins came to Whedon's defense while sitting down with Buzzfeed, but the damage was done. Fans were now concerned about Whedon writing and directing a Batgirl movie, and then the situation got even worse.
His ex-wife accused of him having multiple affairs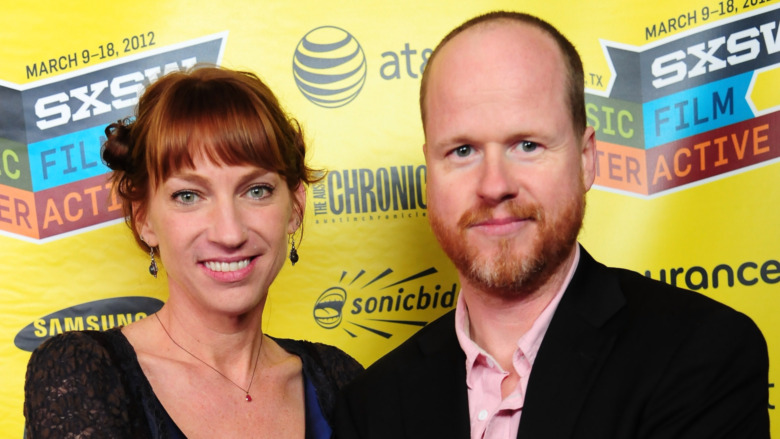 Getty Images
On Aug. 20, 2017, The Wrap published a guest column written by Whedon's ex-wife, Kai Cole, and the headline went right for the jugular, calling him a "hypocrite preaching feminist ideals." In her essay, Cole alleged that after 16 years of marriage, Whedon confessed he had multiple affairs with "actresses, co-workers, fans and friends," going all the way back to his time on Buffy. According to a letter Whedon allegedly wrote while they were separating, he was "surrounded by beautiful, needy, aggressive young women" and felt like "something from a Greek myth." Okay.
Needless to say, Whedon's attempts to explain his alleged behaviors didn't sit well with Cole. "Despite understanding, on some level, that what he was doing was wrong, he never conceded the hypocrisy of being out in the world preaching feminist ideals, while at the same time, taking away my right to make choices for my life and my body based on the truth." Cole wrote. "He deceived me for 15 years, so he could have everything he wanted."
"I believed, everyone believed, that he was one of the good guys," she wrote, "committed to fighting for women's rights, committed to our marriage, and to the women he worked with. But I now see how he used his relationship with me as a shield, both during and after our marriage, so no one would question his relationships with other women or scrutinize his writing as anything other than feminist."
His response to his ex-wife wasn't the best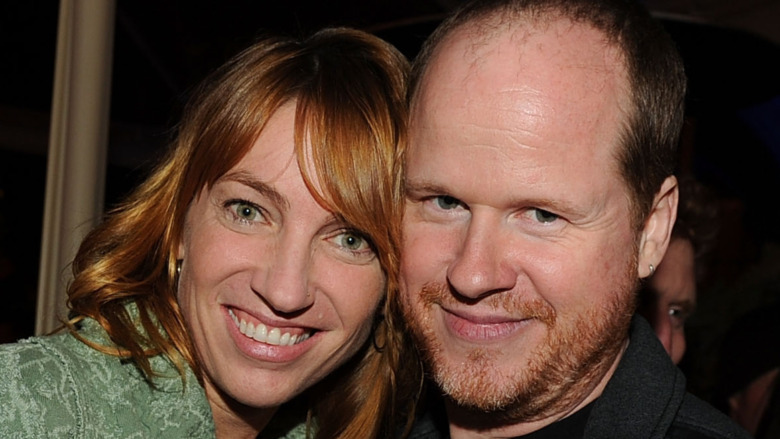 Getty Images
The day Cole's essay was published, Whedon's spokesperson issued a statement: "While this account includes inaccuracies and misrepresentations which can be harmful to their family, Joss is not commenting, out of concern for his children and out of respect for his ex-wife."
The Mary Sue took issue with Whedon's response, calling it "public gaslighting" and asserting that the "first part of the statement sure as hell constitutes a comment from Whedon."
"Asserting that Cole's account 'includes inaccuracies and misrepresentations,' but not specifying them, the statement is suggesting that anything—or everything—presented in the essay could be untrue or misremembered," noted The Mary Sue. "It seeks to put the entirety of Cole's essay on shaky ground. It might as well have said, 'She isn't recalling it correctly. It didn't happen like that.'"
In Whedon's (shaky) defense, The Mary Sue also noted that his statement may have come from a spokesperson without Whedon's input. If that's the case, the site made very clear what it thinks needs to happen next: "That person should be fired."
​His biggest fan site shut down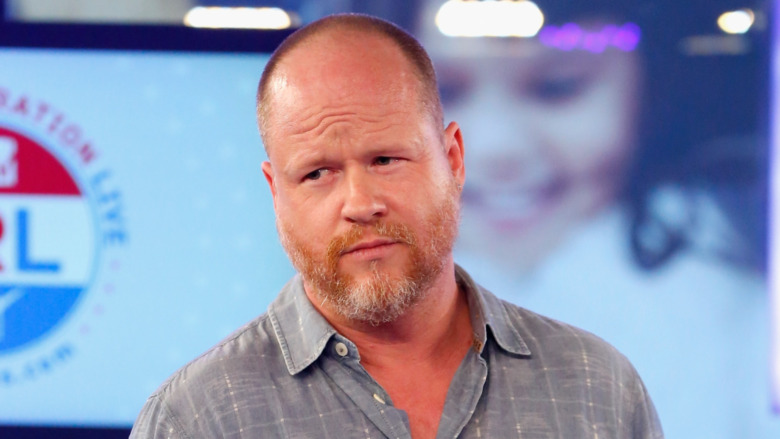 Getty Images
Exactly one day after Cole's essay made Whedon a trending topic on Twitter, the fan site Whedonesque announced it was shutting down after 15 years. While site owner Caroline van Oosten de Boer didn't specifically say the reason for ending the community was because of Cole's essay, the final post noticeably encouraged users to make a donation to "a charity or organisation that deals with the treatment of Complex post-traumatic stress disorder," which Cole says she's suffered from after learning about Whedon's alleged affairs.
Entertainment Weekly noted that van Oosten de Boer tweeted the following after shutting down the fan site: "'Trust the art, not the artist,' is a thing I stopped saying when I copped on it was probably an artist who coined the phrase."
His status as a feminist icon started to crumble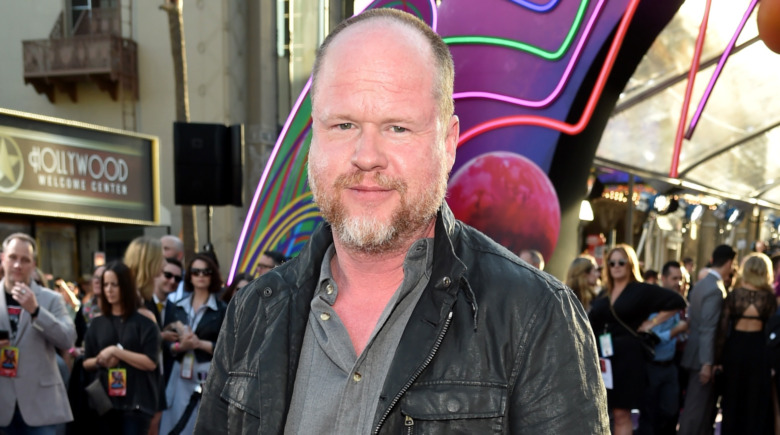 Getty Images
Whedon's feminist credentials were already under scrutiny after his questionable handling of female characters in Avengers: Age of Ultron, and those flames had been fanned even more thanks to the leak of his sketchy Wonder Woman script. So when Cole's essay hit, it was like pouring gasoline on the fire.
Sites, such as The A.V. Club, claimed Whedon was never a feminist: "'Beautiful, needy, aggressive young women' are the words of a predator, not a feminist. 'It felt like I had a disease, like something from a Greek myth' is just a more poetic way of saying 'I couldn't keep it in my pants,'" the site said in an editorial aimed at the director. "'The world' isn't yours for the taking. None of these are words you say if you believe that women are equal, and that we have the right to bodily autonomy, and that we are not things for you to consume and play with. (Hello, Dollhouse.) Feminism isn't a brand, and it's not something you can wield to deflect criticism."
Fans don't want him to direct Batgirl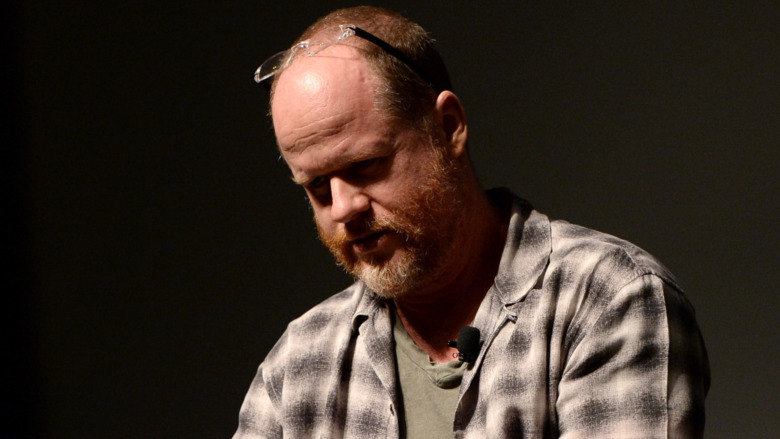 Getty Images
Following the one-two punch of Whedon's leaked Wonder Woman script and his ex-wife's allegations, it didn't take long for mounting concerns over the writing and directing of Batgirl to reach a boiling point. 
Fangirlish asserted that the solution to the Whedon controversy should be obvious by now: "Here's what should happen. He should lose Batgirl. Patty Jenkins did something so amazing with Wonder Woman and for a man to come in and take Batgirl and ruin what she started isn't fair to us. We as women deserve more than that and I sincerely hope Warner Brothers realizes that."
He has some work to do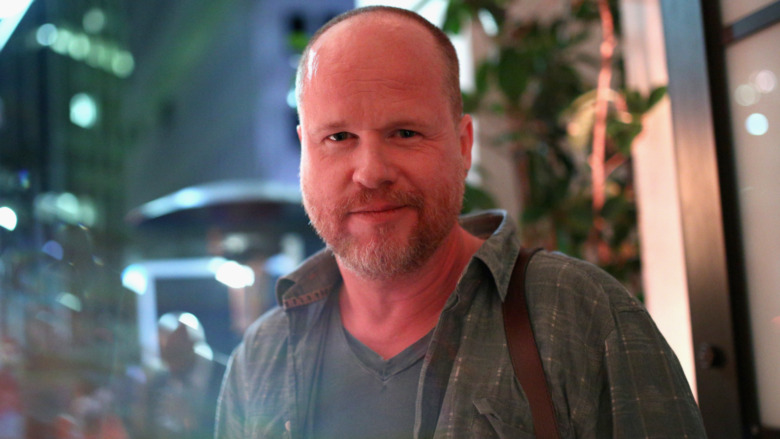 Getty Images
Whedon could bounce back. With his gift for words and a humble, honest approach about how he allegedly failed his wife, and all of the women who looked up to him, Whedon can still be an important force in the genre, especially if he focuses on helping more female writers and directors break into the business, while ensuring they get the respect and equal treatment they deserve. Repairing his reputation and rebuilding trust is going to take a lot of work and a lot of transparency, but if Whedon truly is dedicated to empowering women, like he claims to be, he'll rise to the challenge.