What Madonna Was Supposedly Like Behind The Scenes Of The Ellen DeGeneres Show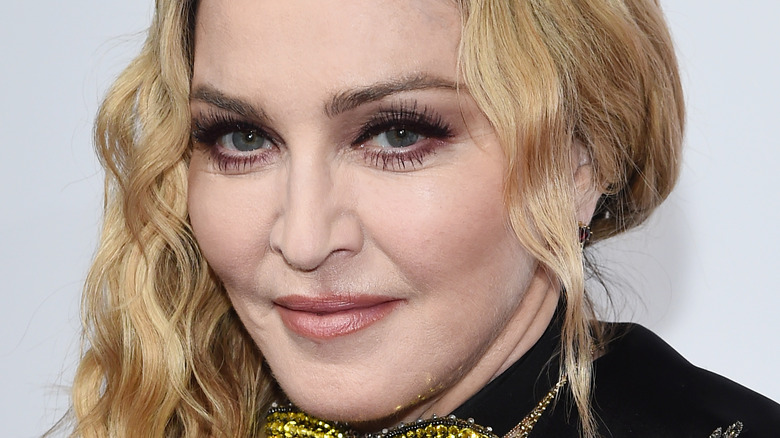 Ilya S. Savenok/Getty Images
Every time singer, songwriter, actor, and director Madonna appears on "The Ellen DeGeneres Show," she's not just chatting with a talk show host, she's visiting with family. That's right, the "Material Girl" and the comedian are actually cousins. They share a common 10th great grandfather, per the Daily News. The link between the two celebs was discovered using Ancestry.com, and we can definitely see the family resemblance. No, not through the blonde hair (Madonna's platinum locks are dyed, she's actually a brunette), but through their dual fierce activism when it comes to the LGBTQ+ community. Madonna defiantly stood by the queer community in the '80s during the AIDS pandemic, raising awareness and funds, while DeGeneres is credited with single-handedly changing and influencing America's attitude toward the queer community, per Variety. 
So how did these two interact when the "Vogue" songstress completed a week-long residency on "Ellen," dubbed "Madonna Week"? We'd like to think the cousins had a "Holiday" but according to reports, DeGeneres' staffers were "Hung Up" on certain demands upon which Madonna and her crew insisted. "Express Yourself" indeed! Here's everything we know about the relationship between the two celebs, and what went down behind the scenes. 
Madonna and Ellen used to be tight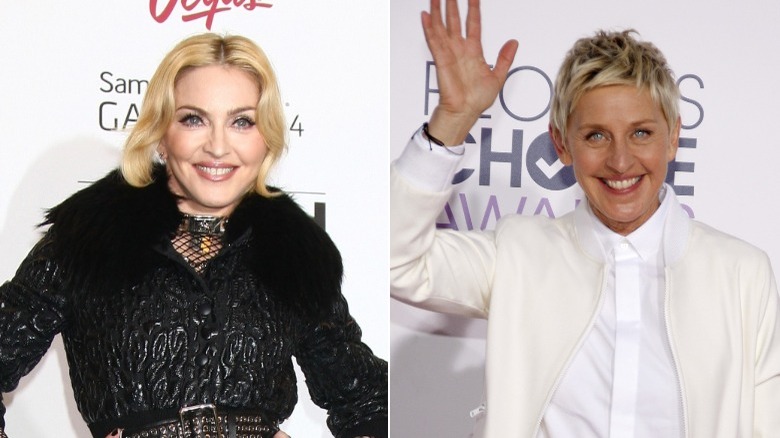 s_bukley & Tinseltown/Shutterstock
Although Madonna has always unabashedly supported the LGBTQ+ community, Ellen DeGeneres has admitted that she was scared to publicly come out in 1997. At the time she was starring in her own TV sitcom, and the Time Magazine cover that confirmed, "Yep, I'm Gay," made the comedian press pause. However, it was words of encouragement from the "Evita" star that made DeGeneres feel like she wasn't alone.
"Madonna called me out of the blue — we had never met," she said on her talk show in 2012 (via Gay Star News). "I just all of a sudden get a call saying, 'It's Madonna and I just want to say I'm behind you, I'm with you, I support you.'" Madonna also shared a Martha Graham quote with DeGeneres that "meant the world" to her, per HuffPost. "There is a vitality, a life force, an energy, a quickening that is translated through you into action, and because there is only one of you in all of time, this expression is unique," DeGeneres read on her show. "And if you block it, it will never exist through any other medium and it will be lost. The world will not have it."
We love supportive cousins! That's why is was a surprise a few years later during "Madonna Week" that reports emerged of frustrations between the two and tension backstage. 
Madonna and her entourage were apparently 'so obnoxious'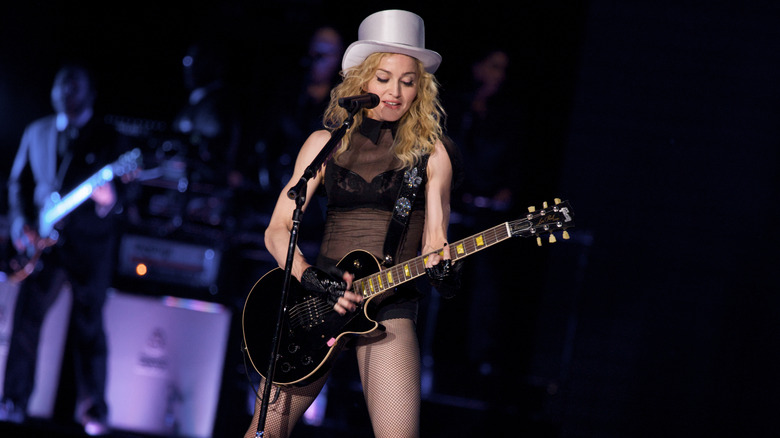 andreynikolaev.com/Shutterstock
Reports emerged in 2015 after Ellen DeGeneres hosted "Madonna Week" on her talk show that behind the scenes, staffers were annoyed by the "Take A Bow" singer and her demands. Radar reported that staff found it "incredibly hard" to work with Madonna for a week. The insider, who remained unnamed, told the outlet that the "Like A Virgin" trend-setter brought with her a whole crew of people that was so large, the show had never seen anything like it. The source said the crew "were so obnoxious that it just made for a really awkward time on set."
To add insult to injury, the "Frozen" singer apparently demanded several trailers outfitted with her specific "health foods that were rather expensive." Of course, the studio footed the bill. "She also demanded that the studio pay for her personal makeup and hair people because she would not use the ones that are provided by the show." Making matters worse, Madonna wanted final say on all footage and power to change the script to her taste. The source said staff were  "really glad" when her week-long residency was "finally over," and DeGeneres thanked staff for their patience.
Publicly, neither Madge nor the talk show host have ever spoken about this tension, but when Cher quipped on the show in 2018 that she never wanted to duet with the "Like A Prayer" singer, DeGeneres did laugh heartily. Methinks the host doth laugh too much.