Fans Are Concerned After Madonna's Latest TikTok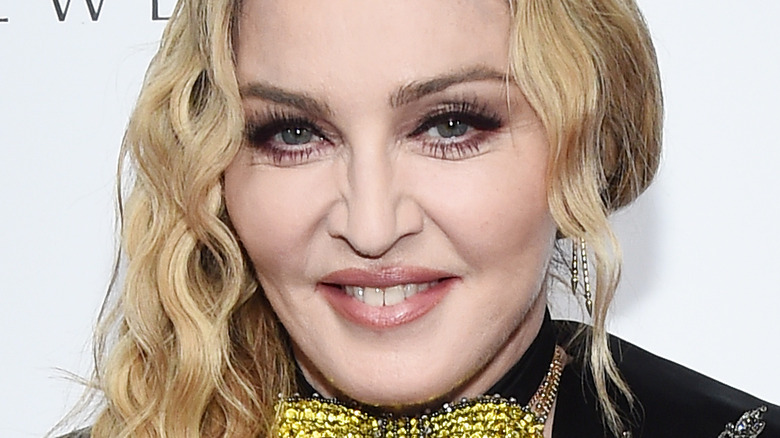 Ilya S. Savenok/Getty Images
When it comes to someone like Madonna, it seems like nothing is too shocking or too surprising for her fans. While the transformation of Madonna has certainly turned heads over the years, it's the things that she's said, done and even worn lately that has people raising their eyebrows more than ever. "I have lovers who are three decades younger than me. This makes people very uncomfortable. I feel like everything I do makes people feel really uncomfortable," she shared in a 2017 interview with Harper's Bazaar. If that weren't enough, a quick glance at her Instagram account will show that she's still very much aware of her shock value. In fact, she posted a photoshopped Instagram pic in December 2021 that drummed up plenty of scrutiny, as the image saw her in a cleavage baring corset and fishnets while standing next to her daughter Lourdes Leon.
And while Madonna's Instagram account sure has a lot of people talking, it's her TikTok that has also made waves, but perhaps not for the right reasons. Her latest video has a lot of people concerned and even wondering what might be going on behind closed doors for the pop superstar.
Madonna's strange social media behavior
Madonna posted a rather bizarre TikTok video a few hours before the Grammys on April 3. In the clip, a dazed-looking Madonna can be seen slowly leaning into the camera before gradually sitting back in her chair. Madonna doesn't say anything in the video, but it was strange enough for her fans to wonder what is really going on. "This honestly scared me I'm not gonna lie," one user commented. "This is completely unsettling," another wrote.
And while no one knows if Madonna is trolling in the oddball clip, or if someone truly does need to check up on the "Material Girl," it's clear the music icon is happy doing her own thing on social media. While music's biggest stars were celebrating the Grammys the evening of April 3, Madonna posted a slideshow to her Instagram showing off her pared down plans for the industry's big night. "Sunday Funday," Madonna captioned the post. "My Favorite thing to do!" The clips saw the singer in bed with her twin daughters, Stella and Estere, smiling while reading an array of storybooks together. That said, there's a very good chance that Madonna's strange TikTok could very well be the star just having a "mom moment" on social media.