Inside Todd Chrisley's Tragic Loss At The Age Of 43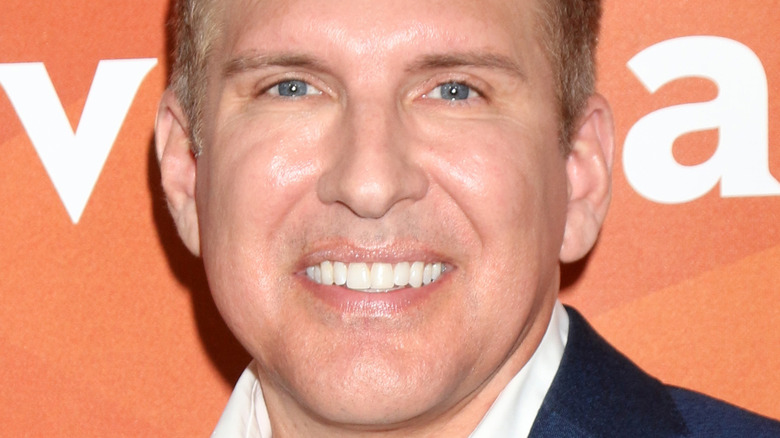 Kathy Hutchins/Shutterstock
Since first gracing our screens in 2014, the Chrisleys have come a long way, thanks in part to the leadership of their family patriarch, Todd Chrisley. A dedicated father, an amazing husband, and an all-in-all fantastic reality star, Todd is widely loved by many. His family's show, "Chrisley Knows Best" has become a fan-favorite as viewers get a glimpse of how he navigates his life as a family man.
Alongside Todd, his wife Julie Chrisley and their kids Savannah Chrisley, Chase Chrisley, and Grayson Chrisley all make frequent appearances on the show, with Todd's older kids from a previous marriage — Lindsie Chrisley and Kyle Chrisley — occasionally having screen time. Still, despite the seemingly happy family he has created for himself, Todd Chrisley is missing an important person in his life. He carries a certain grief around, a grief he first experienced 10 years ago — when he was only 43. 
Todd Chrisley's dad died in 2012
Two years before "Chrisley Knows Best" first premiered, the Chrisleys suffered a major loss. According to Distractify, Gene Chrisley died in 2012 after a bout of cancer. He was 77 years old. Per the outlet, Gene was an army veteran who fought in the Korean war. A man dedicated to serving others, Gene is no doubt greatly missed by his family. "Found this today of my dad during his stint in the army , he was 16, I am proud of his sacrifices and will never take them lightly," Todd once wrote on Instagram, along with a sepia-toned photo.
In the past, Todd's daughter Savannah Chrisley has also shared how amazing Gene was as a grandfather. "My Papa Gene was my BIGGEST supporter and fan! I don't think he ever missed a horse show or school event growing up," she captioned a 2019 post on Instagram, with the throwback photo seen above. "We were inseparable...best friends actually." Gene Chrisley might not be here to see his family smashing goals and attaining new heights, but one thing is certain, he remains alive in their hearts.
Todd Chrisley's mom has not been able to move on
Expectedly, Gene's death left a huge vacuum in the family — one that now, even years later, they have been unable to fill. Sadly, in years since his passing, Gene's wife Faye Chrisley, fondly called "Nanny Faye," has been unable to move on.  Per Distractify, she attempted to meet someone new in Season 1 of "Chrisley Knows Best," but soon discovered that her late husband was indeed irreplaceable. "None of them look like Poppa do they," she said in a confessional. "I'm not ever gonna find nobody like him."
According to The U.S. Sun, Gene was reported nine years older than his wife whom he married in the '60s. The pair remained together until the time of Gene's passing in 2012. It is, therefore, no surprise that for Faye and the rest of her family, dating is a touchy subject. Once, after Faye went on a date with a man she met on a dating site, Todd Chrisley admitted he was not so excited to see his mother back in the dating pool. "I'm sure the guy that was there with my mom is a very nice gentleman. But, he's not my dad. My mother has never dated anyone in her entire life other than my dad," Todd said (via The U.S. Sun).
Maybe Faye Chrisley will find love again, maybe she won't — but one thing is certain, Gene Chrisley is irreplaceable and even in death, he remains loved!