Welcome Home Nikki Glaser? Season 1 Release Date, Cast, And More Information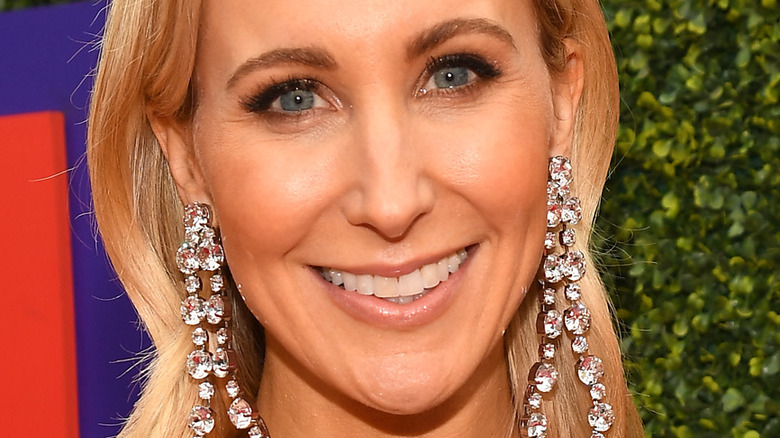 Kevin Mazur/2021 Mtv Movie And Tv Awards/Getty Images
Known for getting real on stage as a comedian, Nikki Glaser is ready to take the next step in opening her world up for all to see. That's right, she is getting her very own show! "Welcome Home Nikki Glaser?" may not be her first time working in the realm of reality television, but now she gets to experience the glam and chaos of being the star.
Projects are falling into place for Glaser with the upcoming second season of "FBoy Island," as well as her first HBO comedy special, per Deadline. This will be her third taped special and she said, "It's mainly about sex, dating, and my vagina, because it's been said by smart men on Reddit that those are the only things female comics discuss." All joking aside, Glaser is excited for fans to see her latest set.
Over the years, she has made sizzling jokes for "Comedy Central Roast," poking fun at celebs like Martha Stewart, Rob Lowe, Bruce Willis, Alec Baldwin, and Caitlyn Jenner. She told Houstonia in 2020, "I love the roast so much, and they always have given me the biggest boost in terms of raising my profile— and also making fun of my profile by calling me Owen Wilson." Her profile appears to be taking off more than ever, and as she continues hosting duties, special appearances, traveling on tour, and recording new episodes for "The Nikki Glaser Podcast," her reality series will be the cherry on top.
When does Nikki Glaser's new show premiere, and who's on it?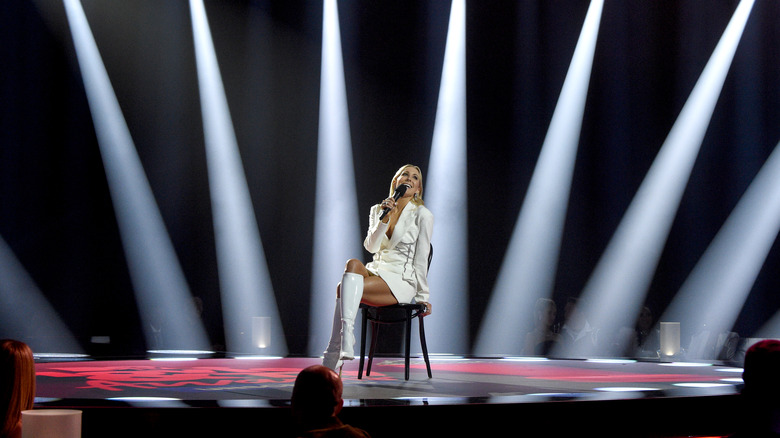 Kevin Mazur/2021 Mtv Movie And Tv Awards/Getty Images
Nikki Glaser is joining the ranks of reality television on E! with her new series. "Welcome Home Nikki Glaser?" will follow the comedian on a journey back to her hometown in St. Louis. She made the move from Hollywood to the Midwest amidst the pandemic — a decision she refers to as "thoroughly chaotic." In an official announcement for the show, Glaser explained a simple reason for the life-changing adjustment: "to be closer to my roots."
Returning home means plenty of family time with Glaser's parents and viewers will get to meet some folks from her life before years of headlining tours and hosting shows, per Deadline. There will be high school friends, roommates, and exes along the way, potentially adding drama or more hilarity to her ongoing search for love. In addition to the height of her comedy pursuits, Glaser will be showing off her skills as a musician — something she occasionally shares through posts of performing with her dad or serenading her dog, Luigi. 
The first season premieres on May 1 at 10 p.m. EST, taking up the former "Keeping Up with the Kardashians" spot. She has already shared a glimpse of what to expect when it comes to her love life. Glaser showed a clip on "Nightly Pop" of her having a chat with a love interest about their unofficial status and giving the green light on seeing other people. This is the juicy content we want from reality TV.
What can fans expect from Welcome Home Nikki Glaser?
Being the focus of her own reality series is a big shift from Nikki Glaser's typical expertise, but she has already been carving the path. In 2021, she signed on to host the HBO Max reality dating show "FBoy Island." Glaser told Variety that when she first got wind of the project, she hoped to become one of the three women looking for love. Even as a host, she was thrilled for the experience. "As a consumer, I enjoy reality shows, so I need to be in this world." As she continues to dream about becoming the next star of "The Bachelorette," her partnership with E! is getting her one step closer.
Leading up to "Welcome Home Nikki Glaser?", the comedian has been taking over her new network. She had a week-long stint co-hosting both "Daily Pop" and "Nightly Pop," had a rom-com marathon, and handled red carpet coverage for "Live from E!" at the Grammys. She even did a rapid-fire roundup of every Taylor Swift Grammys ensemble and proved her Swiftie status while effortlessly fitting in with E! correspondents. It looks like she is getting the reality royal treatment while promoting the series that will take a more intimate look into her world.
"It really is like what my life is like," she shared on "Daily Pop." "I really stayed true to making it as real as it is because that's kind of always what I was wanting from reality shows ... I want to see that the stars are just like us."