The Story Behind Camilla Luddington's Major Hairstyle Change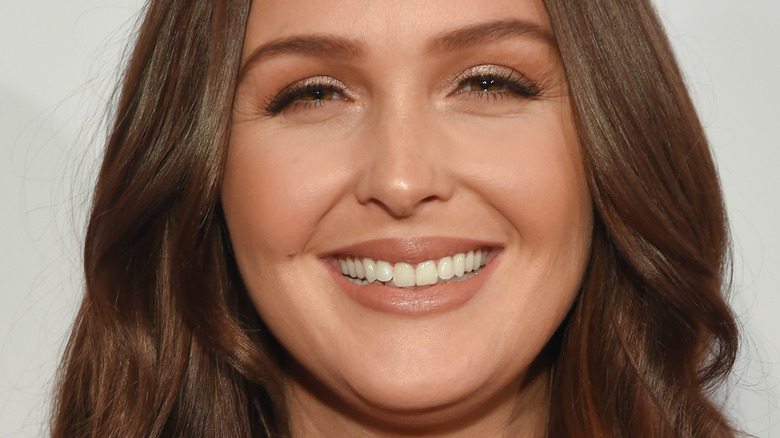 DFree/Shutterstock
Camilla Luddington has been a fan favorite on "Grey's Anatomy" ever since she first joined the long-running medical drama back in 2012. The star began appearing on the ABC show as Dr. Jo Wilson in a recurring role for Season 9 before being upgraded to a main role for Season 10, which is when the star really started to spread her wings and give us some juicy drama. Fans totally shipped Jo's relationship with Justin Chambers' Alex Karev and it blossomed into one of the most beloved romances in the show's history. Well. That is until it wasn't.
We've seen Jo go through plenty of ups and downs over the years and have found out plenty about her past, including an important storyline involving an abusive past relationship. "This storyline is about no longer feeling silent and about women finding the strength to use their voice to be heard, believed and feel empowered," Luddington told The Hollywood Reporter in 2018. She added, "We hope this storyline helps educate people about what domestic abuse is, what it looks like and brings awareness and a voice to it."
But while we know the character has been through a lot on the inside, we've also seen her evolve physically throughout the seasons — including showing off a dramatic new hairstyle for Season 18 that had everyone talking. What exactly inspired the change, though? It turns out there's more to her new look than fans may realize.
Blondes have more fun
Camilla Luddington revealed a dramatic new look for Dr. Jo Wilson as Season 18 of "Grey's Anatomy" hit our screens, ditching her signature brunette locks for a brighter, blonde hue. It turns out the look change up was actually Luddington's decision, as she altered her appearance during the show's break but decided to keep it for her character for a pretty interesting reason. 
The actor explained that she likes to change things up her hair when she's not working but then always goes back to Jo's signature look, only this time she thought something different fit well with her character's storyline. "I went a little bit blonder this time and was thinking, 'I feel like Jo needs a change. She's been through a divorce and now she has a baby,'" she told Entertainment Weekly in October 2021. "There's a lot of times in my life when I'm going through different seasons where it's reflected in the way I look. I might dress different, or I might change my hair," she added. "Grey's Anatomy" boss Krista Vernoff had a bit of a hand in things, though, as she asked her to go platinum and shorter when Luddington asked her if it would be okay to keep her blonde 'do during filming.
Luddington proudly showed off her dramatic new hair on Instagram in September 2021 when she shared a selfie alongside the caption, ".........Season 18" with the telling hashtags "#JoWilson," "#blonde," and "#NewEra."
Back to brunette
We probably shouldn't expect Dr. Jo Wilson to be sporting her bright blonde locks in Season 19 of "Grey's Anatomy" though, as it looks like Camilla Luddington may be back to brunette. The star appeared to tone down her lighter hue as Season 18 aired on ABC, last showing off the super blonde hair on Instagram in December 2021. Her following posts over the next few weeks and months showed her super blonde tones slowly fading, and a snap shared to Instagram on April 1 (and taken the same day) showed her hugging her former "Grey's Anatomy" co-star Jessica Capshaw (aka Dr. Arizona Robbins) with her pretty much fully back to her signature brown hue.
"Grey's" was officially confirmed to be returning for an impressive 19th season back in January — despite Meredith Grey star Ellen Pompeo hinting shortly before that she was ready to call time on the medical drama. As for what we'll see in the new episodes, well, ABC has confirmed that we'll be seeing plenty of familiar faces as well as a few new ones, which has us pretty darn intrigued.