YouTube Stars You Didn't Realize Had Passed Away
We all get a little emotional when an actor or musician we admire passes away, but there's something about the intimate relationship between a YouTuber and their audience that makes their deaths so much harder for fans to take. The average age of a top contributor was said to be 27 in 2013 and that figure has only been lowering since, so when a YouTube star passes it always comes as a shock, just as it did when 18-year-old vlogger Ben Breedlove died of cardiac arrest on Christmas Day 2011. Ben isn't the only YouTuber to be taken too soon and, sadly, he was far from the youngest. Here are the YouTube stars you didn't realize had passed away.
Will Norton
In May 2011 a devastating tornado swept through the city of Joplin, Missouri, reducing homes to rubble and injuring thousands of its residents. The deadly twister (which was up to a mile wide with winds in excess of 200 miles per hour at its peak) took the lives of 158 people, including popular YouTuber Will Norton. The witty 18-year-old was in the middle of his high school graduation when the weather outside started to turn, and after accepting his diploma he and his father Mark headed for home as fast as they could.
Sadly, they didn't get there quick enough. The powerful winds flipped the vehicle onto its side, breaking Will's seat belt and leaving him dangerously exposed. Despite his father's attempts to hold onto him, Will was sucked through the sunroof of his vehicle. His body was later discovered in a nearby pond, concealed by debris. "At least we know that he wasn't out there suffering," his aunt Tracey Presslor said at a press conference (via NY Daily News). "Knowing that he was gone right away was really a blessing for us."
Sophie Anderson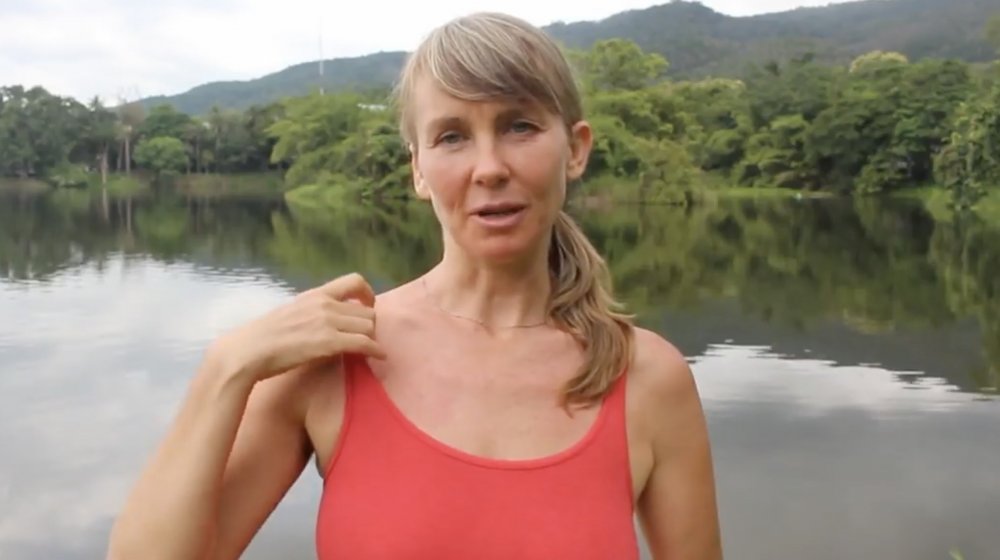 YouTube
British YouTuber Sophie Anderson (known as Sophie Emma Rose to her subscribers) ran her channel from the sunny beaches of Phuket in southern Thailand, giving parenting advice that sometimes proved controversial — she was a passionate advocate of breastfeeding older children, and often did just that in her videos. The 41-year-old was 6 months pregnant when the scooter she was on collided with an 18-wheeler truck, killing her and her unborn child.
"I am in total shock as I've lost the most precious person I had ever connected with," 29-year-old boyfriend Danny Glass said in a Facebook post (via The Telegraph). "My brain keeps going into denial. I am distraught. She was also pregnant, so I lost my child too." To add insult to injury for Glass, he along with the driver of the truck he hit were held equally responsible for the deaths by Thai authorities. "Both men are being held responsible for the death of Ms Anderson, because both were driving recklessly," the Thai police confirmed (via The Guardian). "The drivers have already been charged."
Tamisha Ridge
YouTube DIY fashion icon Tamisha Ridge was attracting millions of viewers to her MeeshaTV channel when she was cruelly snatched away from her friends, family and subscribers by a bitter ex-boyfriend with a history of violence. In May 2014, the 31-year-old mother was found in her home with a fatal gunshot wound to the head, inflicted by a man who already had five previous convictions for domestic abuse.
According to The Sacramento Bee, Dameshlo Green's abusive behavior started back in 2002 when his wife at the time took him to family court for battery. The pair divorced and went their separate ways, but Green was back in trouble with the law in '04 and '08 after roughing up two more women. The true extent of his cruelty didn't revealed itself until 2011, however, when Green was jailed for beating and sexually assaulting his girlfriend.
A warrant was issued for his arrest after the woman (aged only 18 or 19) fled his house completely naked after being subjected to an "extremely cruel" ordeal and begged a stranger for help. The judge that sent him down told Green that he hoped prison would serve as "the ultimate wake-up call," but clearly his stint behind bars did nothing to break his pattern of violence towards women, as he would later murder bubbly fashionista Ridge in cold blood. He left three children (one of whom he fathered) motherless.
Caleb Bratayley
The success of vlogging family The Shaytards convinced countless other families to start sharing their daily lives on YouTube, including The Bratayleys. Described by The Guardian as an "online middle-class version of the Kardashians," the family has 4.8 million subscribers and in total their videos have been viewed more than a billion times. Their vlogs used to focus on the three Bratayley (real name LeBlanc) children: Annie, Hayley and Caleb. That all changed on October 1, 2015.
"Yesterday at 7:08PM Caleb Logan Bratayley passed away of natural causes," his parents revealed via the official family Instagram. "This has come as a shock to all of us. Words cannot describe how much we will miss him. His incredibly funny, loving and wonderful spirit made us all fall in love with him as a YouTuber, friend, brother and son." The following day, the last video Caleb recorded was posted, entitled "Dear Future Self."
As the 13-year-old's fans began the grieving process, conspiracy theorists started to spread stories of foul play. Many wondered how a seemingly healthy boy could just pass away overnight, and the fact that Caleb's parents planned to live-stream the memorial was met with mixed reaction. In the end, local police were forced to release a statement confirming that there were no "suspicious factors" in Caleb's death and that no criminal investigations were underway.
Connie Kin
Connie Kin had a modest following on her personal YouTube channel, but the haul videos she did for the WhatsUpMoms page made her famous among mothers on the internet. The parenting channel has over 1.7 million subscribers today and has had as many as 46 million views on a single video, though it lost one of its most popular contributors back in 2013 when Kin passed away after giving birth to her second child, Ella. The bubbly vlogger was taken by "an infection as a complication from childbirth" according to her husband.
"What you saw of her on [YouTube] — how much she loved Nathan, her incredible smile and laugh, her attention to detail, her love of friends and community — she was all that and more," Andrew Kin is quoted as saying by Babble. "I treasure all of these videos and comments because I know Nathan and Ella will always be just a click away from seeing their mom smiling and caring about them, and a click away from understanding all the people she touched."
Tameka Moore
Known to YouTube as Meechy Monroe, Tameka Moore's channel featured hairstyle tips and tutorials, branding herself as a natural hair enthusiast. She started out in the fall of 2010 and over the next few years her reputation grew considerably. By early 2014 she was attracting viewers in the millions, but her life and online career were turned upside down later that year.
Shortly before her 29th birthday, Moore began to notice one side of her face was drooping and she was having trouble with her speech. The doctors had bad news — she had suffered three strokes. After performing some exploratory surgery, they diagnosed her with an extremely rare form of brain cancer, and knowing the treatment would make her precious hair fall out, she voluntarily shaved her head.
"I cried," she told People."It was very difficult because my hair was so much a part of my personality." Monroe went on to explain that while the diagnosis was a devastating blow to her family, she did her best to put on a brave face. "I was calm, but worried. These thoughts kept going through my head: 'Will I make it? I have to keep faith!'" The Chicago-based vlogger fought the cancer bravely before finally succumbing to it in June 2017, aged just 32.
Achilles Williams
Personal trainer Achilles Williams only had nine videos on his channel when he passed away, but he was a star on the rise after his second video on the secrets of lowering body fat percentage clocked up over a million views. He filmed himself doing "high intensity workouts" and also recorded motivational vlogs, but he never got the chance to see just how big his channel could have become.
The 30-year-old Atlanta resident was killed in March 2015 when a workout video went tragically wrong. According to USA Today, Williams and a friend gained access to a railway track and were filming a skipping-rope sequence as a freight train approached. The intention was to have the train pass by behind the trainer, but they had tragically misjudged the width of the carriages. The train collided with the YouTuber, killing him instantly.
Believe it or not, Williams was the second health and fitness YouTuber to be killed by a train in as many months. Model-turned-actor and reality star Greg Plitt, 37, attracted millions of viewers to his channel, and he too decided to take a risk and make a video on train tracks. It was a risk that didn't pay off, as Plitt was struck by a Metrolink train and fatally injured.
Justin Carmical
Justin Carmical (AKA Jew Wario) was part of the first generation of YouTube gamers, well known and respected in the online gaming community. He became a big deal after the success of his "You Can Play This" series, in which he would import video games from Japan and teach people how to play them without knowing the language. He was always a fun guy to watch, full of energy and enthusiasm on camera.
Off camera, however, he was having suicidal thoughts. Unfortunately for those who knew him and those who subscribed to him, he sadly succumbed to these thoughts in January 2014. "It is with a very sad heart that I must confirm my husband, Justin Carmical, sometimes known as the Jew Wario died on Thursday, January 23rd," his wife Jenny wrote in a Facebook post. "I also have to confirm he shot himself, but he was not alone, he locked himself in the bathroom and I was on the other side of the door talking with him. He knew I loved him, he knew all of you loved him. You all made him so happy, every time he was recognized from his videos, it made him giddy with joy."
Peter Oakley
Affectionately known to his subscribers as the granddad of the internet, Peter Oakley made his first contribution to YouTube back in 2006 when he posted a fuzzy video entitled "First Try." The British vlogger asked the YouTube community for help and advice in shaping his channel Geriatric1927, and word of the chatty pensioner soon spread, with more than 3 million people watching his debut video.
After feedback, Oakley decided to use the video sharing platform to tell his story. He would often take his viewers on journeys into his childhood in wartime Britain, but people also tuned in to hear his gripes about the modern world. "There are millions of people without grandparents who find small comfort in old, simple, stories," he told The Independent. "I have had my 15 minutes of fame, and enjoyed every minute of it."
In February 2014 a notice appeared on Oakley's website, confirming what his subscribers had feared when they hadn't heard from him in a while. "Peter has just been transferred to a nursing care facility, he has cancer which is apparently too far advanced for treatment and he is not expected to pull through," it read. He signed off his final video with some typically British stiff upper-lip: "In conclusion I would say my possibly final goodbye," he said. "So goodbye."
Pedro Ruiz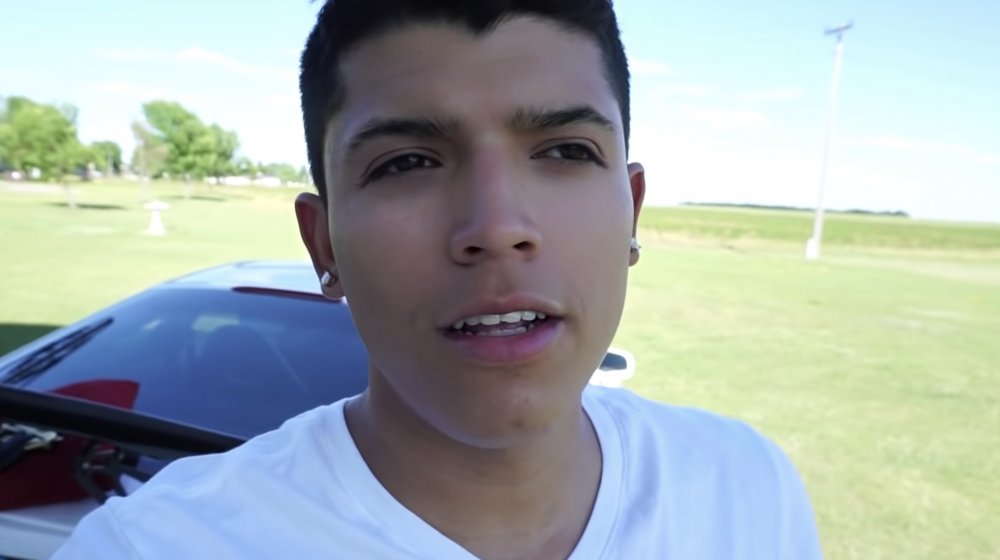 YouTube
Pedro Ruiz III wasn't a famous YouTuber in his lifetime, but he recently became infamous in death, a shocking example of just how far aspiring YouTube stars will go to boost their numbers. He was killed by his partner Monalisa Perez in a stunt filmed for her channel that went horribly wrong, leaving the 19-year-old mother of one (who was seven months pregnant with their second child at the time) facing charges of second degree manslaughter.
Perez's La MonaLisa channel was a mixture of family vlogging and pranks, with the last video she posted before the fatal accident revolving around "scary stunts" at the fun fair. Little did her subscribers know that she and Ruiz had a far more dangerous stunt planned — she was going to fire a desert eagle at her partner, who was going to stop the bullet with a thick encyclopedia. The bullet went straight through the book, killing Ruiz.
"They were in love," Claudia Ruiz, aunt of the deceased, told KVLY (via CNN). "It was just a prank gone wrong. It shouldn't have happened like this. It shouldn't have happened at all... I don't know why they thought the book was supposed to stop the bullet." According to a tweet Perez sent out prior to shooting, the whole stunt was Ruiz's idea. "Me and Pedro are probably going to shoot one of the most dangerous videos ever," she said. "His idea not mine."