What John Cena Was Like Before The Fame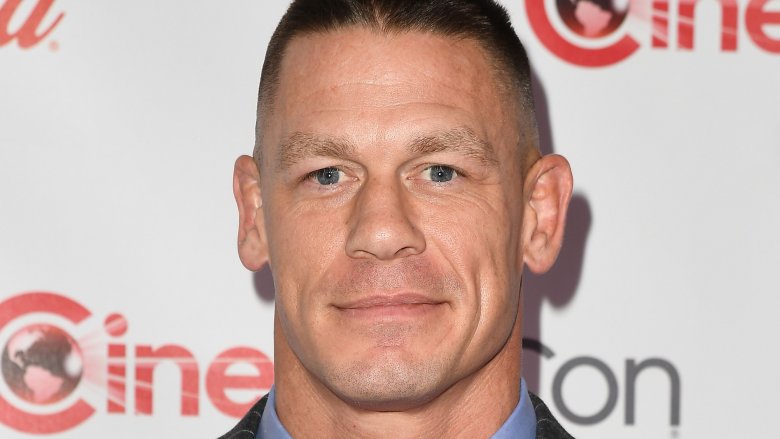 Getty Images
It wouldn't be an exaggeration to say that WWE champion John Cena is the face of modern professional wrestling. And with a growing film career, Cena is on track to follow in the footsteps of Dwayne "The Rock" Johnson, weaving wrestling fame into Hollywood gold. But the road to WWE triumph wasn't easy for Cena. The superstar champ worked and hustled his way to the top. You might be surprised where he started from — and how he got here.
He was bullied as a kid
While teaming up with Crocs for the Come As You Are campaign that encourages people to be themselves and embrace their differences, Cena revealed that he was bullied as a kid, which directly resulted in him become the ripped WWE star he is today.
"I remember the walk to the school bus, at the very least, five times, shoved down, toppled down," Cena said in the campaign video (via Fox News). "I asked my dad, 'Is it okay if I start working out?' By the time I showed up at high school, I was big. The guys who were pushing me down were kind of like, 'We cool?'"
Believe it or not, the muscle-bound wrestler was actually a scrawny kid at age 12, but he told Men's Fitness that he was the strongest kid in his high school by age 15. "Keep in mind, I wasn't in, like, the big city." he told the magazine. "I was in West Newbury [MA], and to be the strongest person in West Newbury, that's a very, very average accolade."
He liked football better than wrestling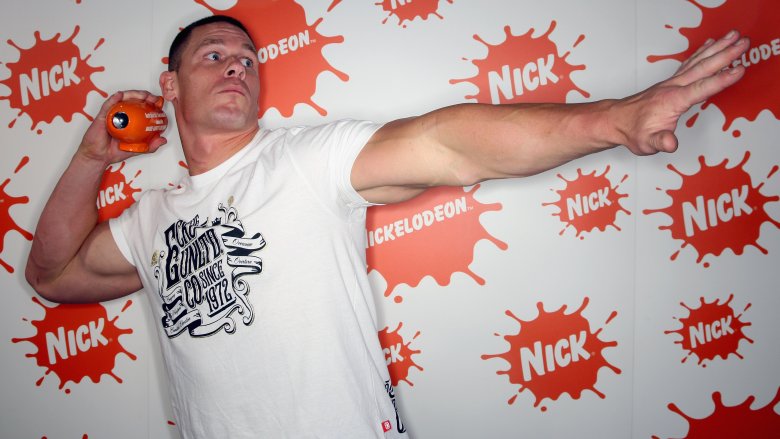 Getty Images
While growing up in Massachusetts, Cena's father was a huge fan of professional wrestling and he loved taking his sons to see WWF matches in the "cheap seats" at Boston Garden, according to the Huffington Post. But while Cena enjoyed watching the greats like Hulk Hogan and "Hacksaw" Jim Duggan and reenacting their moves like a lot of young boys growing up in the '80s, he told the HuffPost that he was actually more interested in "proving himself on the baseball diamond or football field than in the wrestling ring."
But as Men Fitness reports, Cena quickly learned in college that football wasn't going to be a viable career option because of one problem you probably wouldn't expect: "I was way too small."
Despite his infamous build and 6' 1" height, the WWE great still wasn't big enough for the professional gridiron. So he set his sights on California where he unfortunately learned that there were way more careers than football that weren't the best fit.
He tried to become a cop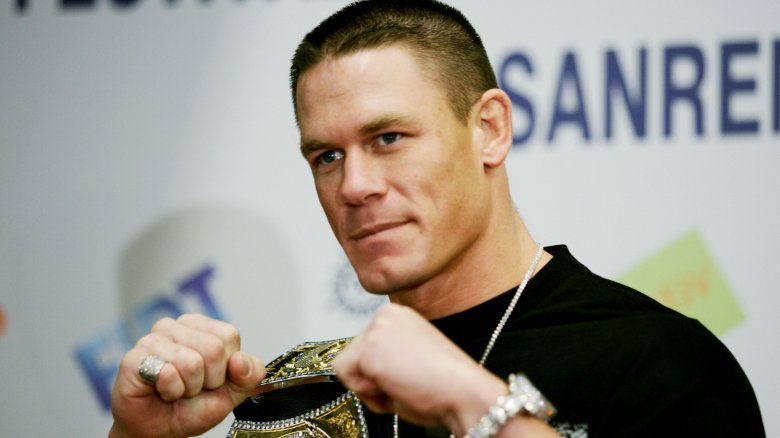 Getty Images
After graduating with a bachelor's in exercise physiology, which he described to ABC News as an "easy degree" in working out, Cena headed to Santa Monica at 21 years old to be around the bodybuilding scene in Venice Beach and also to spite his father, who said he wouldn't last two weeks.
"I wish I had four hands to hold up four middle fingers to my dad [at the time]," Cena said. "'You don't know nothing, old man.' So, I left with 500 bucks and an Army duffle bag, and hit ground in Santa Monica and just started working. No career, just working a job to make money to stay out there to spite my father and the jobs were taking me nowhere. I took the California Highway Patrol exam and didn't pass, so I tried to be a cop and failed."
He was a terrible limo driver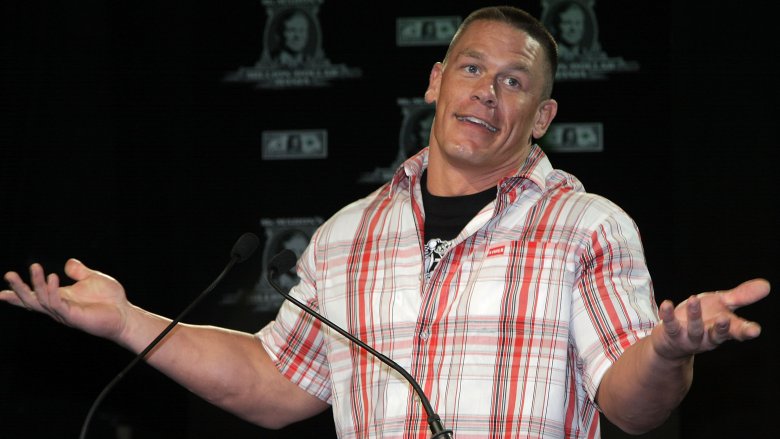 Getty Images
As Cena struggled to make ends meet in California, he picked up an odd job as a chauffeur, which he learned very quickly is not an easy job. Especially when you just moved to a big city and have no idea where you're going.
"I worked as a limo driver for a while, and it was before GPS was commonplace, like you still had to go off a map." Cena told AskMen. "And I was not good. At all. I grew up in a small town that's got one street. One main street, so I knew how to get around that town. I was doing pickups to and from Logan Airport, and I was just rotten. I wasn't meant to be a limo driver."
But the experience did teach Cena how to take an insult, which would definitely come in handy years later when he'd be relentlessly taunted by opponents in the ring week after week.
"It really taught me humility because I had to be accountable for being an hour and half late for an airport pickup, and someone missed their flight multiple times. So I got called every name in the book."
He entered pizza-eating contests because he was broke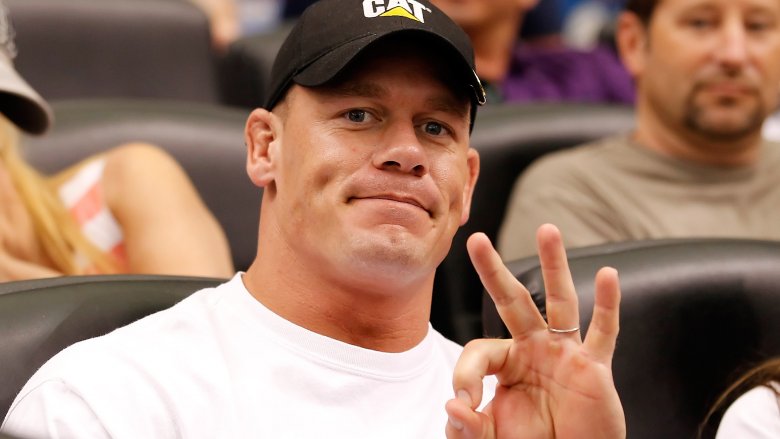 Getty Images
After failed attempts in law enforcement and limo driving, Cena was significantly strapped for cash and had to resort to pulling off some superhuman feats just to eat.
"I'm a Zeppy's pizza-eating champion," Cena told Centerstage with Michael Kay (via Wrestle Zone). "That was a place that closed down on Hermosa Beach (Californa) and I was broke and didn't have any food, and they had a promotion, they had really thick dish pizza, if you ate a whole pizza, you'd get the pizza free. So, I went in there on a lunch break and crushed a pizza in about 20 minutes and the (pizza parlor) guy's face dropped. He didn't realize that I was broke and hungry, so I went back the next day and did the same thing. Finally, he pulled me over and he's like, 'Man, I kind of know what you're doing. Just stop by for a free slice any time you want.' So, he saved me from eating pizza."
He almost joined the Marines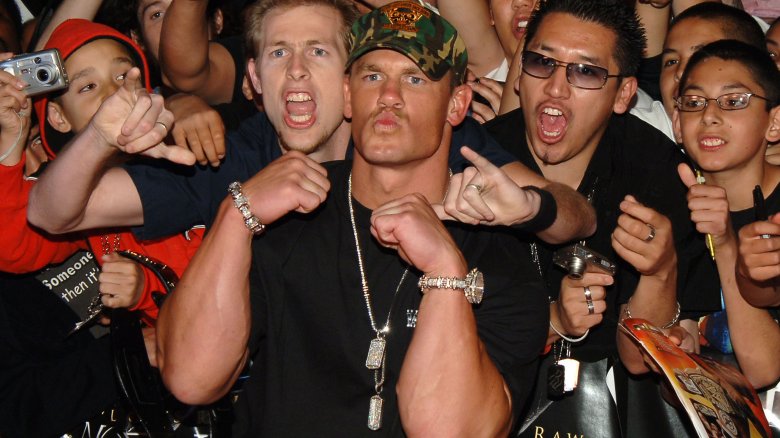 Getty Images
This next part of Cena's early history can be a controversial topic for some wrestling fans and veterans. To promote his 2006 movie, The Marine, Cena began incorporating dog tags and military elements into his WWE uniform and entrances, making fans have question for years what branch Cena served in. The answer is none.
However, according to WWE.com, Cena "holds the Armed Forces in the highest esteem" and his nightly salute is "a sign of respect to the men and women that don the uniform." In fact, Cena almost joined the Marines while struggling in California, and he knew that if he was going to serve his country, it was going to be with the toughest soldiers there are.
"I just thought because, of all the service branches, it kind of exemplified who I was as a 22-year-old." Cena told Task and Purpose. "You think you're bulletproof, and you can handle any sort of resistance put in front of you, and you're gungho to the hilt."
But according to Cena, the very same weekend he made the decision to enlist, a chance encounter changed his life forever.
Cleaning toilets put him on the path to wrestling
While refusing to back down and return home to Massachusetts, Cena landed a job at a gym cleaning toilets while living out of his car. Despite working his way up and even starring in a commercial for the franchise, Cena was about to enlist in the Marines until fate stepped in.
"I used to work at Gold's Fitness. I would work the front desk," he told ABC News. "I was the mayor. I knew everybody... That was a time when like attitude was at zenith like 1999, 2000. So I mean everybody watched [wrestling], but so did I. And we would just talk about 'Raw.' And this kid was like, 'You know I'm training to be a wrestler? Would you want to do that?'"
Cena leaped at the opportunity, and he's not afraid to admit that it saved him from a potentially disastrous military career.
"I was already up to my eyeballs in debt, but I leveraged every credit card I had... paid a promoter out in southern California, and learned the trade," he said. "Had we never had that conversation, I would have probably been honorably discharged or medically discharged from the Marines."
"I knew I was never going to have a real job," Cena added. And he wasn't wrong.
His first wrestling name was appropriate
In 2001, Cena was signed to development deal with WWE, which landed him on the Ohio Valley Wrestling circuit in Kentucky for "further seasoning," according to WWE.com. He originally wrestled under the name "The Prototype," which was fitting as Cena's stage name would go through a few changes. In fact, shortly after joining the OVW, fellow wrestler dubbed Cena "The Perfect Man." Later in his career, Cena would be known as the "Doctor of Thuganomics" before making the call to roll with the name his parents give him.
But it would be a few years before Cena wielded that kind of power in the WWE, and obtaining that level of success was probably the furthest thing from Cena's mind after his first encounter with head honcho Vince McMahon.
Vince McMahon wasn't impressed with him
As Cena bounced around the lower rungs of the WWE, his future in wrestling was by no means guaranteed. In fact, he mostly flew under the radar until he scored a lucky break. But first, Cena had to meet McMahon, who wasn't exactly blown away by the young upstart.
"Kurt Angle was supposed to wrestle a fellow named The Undertaker that night, and The Undertaker actually could not make the show." Cena told Centerstage with Michael Kay (via Wrestle Zone). "He was extremely ill and didn't show up, and they needed a replacement, and somebody threw my name out there because it would just be like a single match and it would do more for Kurt Angle than anybody else and Vince said 'Okay,' so they brought me in to see Vince, and I had a long, horrible, badly-dyed mop haircut at the time. And my first meeting with Vince McMahon went something like this: I was shoved into a room and someone over my shoulder said, 'What do you think?' And he (McMahon) turns around and goes, 'Cut his hair.' That was my first meeting with my boss."
Cena went on to wrestle and lose to Angle, but it was an experience he'd never forget. And it couldn't have come at a better time because Cena was making all kinds of mistakes trying to make it big in the wrestling world.
He bought way too many tights and boots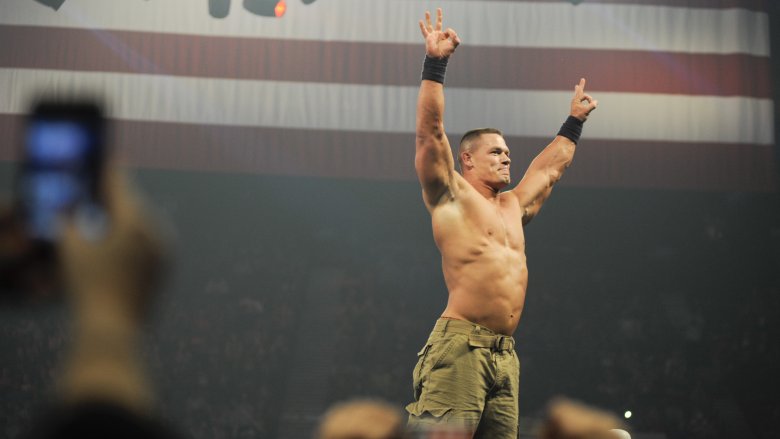 Getty Images
Before hitting the mainstage on Smackdown, Cena made his debut with WWF Superstars and was eager to get advice from older pros. Unfortunately, the young Cena sometimes took things a bit too literally.
"So, I have this debut match, and then I come back, I say, 'Mr. Regal, how was it?' And he has a very dry, British sense of humor." Cena told Centerstage with Michael Kay (via Wrestle Zone). "And his response was, 'Well, lad, if you just get a set of boots and tights, at least you'll look like a wrestler.' So, here I am, thinking, 'Well, (all) I need is boots and tights and I'm good.' When he was really saying, 'Jesus, at least look the part.' ... So, I went out and bought 86 pairs of boots and like 128 pairs of tights. And I vowed to never wear the same thing twice."
But even after locking down his wardrobe and eventually getting a shot at TV fame, Cena continued to struggle in the WWE. Barely a year after fighting Angle, Cena found himself on the chopping block.
Stephanie McMahon saved his job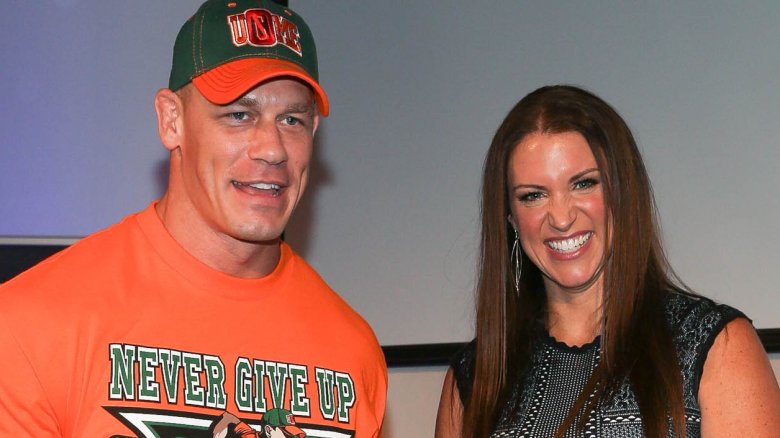 Getty Images
According to pro wrestling journalist Dave Meltzer (via Still Real To Us), the consensus at the WWE was that Cena was "called up too soon," and the decision had been made to let him go. But at the last minute, the big boss' daughter, Stephanie McMahon stepped in and not only saved Cena's career, but possibly the entire industry.
"Imagine that. Imagine this business in the last 11 years with John Cena as the top guy and John being out of the picture," Meltzer said. "Obviously, they would've gone with Batista as the top guy, and Batista wouldn't have been as good in that situation as John Cena, and he wasn't as versatile as John Cena. He would've been okay, and it's not like the business would've collapsed, but it would've been a lot worse off."
Vice Sports reports that Stephanie was impressed by Cena's freestyling skills and wanted him to adopt the persona of a rapping wrestler. "It was basically Cena's last shot," Ian Williams wrote. "And he debuted it in a Halloween skit while dressed as Vanilla Ice, betraying a certain self-awareness on everyone's part that the gimmick was always hokey. It went over well, and he rode it to a decade-plus of fame in the promotion."
From rags to riches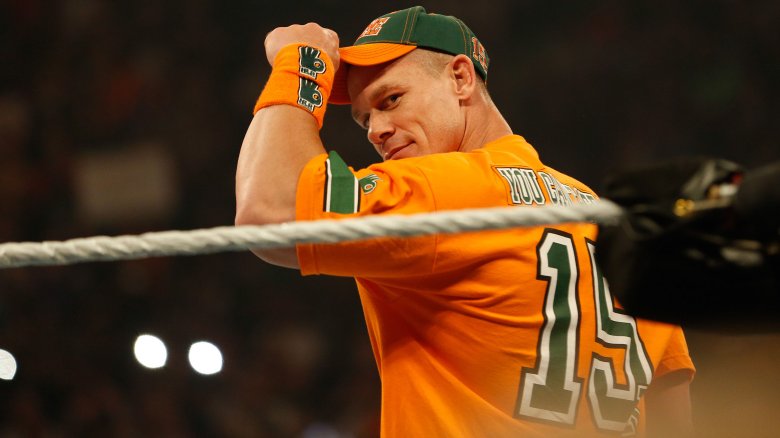 Getty Images
After being bullied as a kid, John Cena dedicated himself to physical fitness, and there's no way the small town boy could've guessed where it would take him. But thanks to his strong sense of discipline and commitment to never giving up, the future wrestler persevered despite failing at football and several careers. If all else failed, Cena was ready to serve his country, and there's no doubt he would've given the Marines his trademark level of dedication. But when an opportunity presented itself to get in the ring like his childhood hero Hulk Hogan, Cena went after his new dream with everything he had. And the rest is wrestling history.