Who Is NCIS Star Diona Reasonover's Wife?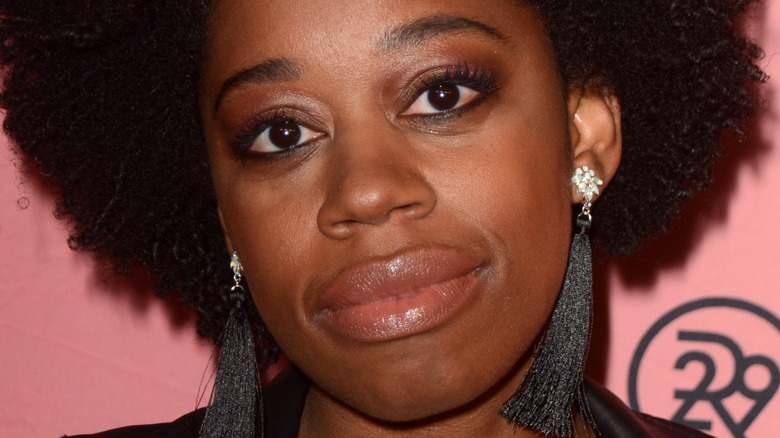 Kathy Hutchins/Shutterstock
Diona Reasonover may be best known for playing Kasie Hines in the long-running CBS crime drama "NCIS" or Charmaine Eskowitz in TBS's short-lived comedy "Clipped" with Ashley Tisdale and George Wendt, but what fans may not know a lot about is what she gets up to in her own time, so, in case you were wondering, Reasonover is happily married and a proud member of the LGBTQ+ community. But dating hasn't exactly come easy for this star. Speaking about her "Clipped" character to Bustle back in 2015, she admitted she wanted to see Charmaine get a girlfriend quickly because she's never had such luck in real life. "If [Charmaine] can get it in two seasons, that's amazing. You always want better for your kids," she joked.
But, all jokes aside and despite an apparent not so lucky love life, Reasonover found true love with writer and actor Patricia Villetto and the two tied the knot back in 2018 after meeting in 2013. "She's really cool, she's really chill. She keeps me calm. Because I get really excited, and sometimes I get really nervous and very clumsy. She does this thing sometimes where she [shushes me]. I know it doesn't sound cute but it's really cute when she does it," Reasonover gushed to E! News of her partner in 2018. But who exactly is Villetto?
Diona Reasonover's wife is in the entertainment industry too
It turns out that Diona Reasonover and her wife, Patricia Villetto, actually have a whole lot in common when it comes to their work life. Just like her wife, Villetto has a pretty impressive career in the entertainment industry, as she's written for the likes of "Ben 10," "OMG!," and the "Kung Fu Panda" TV series, according to IMDb. She's also acted in a number of TV series, including "TMI Hollywood" and "Addicted To You," while also serving as a producer on the likes of "Camp Nick" and "Coded Court."
But while both have glittering careers that no doubt keep them pretty busy, it's clear these two knot how to make time for one another. Both share adorable snaps with one another across their social media accounts, showing off their fun-filled adventures. In January 2020, Villetto shared several selfie snaps to Instagram of herself and Reasonover smiling together, explaining to her followers that they'd taken a train from Los Angeles to Chicago and had a pretty great time traveling together. "It was wonderful. During each stop we jumped out and took a selfie, well except that one time when it was late and cold. ENJOY!" she wrote.
These two are all about giving back, too. In March 2021, Reasonover gave her followers a look at her and Villetto's charitable side when she revealed on Instagram that they had cooked meals for the homeless in support of several charities.
Social media gushing
As well as sharing insights into their trips together, it looks like Diona Reasonover and Patricia Villetto aren't afraid to show their love for one another in adorable gushing messages. Both have shared touching posts for one another across social media before, including special messages posted for important days like birthdays. "A day that will go down in history... as Diona's Birthday! What a day to be born! January 6th! Me and Warner gave her tons of cuddles, ate burritos for 2 separate meals, and played online trivia with friends. Happy Birthday to my favorite person!!!" Villetto captioned a sweet Instagram photo of Reasonover laying on her lap in 2021. Reasonover is also clearly happy to return the favor with her own sweet messages for her wife. In 2019, she celebrated being with Villetto for six years by sharing several photos them together alongside the caption, "My #A1 from day... 6 years ago, lol. Happy anniversary. Thxs for loving me and all my hair lewks."
The two also proud parents of an adorable pet cat named Warner. Villetto opened up about how they adopted the feline on Instagram, revealing in June 2020 that she found Warner in the engine of her car five years earlier and needed help from AAA, Reasonover, and a security guard to rescue her. We love this love story!