Why Priscilla Presley Wasn't A Fan Of Michael Jackson
Carlo Allegri/Getty Images
An ocean of ink was spilt about "The King of Pop" Michael Jackson during his life — from a very young age as lead singer of The Jackson 5, all the way to his death in 2009 at the age of 50. Some of his ore notable scandals included reportedly sleeping in a hyperbaric chamber, allegedly bleaching his skin, buying the Elephant Man's bones, and of course, the allegations of child sexual abuse.
More speculation was raised about his private romantic life, with even close friend Brooke Shields alleging that he was asexual, per Today. In his adult life, despite many casting aspersions, Jackson married twice. His second marriage in 1996 to Debbie Rowe resulted in two children, Prince and Paris (he later had a third child, Prince Michael, who was nicknamed Blanket, with an unnamed surrogate mother), but Rowe said they never actually had sexual intercourse. His first, more high-profile marriage, was in 1994 to Elvis Presley's only daughter, Lisa Marie Presley.
The two cultural icons, for all intents and purposes, appeared in public as very much in love. There was that infamous kiss that opened the 1994 MTV Video Music Awards, and their scantily-clad canoodling in his "You Are Not Alone" music video. But behind the scenes, there was tension, and some of it came from Jackson's mother-in-law, "The Naked Gun" star Priscilla Presley.
Priscilla Presley didn't know if the marriage was 'authentic'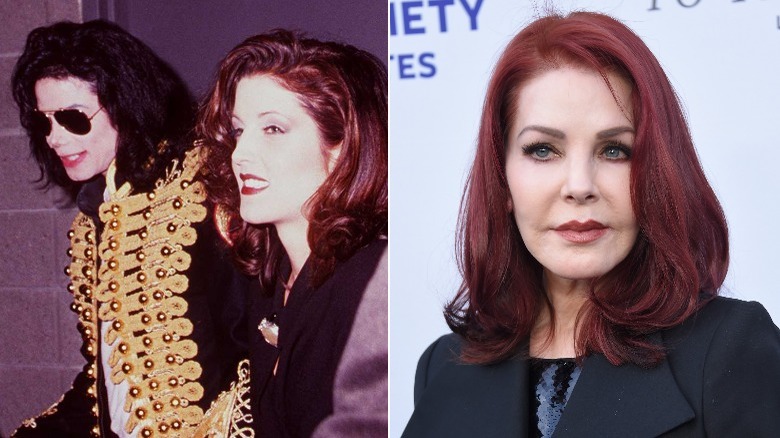 DFree/Shutterstock & Tammie Arroyo/Getty Images
In 1994, Michael Jackson, Lisa Marie Presley, Janet Jackson, and Priscilla Presley displayed a united front when they attended the taping of the Elvis Presley Tribute concert in Memphis. But according to Priscilla, there was tension behind the scenes, as she worried about the "Thriller" pop star's motivations for marrying her daughter.
In 2012, she told The Guardian, "Lisa knew I wasn't happy about her marrying Michael Jackson. We had issues over it because of my experience of marrying somebody with that same iconic status and in a strange way maybe history was repeating itself." Priscilla speculated on the similarities, suggesting, "Maybe she saw something of Elvis in Michael. As her mom though I was concerned as I could see it could be a disaster. At that point, the right thing to do would have been to bite my tongue, but I didn't bite my tongue." Later in 2015, she admitted to the same outlet that she doubted how "authentic" her daughter's love was. "You know, I just didn't know if it was authentic or not. I just worried about if she was doing the right thing. I worried about ... his agendas."
In 2019, James Safechuk, who accused Jackson of child sexual molestation in the explosive "Leaving Neverland" documentary, alleged that the marriage to Presley was part of Jackson's agenda to distract the media and public from his 1993 allegations, per the Daily Mail. Jackson's family has denied the sexual abuse allegations against him.
Lisa Marie Presley has since tried to clarify details of their marriage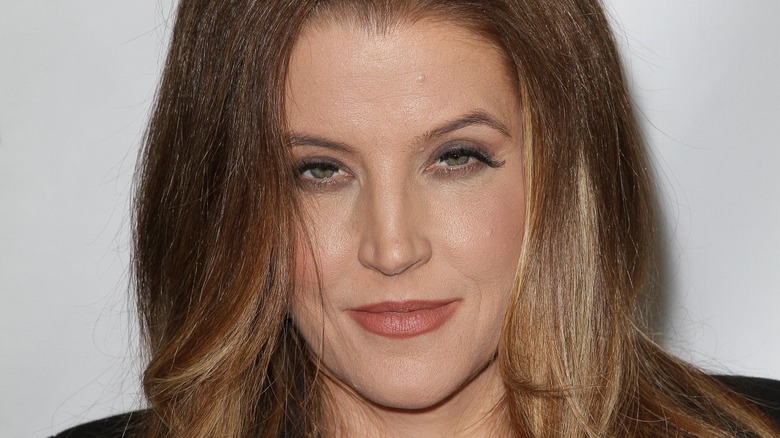 s_bukley/Shutterstock
During a 1995 in-depth interview with "Primetime Live," both Lisa Marie Presley and Michael Jackson insisted their marriage was consummated. "Yes, yes!" Presley exclaimed when asked if they have sex, and adding that it's "ridiculous" they would have a marriage of convenience. After Jackson died in 2009, Presley wanted to clear the air about their relationship.
In an interview with Oprah Winfrey in 2010, she still maintained that their marriage was real and loving, but that her ex-husband was a master of Wag The Dog and manipulating the media in his favor. "He was brought up that way," she told the talk show host. "He was conditioned to get himself where he needed to go for his career, and he became very good at making and creating and puppeteering."
Later in the same interview, she revealed that 10 years after their divorce in 2005, he called her on the phone to see if she still might carry a torch for him. "I was very distanced, and he was checking to get a read, you know?" she described the call. "He was trying to throw a line out to see if I would bite emotionally, and I wouldn't." When he asked if she still loved him, she said, "I told him I was indifferent. He didn't like that word. He cried." As for mother Priscilla, she released a statement in 2009, lamenting Jackson's death. "I'm in shock, as I know everyone must be. What a tragic loss."